How to design your home office for comfort and productivity in 2021.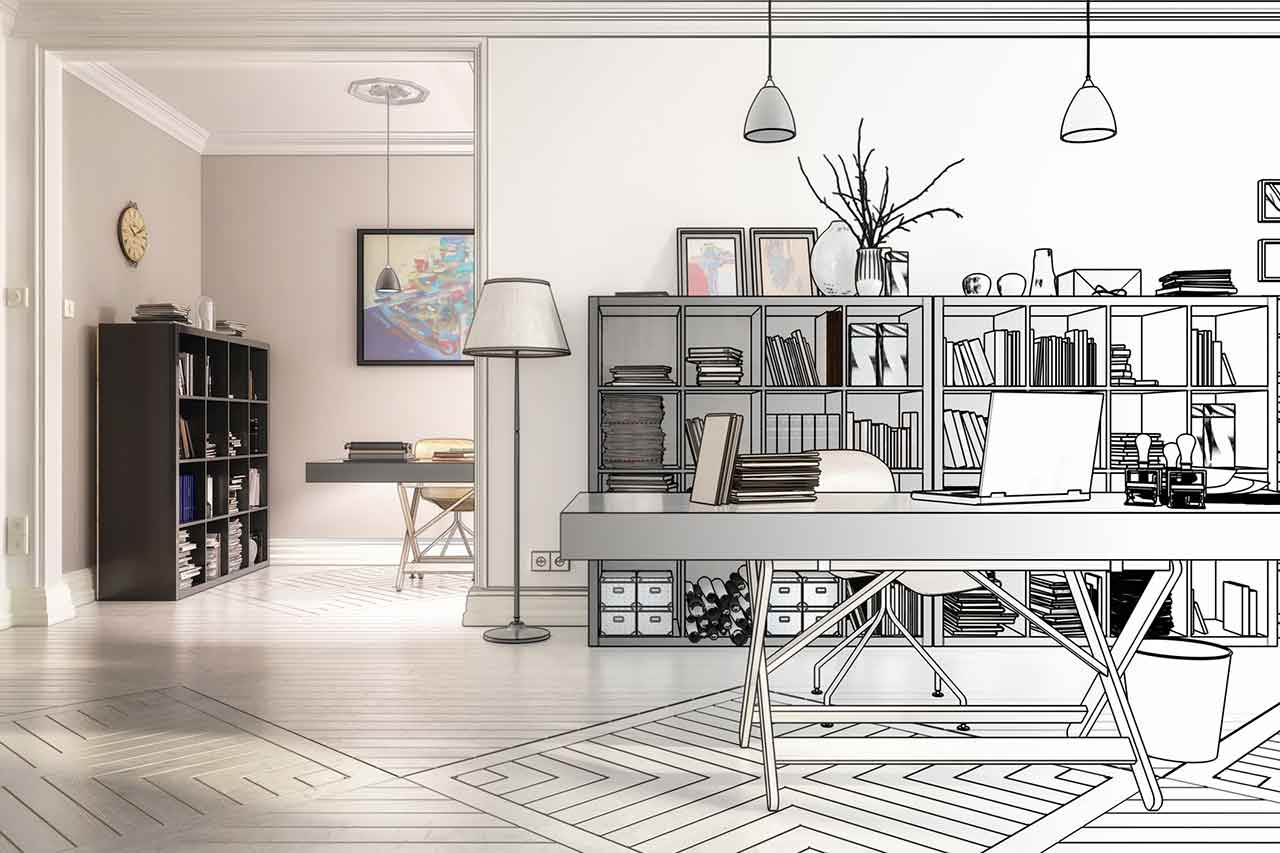 There is a way to design your home office for comfort and productivity without breaking the bank. Use these tips to make the most of your home office space. If you live with other people, such as family members or roommates, discuss any changes to common areas before making them to avoid conflict. After all, a family member might need their own home office space as well.
Let there be light in the home office.
Light levels in your home office can make a difference in your happiness and productivity. A Harvard Business Review article study found that natural light is considered the number one office perk. In a traditional office situation, it might be challenging to get a working space with natural light. By contrast, you can use electric lights to brighten a home office.
Look for natural light. Look at the different rooms in your living space to find out which ones have natural light. For example, a guest room or spare bedroom might be a good choice. Alternatively, working in a living room with a window could provide some natural light.
Consider using task lighting. Depending on your living space, natural light may not be enough for your needs. In that case, take a look at your overhead light. HGTV recommends using task lights like table lamps for a living room.
Lighting for video conference calls.
When you design your home office, think about video conference calls. Depending on how you arrange your computer and home office, your lighting may not be ideal for video conference calls. Consider flattering lighting for those calls. The New York Times recommends using an LED light (or natural light) so that your face is bright and visible during calls.
When natural light is not sufficient, explore these additional lighting options. 
Table lamps. Your home office may already have a table lamp, which might be all you need. To test whether it is good enough, see if you can place the lamp so the light shines on your face, then conduct a test video call with a friend. If the lighting is not good enough, take a look at one of the other options below.
USB LED lights. This type of light can plug into a USB port on a laptop. 
Webcam with built-in lights. Some web cameras have a built-in light like the Vitade 960A USB Pro Webcam. This lighting option is valuable because the light and camera always stay together.
Ring lights. This type of specialized light is popular for video conference calls. There are ring lights that come with tripods and clip-on functionality allowing the angle to be adjusted as needed.
Spending some time and money on home office lights may be worthwhile to make your home office situation more comfortable.
Selecting home office furniture and decorations.
Because you may work from home 40 hours or more each week, it can make a big difference to have comfortable furniture, such as an office chair and desk. The Journal of Accountancy points out that "a traditional desk and chair create fatigue by restricting blood flow to our limbs and putting unnecessary pressure on our joints." Consider the following options to make working from home more comfortable.
The size of the desk you choose depends on several factors. A larger desk might be needed if you have a larger monitor and multiple computer accessories like a printer. If the room only has space for a small desk, other office supplies and accessories may need to be put in drawers or storage.
Desk options.
There are different ways to organize your home office desk for comfort, depending on the size of your home office, budget and physical preferences. Before buying a new desk, measure your home office space. For example, you may be able to rearrange other furniture like bookcases and chairs to get more comfortable. Look into ergonomic features such as the proper placement of monitors, keyboards and mice to reduce strain on your body. PC Mag points out, "The posture of the person sitting down really depends on what they're doing with their hands." Think about a typical work day. Are you spending hours on the phone? Working on spreadsheets or documents? Such work patterns influence how you design your home office for comfort and ergonomic safety. If rearranging furniture isn't enough, you may find it worthwhile to buy a new desk.
Proper placement of monitors using ergonomic principles is also worth keeping in mind. Grand Valley State University recommends setting your monitor directly in front of you approximately 20 inches away, with the top of the screen at eye level so there is no need to tilt or bend your neck.  For keyboard and placement, CNET recommends positioning your keyboard one to two inches above your thighs. Using a keyboard tray on a desk, with the mouse placed close to the keyboard, can help with this keyboard placement.  Consider testing these tips for a day to see if they make your home office work more comfortable.
Traditional desk.
Size, storage and color are some of the key features to consider with any desk. If your home office lacks a filing cabinet, choosing a desk that comes with drawers might be a good idea. In terms of size, you will need space for a variety of equipment like a laptop, decorations and other accessories (e.g., space for an external monitor, external keyboard, external mouse, etc).
The price for a traditional desk can range from approximately $100 to more than $500. Used desks can get a fresh new look with a new coat of paint or wood stain.
Standing desk.
In recent years, standing desks have gained popularity. However, Harvard Medical School points out that suddenly standing all day when you are used to sitting might put a significant strain on a person's body. To mitigate this risk, look for a standing desk that can be adjusted between standing and sitting mode. Prices vary considerably depending on features, with options ranging from a few hundred dollars to thousands.
Treadmill desk.
Some people like the idea of adding exercise to their work day by using a treadmill desk. However, there are downsides to consider as well. Harvard Medical School suggests avoiding this type of desk if you have balance, back or joint problems. In addition, it might be difficult to use a computer while walking. The typical price range for this type of desk is $500 to $1,000.
Office chair and seating.
Think about how many hours per day you spend seated while working from home. It might be four, five, or even more hours per day. According to New York Magazine, "A good office chair is going to help you maintain a neutral posture, which means sitting with your feet flat on the floor, your knees slightly higher than your hips, and your hips, shoulders, and ears all lined up with each other."
There are many different types of office chairs on the market to meet your style preferences, budget and comfort needs. For example, there are higher-priced Herman Miller office chairs typically priced around $1,000 and up, though used ones may be available for a lower price. There are also office supply stores like Office Depot that offer hundreds of office chair options priced between $100 to $500. If you are on a tight budget, look for secondhand furniture on websites like Craigslist. In addition, companies sometimes sell their used office chairs and furniture.
With so many office chair options on the market, there are a few ways to simplify the process. If possible, consider visiting a store that has office chairs and sit in a variety of chairs to see which type you find most comfortable. If in-store shopping is not an option, think about office chairs you have used in the past. If you have always liked mesh chairs, choose one like that. Before making your final choice, remember that you will spend many hours, possibly months or years, using an office chair, so choose carefully and get the best chair you can afford.
Office decorations.
There are many different kinds of home office decorations on the market. As you browse the possibilities, keep a few principles in mind. You will be spending a lot of time in your home office space, so include items you enjoy seeing while still giving you plenty of space to get work done.
Art. Choose artwork you enjoy looking at regularly. For example, you might buy a framed poster from your favorite movie. If you prefer handmade or artisan items like personalized wooden items, take a look at Etsy. Keep in mind that your artwork may be visible to others in video conference calls, so choose wisely. 
Plants. Research suggests that keeping plants can improve productivity, so you may want to make sure your home office has the lighting and space for plants. Certain types of plants like  succulents (e.g., an aloe plant) are good choices because they only require watering every few weeks. However, some succulents require plenty of sunlight and some plants may be dangerous to children or pets. Think ahead about where they will go (e.g., plants next to southern-facing windows typically receive the most light, while east-facing locations are better for plants with limited light needs) and if it will get the proper amount of light to thrive.
Religious symbols. If you are religious, you might be inspired by including quotes from scripture, religious art or symbols of your faith in your home office.
Family photos. Consider moving a framed family photo into your home office.
Travel souvenirs. If you have collected small travel souvenirs like models of famous landmarks, keeping those on your desk might give you a smile during a long day.
Stress relief toys and accessories. Certain types of toys can help you manage stress and anxiety. Scientific American found that "people using some fidget objects—like a favorite smooth stone—to calm themselves down, helping them achieve a more relaxed, contemplative, even mindful state." A fidget spinner is one option. 
Working from home: Optimizing a small space.
Don't have a spare guest room available to use as a home office space? Here are some creative ideas to make the most of your space. 
Living room. For example, change the layout of your living room so you can access natural light better. In a living room, the desk configuration you choose will need to reflect the amount of space available. In addition, a living room may be used by other people in your home. In that case, flexible options like a lap desk, which can make it more comfortable to work from the couch, can be a good choice.
Work equipment. In a small space, it can be more difficult to separate home office space from living space. Putting all of your office equipment away (e.g., putting the work laptop in a briefcase in a closet) at the end of the work day can help.
Working from home: Communications software and hardware.
Working from home means there is no option to walk down the hallway to discuss ideas with a colleague. That is why communication tools are even more critical in working from home. The specific tools you choose will depend on the company's budget and preferences. Consider this list as a starting point to design your home office for maximum productivity.
Audio-only calls (i.e. business phone calls). Your employees should use their business phone numbers while working from home. To make this easy, choose a phone service like Ooma that lets you make business calls via its mobile app. If your employees spend a lot of time on the phone, consider buying a headset so you can use your hands to take notes during a call.
Video. A successful video conference call requires a few elements in a home office. Specifically, a quality web camera and microphone can make a difference. TechRadar suggests webcams with high resolution (e.g., 720p or 1080p) and the ability to move the camera around. 
Backup accessories. Imagine working from home with several hours of phone calls and video calls every day. If an accessory like headphones breaks during a call, having access to a backup means getting connected again will be easier. Therefore, consider buying backups of your most heavily used communication devices.
Broadband internet service. When working from home, multiple people may be using the same internet connection at the same time. Therefore, contact your internet service provider (ISP) for advice on ways to make the most of your internet connection. 
Mobile devices and accessories. Keeping a mobile device working smoothly when working from home is important. Therefore, consider ways to keep your devices (e.g. phones, tablets and others) working well, such as buying a backup charging cable or protecting the device with a case.
Getting started with designing a home office space.
Choose one or two tips from this article to make the most of your home office space this week. Whether you have a dedicated workspace with a door or an improvised home office in the living room, there are ways to make it better.
Thank you!
By subscribing to Ooma's Business Blog, you can expect to receive insightful emails about latest updates, helpful tips, and useful tricks.
Call us at: 866-573-0707 for any other inquiries
Unlock the full potential of your Ooma experience: Tips and Insights from the Ooma Business Blog