The first time you set up the Ooma Door and Window Sensor, you will need to pair it with your Ooma Telo Base Station. If you're a first-time Ooma Telo customer, you can find out more about setting up your Ooma account by clicking here.
Bring the sensor within 10 feet of the Telo.
Use the mobile app to press the "Add Sensor" button on the dashboard.
Select the Door and Window Sensor.
Follow the instructions on the screen to complete the pairing process.
Once the sensor is paired, ensure that the tamper sensor is pressed down and decide where you would like to install it. When you are deciding on the mounting location, make sure that the pieces will be mounted so that they separate either vertically or horizontally when the door or window opens. If they separate laterally, the sensor may not function properly: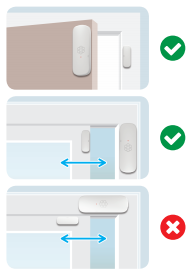 Once you have decided on a mounting location, there are two different installation methods for the Door and Window Sensor.
The two pieces of the sensor should be mounted so that when the door or window is closed, the indented dots on the front of each sensor are no more than a ¾ inch apart. You should also ensure that the front of both pieces of the sensor are as even as possible: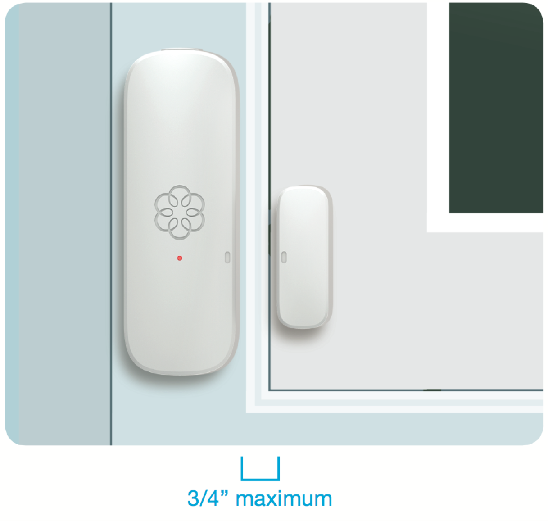 If necessary, you can attach additional risers (included) to raise the height of the magnet tab. You can choose the appropriate installation process for each of the two pieces of the sensor.
Adhesive tape installation: To install the Door and Window Sensor on a wall with the included adhesive tape, start by wiping the surfaces with a damp cloth to clean them. Dry the surfaces, and then peel the adhesive tape. Press one side of the tape to the sensor, and then press the sensor against the mounting surface and hold it in place for 30 seconds.
Screw installation: To mount the base of the sensor using screws, screw the mounting plate into the desired location. Reattach the sensor to the mounting plate.