Ooma Telo Air: Take Your Telo Anywhere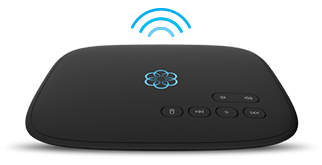 Ooma Telo™ Air
Today's home is centered around mobility – and with Ooma, this includes your home phone service. It's time to free your home phone with Wi-Fi and Bluetooth capabilities – and with Ooma Telo Air, it's never been easier.
Smart Home Phone Service
Place your Telo anywhere, then connect to the internet wirelessly using your WiFi network – no need for a hardwired internet connection. Ooma Telo Air is an adapter that also enables Bluetooth pairing with your mobile phone, allowing you to answer incoming mobile calls from any phone in your home.
With Ooma Telo Air you link your home phone to your mobile phone, so you can move throughout your home and make call connections freely and comfortably.
Simple App-Based Setup
With the Ooma app, set up your account and pair devices easily through the Ooma Telo Air adapter. Activate your device by downloading the app and simply following the instructions on your iOS or Android device.
Benefits of Ooma Telo Air
It's Convenient: Connect the Telo Air adapter wirelessly and have the freedom to move your device anywhere you want.
It Makes Communication Simpler: Connect your home phone with your cell phone through Bluetooth.
It's Easy to Use: Control your home phone experience on your terms through easy instructions and pairing on the Ooma app.
Ooma Telo Air is changing the home phone experience through wireless connectivity, adding one more critical piece to your smart home.
Ooma Telo
The Smart Phone For Your Home.
Buy Now >>
Ooma Telo™ Air
Make Your Home Phone Go Wireless
Buy Now >>