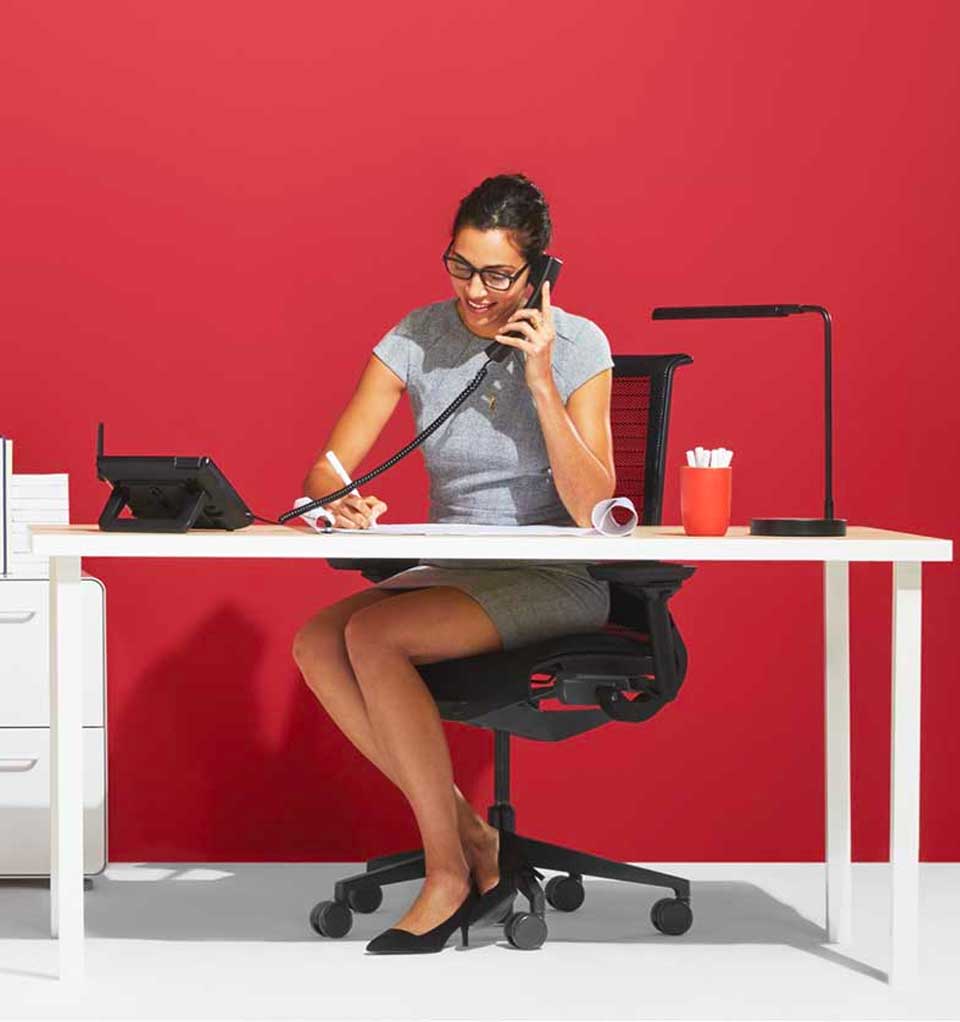 Thank you!
An Ooma Office Sales Representative will be in touch shortly.
866-573-0707
Small business VoIP phone systems.
Whether you need a business VoIP system with great features or apps to work from anywhere, we make it super simple to get started.
Keep your number or choose a new one at no extra cost. Get started today.
Choosing the best Voice over IP Solution for your business
If you're thinking about switching to a small business VoIP phone system, perhaps you've done some research and found a substantial amount of information.
From analyzing VoIP systems' features and benefits to choosing a desk phone, finding the right phone system for your particular business needs can feel daunting.
We created this guide to help business owners like you: sort through the VoIP noise, get concise answers to your questions, and feel confident about switching to a new small business VoIP provider.
Short on time? Take the guide with you to read later.
Learn about:
What a business VoIP system is and how it works.
Why businesses are abandoning landlines.
What it takes to set up an internet-based phone.
How your business will benefit from a VoIP system.
And much more!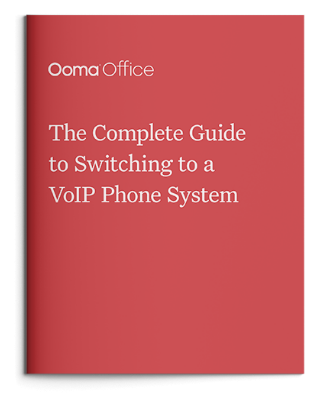 Simply fill out the form to download the guide.
Your information will be entered into our mailing list for special offers.
1. What is a business IP phone system?
Voice over Internet Protocol (VoIP) phones use the internet to make and receive phone calls. A small base unit connects your phone to the internet.
Once your system is connected, you can make and receive VoIP calls. Using a web page and login, you can customize the features, such as creating a Virtual Receptionist welcome message or adding new users.
VoIP phones vs. traditional landline phones.
The most significant difference between VoIP and landline phones lies in technology.
Landline phones—which have not changed much since the beginning of the twentieth century—require an infrastructure of wiring and exchange hardware. By today's standards, the landline phone technology is limited, allowing users to make and receive voice-only calls.
VoIP technology, on the other hand, has changed how businesses communicate. While IP capabilities have been around for several decades, business VoIP services has advanced in recent years, due to phone innovation and faster internet speeds.
Unlike landline phones that require add-ons for phone features (at an additional cost), modern business VoIP systems come with an array of popular communication features already built-in.
Get the VoIP phone system designed for your business.
A modern VoIP phone system built for your business needs, Ooma's got your back with versatility, reliability and plenty of advanced features.
GET A QUOTE
2. How do VoIP systems work?
VoIP phones (also known as Internet phones and IP phones) work by turning your voice into data (also called data packets). Your digital voice data are then transmitted over the internet (similar to sending an email).
If you've used providers like Ooma, Skype or Zoom for business phone calls, you've used VoIP!
VoIP Calls are made on your phone (connected to the internet with a network cable) or via computer using an app.
When you make a call, the VoIP service provider routes the voice data packets between you and the other caller—all within a split second.
Business VoIP Basics to get you started.
Any IT or tech industry professional will tell you that tech-speak (and acronyms!) are a way of life in the tech world. VoIP has its fair share of technical terms, so let's narrow them down to a few essential terms.
What you need to know about VoIP PBX.
Let's start with PBX. PBX stands for Private Branch Exchange. As the name suggests, it is a company's private phone network.
VoIP PBX, also known as Hosted PBX, is a cloud-based phone network. Rather than a business having an on-premises PBX, a business VoIP service provider manages the PBX in the cloud. Companies then pay a monthly fee to use the service.
Ethernet vs. Wi-Fi
It's handy to understand these terms, as they both play an important role in business VoIP.
Ethernet is the internet delivery system within a Local Area Network (LAN)—as in the network of computers and devices in a space, such as your office. You'll connect your IP phone units to the internet with an ethernet cable.
Wi-Fi is a radio wave technology that connects devices to the internet without the need for cables. When setting up your small business VoIP system, you'll use a Wi-Fi signal to connect your analog and digital phones.
3. How VoIP phone systems are transforming business communication.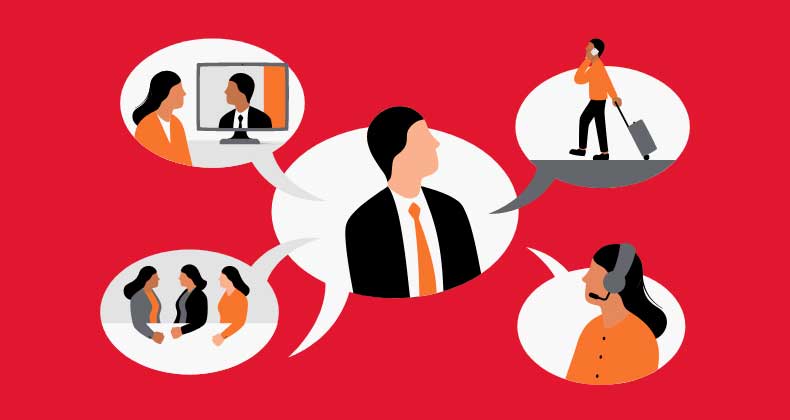 In recent decades, smartphone technology has changed how we interact with each other and get information.
According to Center for Disease Control (CDC) data (that tracks U.S. phone use as part a bi-annual health review), household landline use continues to fall. Currently, homes with landlines are sitting at just over 40%.
What that means for business VoIP.
Due to the convenience and accessibility of internet-based calling and mobile-phone use, it makes sense that businesses are transitioning from landline calling to VoIP phones.
As your business grows, having a phone system that aligns with customers' technology expectations is critical. It will influence their perception of your brand.
Additionally, your small business phone comes stocked with powerful features that will help your small business make a big impression. Key features include:
Virtual Receptionist
Your VoIP Virtual Receptionist is the gateway to your small business and allows you to:
Show customers that their calls matter.
When your dedicated receptionist can't take a call, you can program your VoIP Virtual Receptionist to take over.
Instead of hearing a busy signal or being put on hold (by your busy human receptionist), callers will listen to a message and choose an option for how they'd like to proceed.
Create a positive call-forwarding experience.
When a customer calls your business and reaches a recording, the immediate options they hear are critical for creating a good impression and keeping them engaged with your business.
Customizing your Virtual Receptionist.
Whether a caller wants to leave a message with a specific contact or talk to someone in the sales department, you can program your Virtual Receptionist to:
Greet callers with a customized message.
Your personalized message will let callers know that they're in the right place and guide them on what they can do next:
"Welcome to Best Biz Solutions. If you know your party's extension, please dial it at any time. To speak to one of our sales associates, please press one. To speak to an operator, please press zero."
Provide callers the most efficient forwarding route possible.
Each second counts from the time a caller hears your initial greeting to the last action they take before ending the call. You can tailor your forwarding functions to get callers where they need to be in the shortest time possible.
Ultimately, their calling experience and the feeling of "being taken care of" reflects directly on your business.
Adding Ring Groups.
Ensure that every caller has a positive experience with your automated calling system.
Using your web admin page, you can program the Virtual Receptionist Ring Groups to:
Ring simultaneously
Simultaneous Ring works well in departments where staff members are equally responsible for taking calls. When a caller needs to speak to a sales representative, all the phones in the sales department will ring.
Ring sequentially
When someone calls and the most qualified person is unavailable, the next eligible person's phone will ring. The Sequential Ring feature is ideal for the office manager who cannot be disturbed during a meeting. She can direct incoming calls to her assistant until she is free.
PRO TIP
Once you've set up your Virtual Receptionist, test it! Put yourself in your caller's shoes and call your business from an external number. Call several times to check all the options. Does your message sound professional and inviting? Are the options easy to navigate? Are you happy with the overall experience?
VoIP Mobility
These days, communicating on the go is critical to running a business. Small businesses face the challenge of making office- and mobile-phone use seamless.
It's not practical for employees who need to use a personal device for business calls to use their number. With a business VoIP mobile app, they can make and receive calls using a dedicated business number.
Increase productivity with the Office Mobile App.
The Ooma Office Mobile App (for Android and iOS) allows staff to work wherever they are, using their work number. That includes:
The sales associate who can answer a customer's item-availability question with a quick mobile call to the warehouse assistant.
The field rep who can keep working between appointments.
The project manager whose mobile and desk phones will ring simultaneously, allowing them to answer calls whether they're in the office or on site.
Conference Calling
If conference calls are an integral part of your business, you understand the need for a conference phone that delivers the perfect sound.
For example, if callers find it hard to hear participants in your conference room, the meeting will be challenging. To ensure everyone experiences in-person call quality, look for features such as:
A 360° voice range
An array of built-in microphones
Echo cancellation Background noise suppression
Most IP conference phones come with Bluetooth or Ethernet capabilities. Choose the connection that works best for you and make every conference call a success.
Virtual Fax
Faxing remains an important form of communication for many businesses. With VoIP phone systems, you can still send traditional faxes from your phone to a fax machine. Virtual Fax removes the need for fax equipment.
Faxes are converted to PDF files and managed within the end-user portal. Each user who needs access to Virtual Fax will have fax capabilities via their phone extension. The account manager can review the logs to track all Virtual Fax activity.
This can be useful for locating particular documents or checking the status of fax.
Schedule your consultation.
Get a modern VoIP phone system built for your business needs, Ooma's got your back with versatility, reliability and plenty of advanced features.
GET A QUOTE
Key Business VoIP Features
You can use this summary to determine how your business will benefit from the VoIP features.
Virtual Receptionist
Office Mobile App
Conference phones
Virtual Fax
4. How to set up an IP phone system for your business.
As a busy business owner (or staff member tasked with implementing new VoIP phones), you'll find that setting up a small business VoIP system just takes moments.
Simplify your office phone hardware.
One of the differences businesses notice when switching to a small business VoIP service is the reduction in on-premises equipment. A traditional business phone system requires the installation of large wall-mounted fixtures, followed by upgrades and IT servicing.
Alternatively, with VoIP systems, the hardware generally consists of one or two compact, plug-in pieces.
Also, when it comes to switching your phones to VoIP, you have device options.
You can continue using your existing analog or digital desk phones. However, if you'd like to upgrade your desk phones, you can purchase IP phones.
Based on your users' needs, maybe you need a bundle of cordless phones that staff can carry with them as they work. Does your receptionist require a specialized unit to make fielding calls flawless and professional?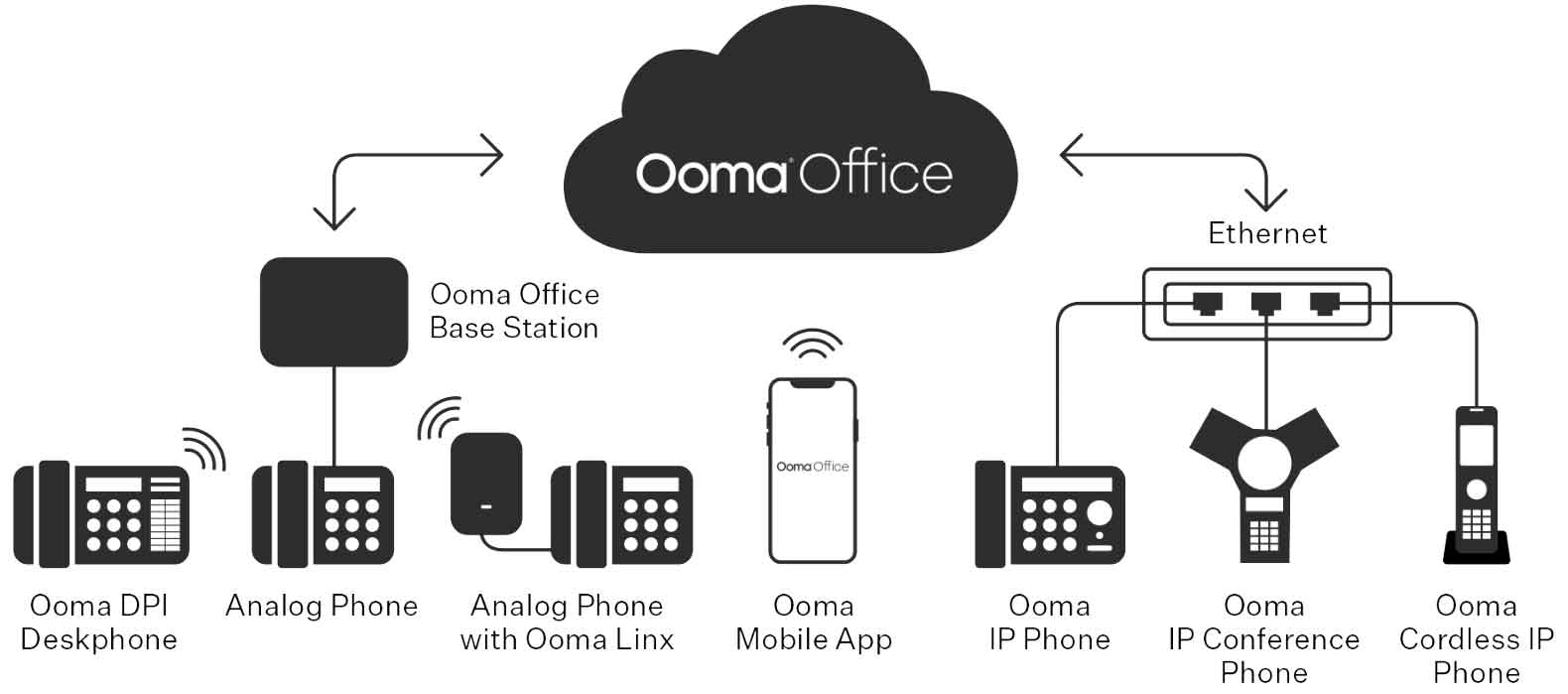 Your service provider can help you choose phones to fit your staff's particular needs.
PRO TIP
Transitioning to a new phone system is a significant step, including switching out existing desk phones. Talk to your staff about what they will need from a new VoIP phone. You receptionist's phone needs will most likely be different from your sales associate's.
Once your desk phones and starter kit arrive, you'll follow a few simple steps to get set up. That includes:
Connecting your base station (a tablet-sized router that sorts out voice data and traffic to ensure clear, reliable calls) to your phone.
Plugging in wireless extensions (into regular power outlets) to connect analog and digital phones to the internet.
Get 24/7 customer support.
Any time you switch to new technology, questions come up. It's important to know that you can call your service provider and get the help you need.
Whether you have questions about the initial setup or need clarification on billing, your dedicated support person will:
Walk you through any steps you need to take.
Resolve your issue.
Ensure you're happy with their service.
Call with confidence!
At Ooma, we take great pride in supporting our business customers. It's why they recommend Ooma to their friends and colleagues. It's why we keep winning awards.
Keep your existing phone number.
Your phone number is your business lifeline. Your customers depend on being able to call you with minimal effort.
Keeping your phone number makes the transition to an IP system feel seamless. The moment you plug in your phones, you'll be able to make and receive calls. No need to change business cards, letterhead, and website contact information. No need to worry about customers getting a no-longer-in-service message.
Additionally, the Federal Communications Commission (FCC) requires phone companies to release phone numbers to new providers. Your VoIP service provider will take care of moving your number to your new system. Talk to them in advance regarding timelines for porting your number.
Canceling your existing service just got easier! Let Ooma do the heavy lifting and port your existing number for FREE.
5. What are the advantages of VoIP systems?
Once your new business phone service is set up, you can enjoy the benefits that come with an internet phone system.
Make a big first impression.
How customers perceive your business often depends on their initial phone interaction. Will they hear a welcome message with easy-to-follow directions when they call, or will they be put on hold immediately?
Whether your business is two employees or two-hundred, your small business will sound professional—more robust—with a VoIP system.
Also, your super-connected customers will appreciate that your brand is tech-savvy and your communication aligns with the lightning-fast service they expect (a recommended reading would be our Unified Communications as a Service page).
Enjoy excellent call quality.
Due to advances in IP phone technology and increased internet speeds, VoIP call quality has come a long way since the early days of choppy and dropped calls.
As long as you have a fast internet connection, your phones will provide the call quality you need.
For instance, a recording studio needed a new VoIP system. Given their line of work, outstanding call quality was essential. Once they were set up, they quickly discovered that, with a solid internet connection, they could do client conference calls with studio-quality sound.
PRO TIP
Reliable, crystal-clear call quality requires a fast internet connection. Before you commit to VoIP service for your business, you will need to check the speed and security of your internet service. Talk to your VoIP service provider about the internet bandwidth required for consistent call quality.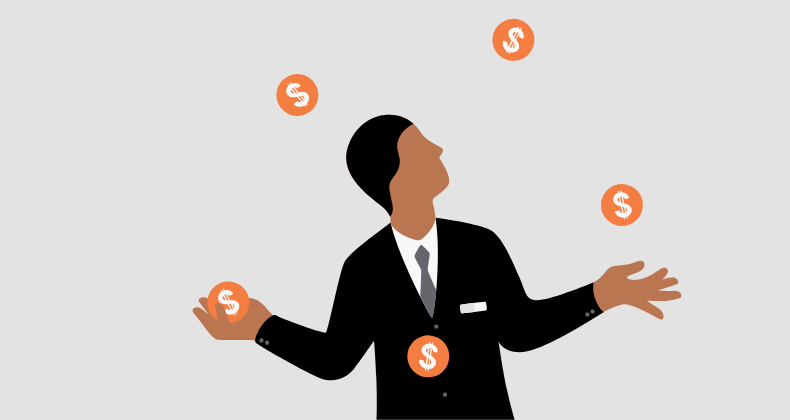 Enjoy reduced phone costs.
A lower price is probably the most appealing benefit for businesses wanting to switch to a VoIP system.
If you're using a landline phone system for your business, you understand (from your phone bill) the significance of this expense—setup fees (if you're opening a new office), monthly costs, and per-line expenses soon add up.
Plus, if you want to add features such as an intercom or call-queuing, you'll need to hire an IT professional to upgrade and maintain your system.
For example, a small retail business with offices across the United States started with landlines. With each store they opened, they hired a company to install the new phone units. While they had no issues with their landline phones, the upfront costs, monthly expenses, and maintenance were costly.
By the time they were opening their twelfth store, they had decided to switch to VoIP phones. They were able to reduce their phone expenses, add new lines without the cost of on-premises hardware upgrades, and enjoy a lower, predictable monthly bill.
Improve productivity with caller insight analytics.
Gathering and analyzing your business data is an essential function for monitoring and improving your business.
Your small business VoIP call logs can provide useful communication insights to help you:
Improve customer experiences: How long did customers wait before reaching the right person? How many steps did they have to complete? Did they end the call before talking to someone?
Provide valuable feedback to staff: Did employees have to forward customer calls to a more qualified person or another department? Do call times and frequency indicate overall customer satisfaction?
Connect with your remote teams.
More often, in business, employees are spread out. You may have offices in other cities or countries, staff who travel frequently or remote workers you never see in person.
Your VoIP system will provide the tools you need to communicate with staff effortlessly—wherever they're located.
Communicate your way: Whether you like to organize team calls or do quick texts, your VoIP phone service will give you the flexibility you need to stay in touch.
Bring everyone together in one place: Make long-distance collaboration a normal part of doing business. You can set up conference calls in a snap. Callers get an assigned number and can phone in via computer or mobile device.
Keep every project moving forward: When communication is efficient and convenient, it's easier to keep your project on track. If a team lead can answer a question with a quick text or a field rep can provide an update from the road, the flow of information helps keep everyone on schedule.
6. All-in-one a VoIP phone system for your business.
Your business is unique and will require a phone system that's easy to order, set up, and deploy.
Maybe you need an IP desk phone for your receptionist or a go-to VoIP provider for each new franchisee. With Ooma, your VoIP system will be up and running in a few simple steps (no technical skills needed!).
Our small business customers love that their phone costs go down, and their communication options go up. Like them, you can enjoy a VoIP system with:
A set monthly rate and no hidden fees.
No contracts—ever.
Unlimited calling in the US, Canada, Mexico, and Puerto Rico.
The flexibility to add new phones as your business grows.
24/7 support
What people are saying:
The best feature for me is customer service. I'm able to reach out to Ooma with a support ticket and within minutes—definitely always same day—they are always able to fix the issue for me."
MAJOR
Web design and digital marketing
We have about 650 employees and 400 lines. When we switched to Ooma Enterprise, the support was amazing… we were basically up overnight. One of the coolest aspects of Ooma Enterprise is API access. We quickly built our directory, call flows, and different ring groups that made our lives immeasurably better."
BRIAN J ANDERSON
Systems Administrator Traction on Demand, a Salesforce and application development company
To ensure business continuity, we contacted Ooma Enterprise and were provisioned and up and running in under a week with phones for all 29 of our staff…with some assistance from the customer success team, I've been able to fully set up this system without the need for a dedicated IT specialist."
ATIRA PROPERTY MANAGEMENT
Your phone service is your business' lifeline. It needs to work really well. And it shouldn't be expensive.
Get the most reliable VoIP service for much less.
GET A QUOTE
---
We'll follow up with you in one business day.
2-line phone with 5-way voice conferencing.

Call volume:

Low to medium

Good for:

New or small businesses with basic desktop phone needs.[..more]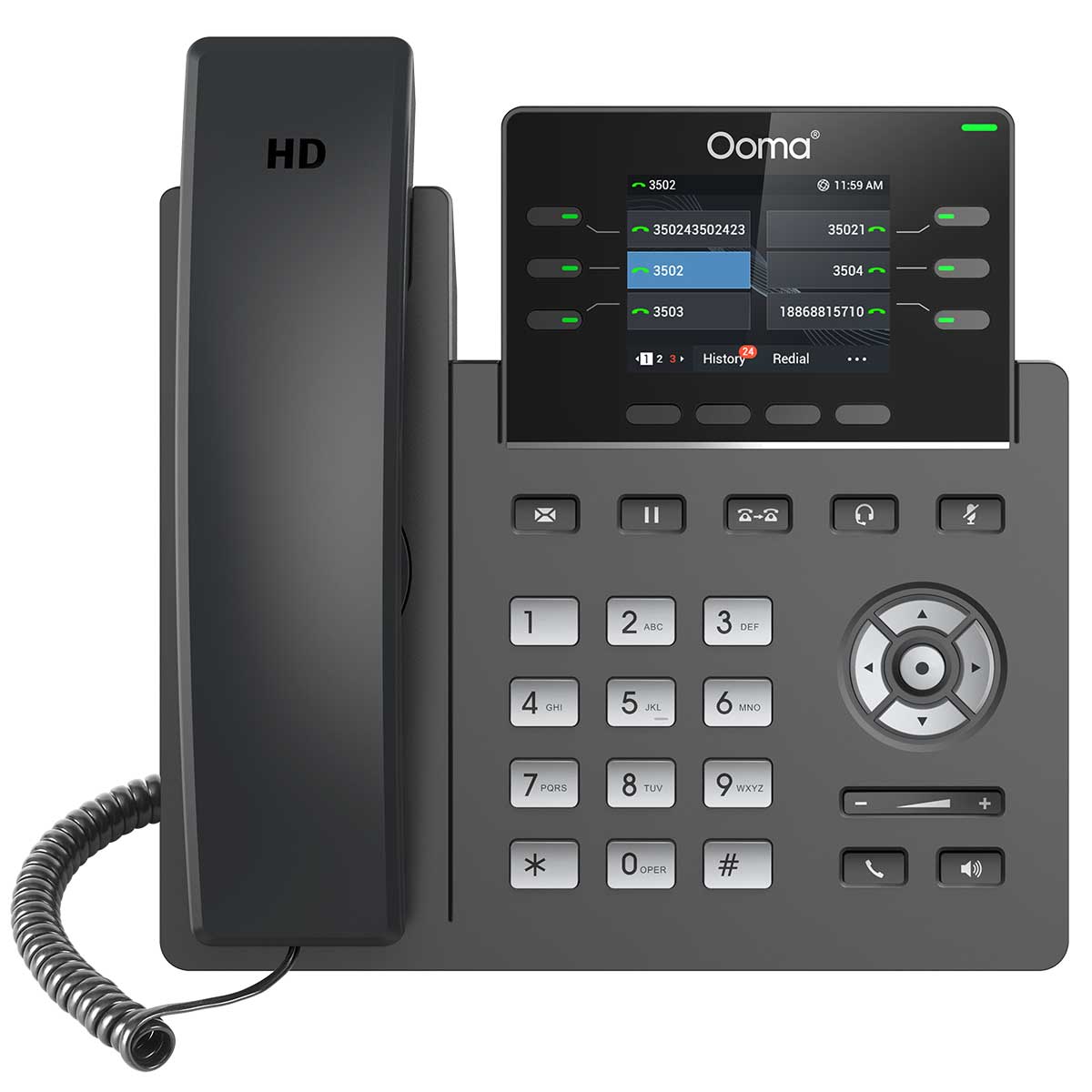 6 lines and electronic hook switch for headsets.

Call volume:

High

Good for:

Large medical practices, real estate offices, law firms or any growing business. [..more]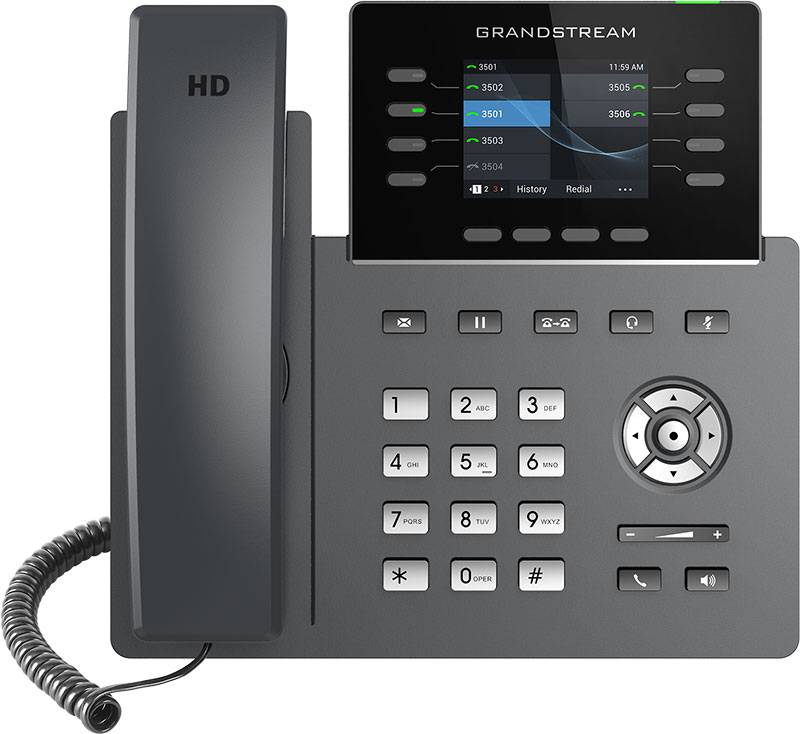 8 lines, 32 programmable keys, dual-band

Wi-Fi

and Bluetooth support.

Call volume:

High

Good for:

Professionals and receptionists who need advanced phone features to maximize productivity. [..more]
More about Ooma Office:
Ooma Office Brochure
This brochure provides key information about Ooma Office and answers frequently asked questions.
Join Our Live Webinar
Gain insight about Ooma products and services.