Business phone service
for restaurants.
There's a lot that goes into running a restaurant. From scheduling employee shifts to tracking supplies and food orders to taking reservations, clear and reliable communication is key to any restaurant's success.
What do restaurants need in a business phone system?
Whether you run a fine dining, quick-serve, fast food restaurant or a food truck, there are many duties that restaurant staff need to conduct on a daily basis.
Managers need to be agile when working with suppliers so they have the right products, especially food and beverages.. Hosts need to communicate clearly with customers while scheduling reservations, planning events or taking carry-out orders. Many chain restaurants communicate with one another, so having one efficient phone system that provides remote access is a must for management and staff members.
Without a flexible, scalable communications system, restaurants can miss patron calls for reservations or suppliers' lack of inventory, which frustrates customers and can lead to bad reviews. With features like Virtual Receptionist, Ooma can help restaurants communicate and collaborate better, which enhances customer service, driving repeat business and strong reviews.
Ooma provides advanced office phone system features for restaurants.
There are several Ooma features that are a perfect match for the day-to-day details of restaurant management. Here are a few that could help you grow your business and communicate more effectively.
24×7 greetings present a professional image to guests.

Restaurants are fast paced, and if your host or maitre d' is helping customers, other customers could get frustrated waiting on the phone. With Virtual Receptionist, Ooma can attend to your calls. You can build menu options that service callers quickly when ordering take-out, asking about dietary restrictions, or confirming directions to your location.

Work remotely as easily as though you were at your office desk.

Restaurant managers are often on the go checking on suppliers, while the chef is in the kitchen working with staff to perfect the menu. The two need to be in constant communication, and the Ooma mobile app can keep your staff connected no matter where they are.

Notify the right staff easily.

You can create customizable Ring Groups that route calls to certain departments or groups of staff members. For example, calls from suppliers can go straight to restaurant management, while other calls can be routed straight to the kitchen team and the chef, while guest calls go to the host.

Integrate backend systems, including reservations and billing.

Serve your customers faster, with greater accuracy, by identifying them quickly and easily.

Boost customer service.

Maintain fast call-back times with Caller-ID and guest names in Call Logs to easily confirm reservations. You can even record calls to review for training purposes.
Hungry to learn more? Check out our downloadable white paper.
Get a communication solution perfect for your business. Call 877-621-0515 for a free consultation and personalized quote.
Restaurant testimonial.
Red O Restaurants
We installed Ooma at each location and saved about ⅔ of the cost each time. I can make updates with just a click of the mouse from my house.

Nathan Rollie

Owner, Rift Business Solutions (Red O Restaurants IT resource)
2-line phone with 5-way voice conferencing.

Call volume:

Low to medium

Good for:

New or small businesses with basic desktop phone needs.[..more]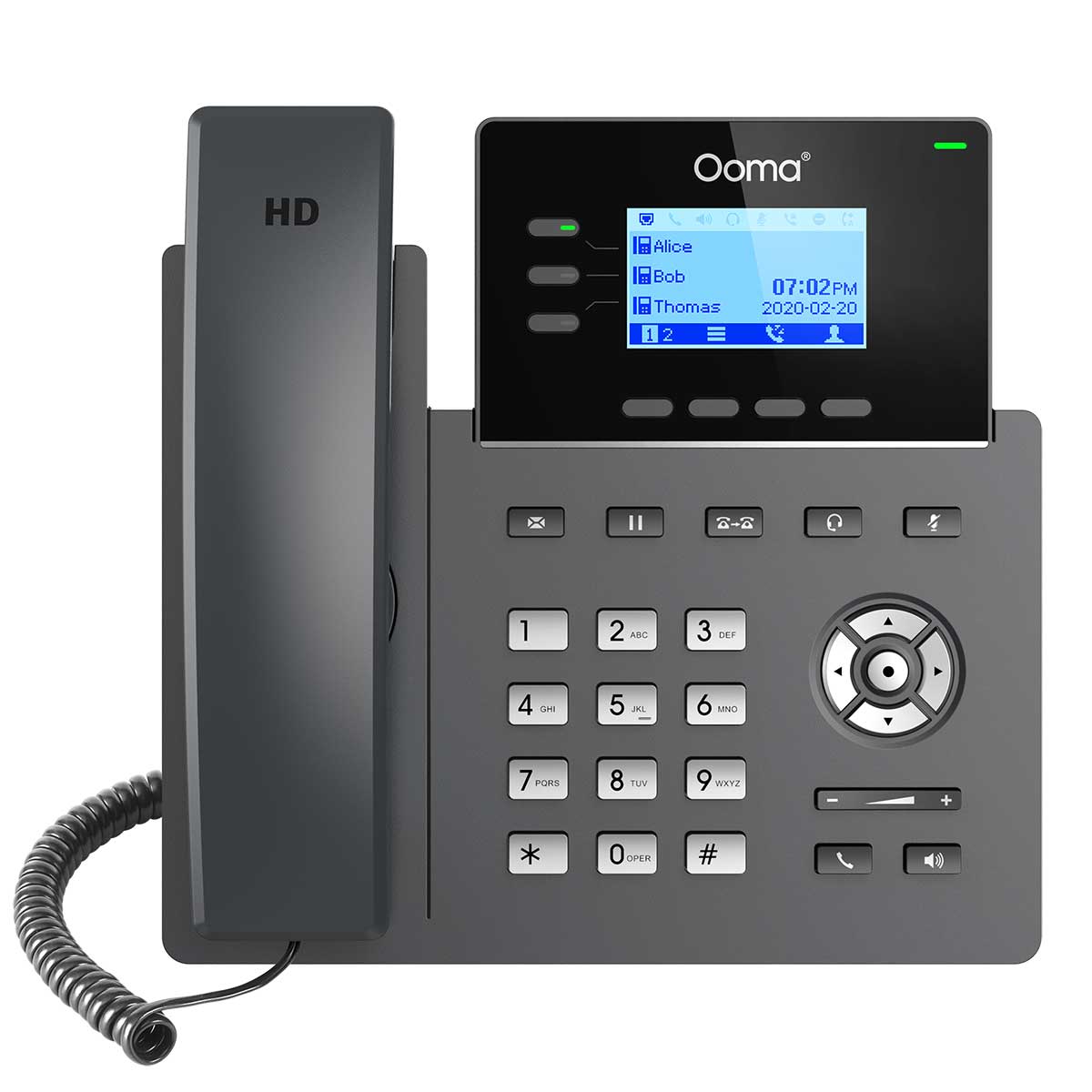 3 lines with full HD audio on speaker and handset.

Call volume:

Medium to high

Good for:

Businesses with remote and on-site desktop workers. [..more]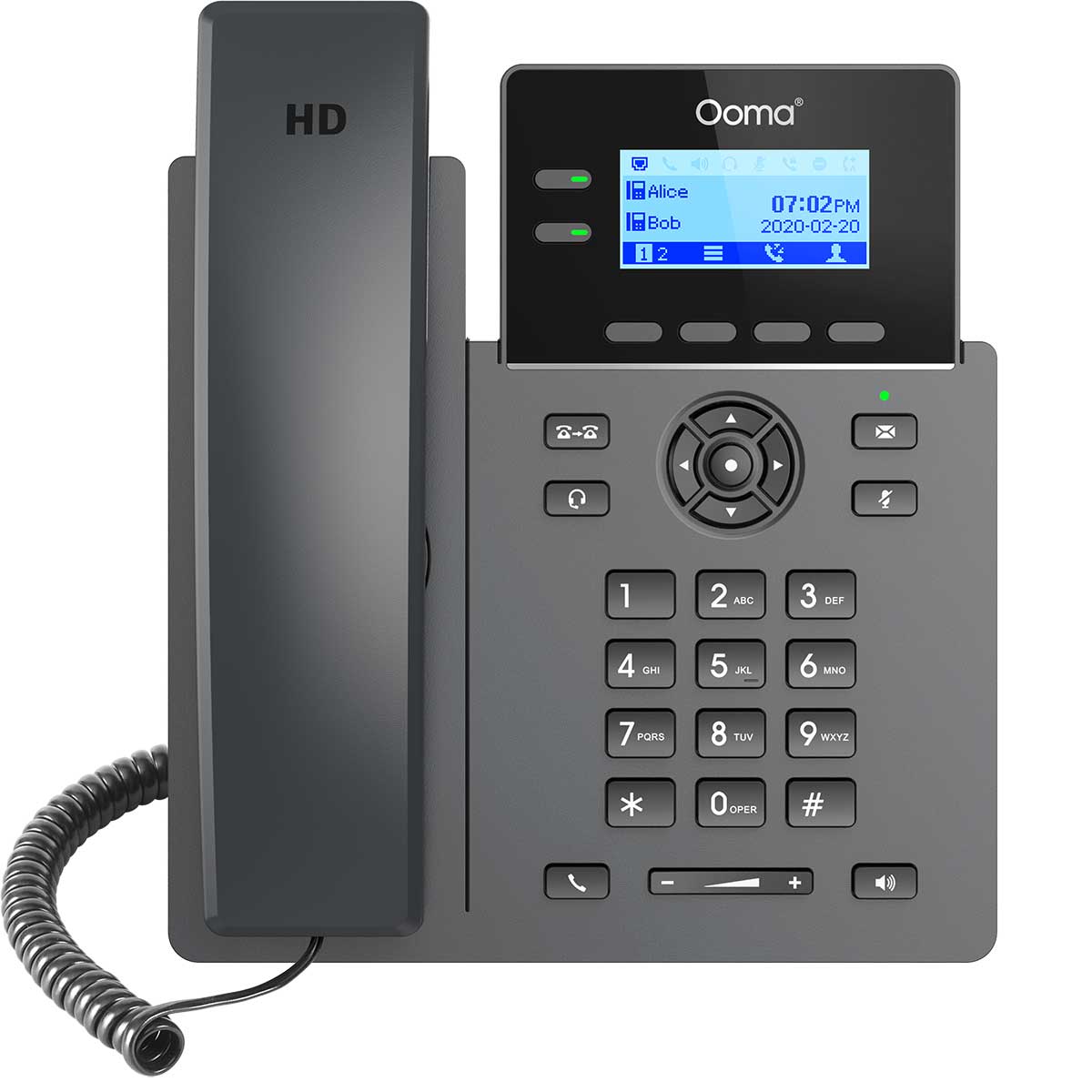 2-line IP phone with Wi-Fi capabilities and 5-way voice conferencing.

Call volume:

Low to medium

Good for:

Entry-level and small businesses that want to connect by Wi-Fi if an Ethernet cable isn't available. [..more]