UCaaS 2023:
A Practical Guide to Unified Communications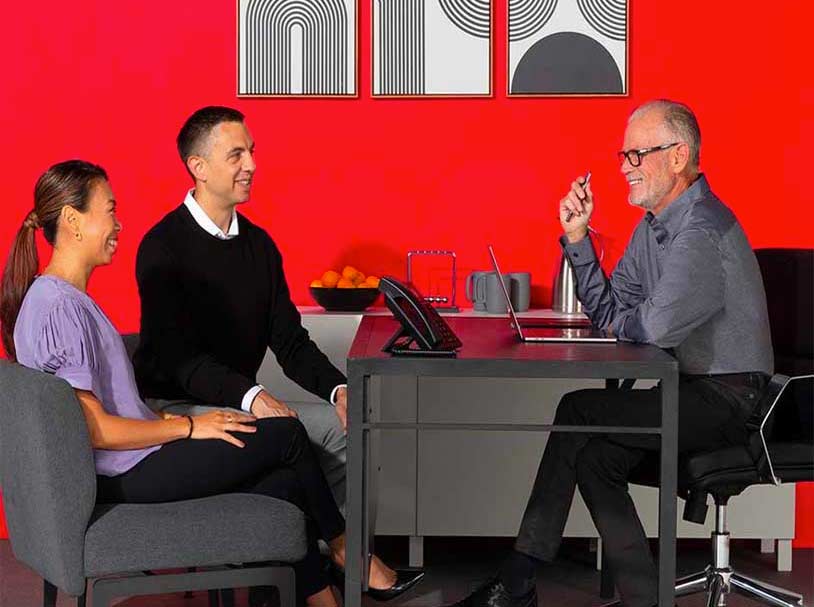 Learn more about how Ooma Office can help your business.
Thank you!
An Ooma Office Sales Representative will be in touch shortly.
866-573-0707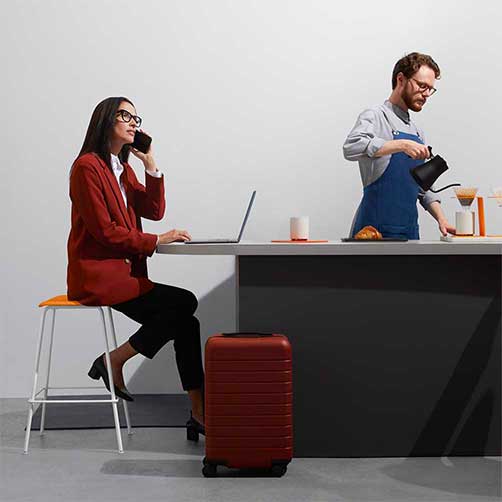 Learn more about how Ooma Office can help your business.
Just call 877-621-0515 or click this to CHAT. Or, fill out this form and someone will reach out to you shortly.
1. What is UCaaS?
Unified communications as a service (UCaaS) is a cloud-based communications system that provides robust, enterprise-class features that users can access from any device.
Essentially, UCaaS is the term for interconnected business communication tools on one cloud-based platform. It can provide services like voice calling, chat, video chat, faxes and more.
Where's UCaaS headed?
Business demand for secure, reliable and cost-effective cloud-based software is what drives software as a service (SaaS) innovation. UCaaS developers continue to improve software capabilities to meet enterprise customers' expectations.
As a result, more and more enterprise businesses rely on ever-evolving and highly efficient cloud-based unified communications solutions. Not only are they secure, reliable and cost-effective, they're easy to deploy and manage, especially for multiple offices, making them much more flexible and affordable than legacy on-premise solutions.
Also, with artificial intelligence (AI) and Internet of Things (IoT) developments on the rise, UCaaS solutions can be integrated into other SaaS solutions to streamline processes, improve accuracy and efficiency, and enhance both employee and customer experiences.
AI-driven tools are reshaping the communication experience through voice command and machine-learning responses.
Gartner® predicts that chatbots will become the primary customer service channel for "roughly a quarter of organizations" by 2027. Regarding Chat Generative Pretrained Transformer (ChatGPT), Gartner explains "It will likely be used to replace, recalibrate and redefine some of the activities and tasks included in various jobs." Which jobs and how remains to be seen.
'Unplugged' communication in the modern workplace
There was a time when business communication devices tethered workers to the office space—chunky desktop computers and phones with lots of cords and cables, and closets full of hardware and more cables to maintain.
However, as new wireless and mobile technology rolled out, the work environment started to change: workers wanted to be able to work remotely just as easily as at the office.
Now, mobile-ready tools give everyone, from the CEO to sales reps, the flexibility to work while on-the-go — with minimal effort. Plus, response time and productivity are improved.
For instance, a project manager might begin a team communication via email. Wanting to check on the status of each member's progress, she initiates a quick conference call.
With a couple clicks, the team members (wherever they are and on whatever device) come together. They provide updates and align their goals. The project manager now understands everyone's progress, and the project moves forward. Team members can also securely message one another on specific details as the project continues.
The rise of the remote workforce
Remote work was once considered an irregular occurrence that happened rarely. However, with advances in mobile capabilities and a shift in both managements' mindset and expectations of "the new norm", the workforce can now be more productive off-site and travel less often to the office.
GlobalWorkplaceAnalytics.com reports that the shift toward a remote workforce is forcing global Fortune 1000 companies to rethink office space (with fewer workers in the office, square-footage needs decrease).
With more employees working remotely (from home, in field offices, and at coworking spaces), businesses need seamless and flexible communication capabilities.
Additionally, modern workers are accustomed to using communications apps they can access anywhere at any time. From mobile messaging to video apps, communication happens spontaneously and on-the-go.
It makes sense for businesses to provide the cloud-based and mobile tools that employees already use. That's where a UCaaS solution comes in.
2. Unified communications benefits—what to expect.
Given the fast pace of business, as well as users' expectation that communication will happen flawlessly, organizations need a communications system that's simple to use, reliable, easy to maintain and affordable.
Why UCaaS for enterprises?
Nothing will test the IT department's mettle more than a system going down. At the enterprise level, troubleshooting a complex network takes time. Productivity slows while IT personnel identifies the issue and tracks down the right vendor or solution manager to coordinate the fixes.
UCaaS simplifies communications management. The unified communications service provider monitors system quality and performs upgrades and updates—24/7—to maintain optimal performance—allowing IT teams to focus on more productive work.
Let's look at the additional benefits to understand how cloud UC makes enterprise-level communications better.
Save on communication costs
It's commonly accepted that cloud-based services are cost-effective. A cloud unified communications solution eliminates the substantial expense of on-premises systems and hardware, ongoing maintenance, and legacy equipment upgrades.
Your UCaaS investment is essentially paying for what you need and use—at one predictable monthly rate.
Boost productivity
From the beginning, the goal of unifying communications was to make work easier and more productive. Having access to business communication applications that connect workers wherever they are on any device increases their output.
User experience also comes into play. UCaaS streamlines communications and workflows, enabling team members to seamlessly work between apps and across devices—all from a single interface. Whether sending a text to a client or hosting a team video call, they choose the app and device that best fits the situation.
Minimize downtime
Unlike on-premises systems that require regular maintenance, which can result in system downtime (and a hefty price tag), the cloud-based communications platform updates automatically without disruption.
Scale your communication tools with your business
As your business grows and evolves, will your traditional on-premise phone system keep up? Probably not.
With a UCaaS solution, whether you're adding more seats to your call center or opening new offices around the country, your UCaaS provider will support your communications needs as your business grows. Adding users and opening new offices can be managed remotely within an easy-to-use management portal.
Get peace-of-mind security and reliability
One of the biggest concerns for businesses as they move their communications to the cloud is security and reliability.
Your provider is responsible for protecting your information and maintaining compliance across their network. It's in everyone's best interest to safeguard all communication data as it travels over the public internet to the provider's remote servers.
A trusted UCaaS provider will ensure that your communication and business data remain safe. That includes 24/7 network threat and vulnerability monitoring, as well as redundant data centers for reliable disaster recovery capabilities.
Get to know the cloud-based UC features
Chances are you've skimmed to this section to get an overview of the UCaaS features that will bring your business communications up to enterprise grade.
Enterprise cloud phone systems
Your cloud phone system does the heavy lifting for you. As the foundation of your business communications, it offers rich features that provide excellent communications capabilities to your team and your customers for a smooth and positive experience.
Here's a sample of the cloud phone system's main features:
Open APIs for integrations
Encryption
Desk phones
Softphones
Local phone numbers
Toll-free numbers
Enhanced 911 service
Faxing
Intercom one-to-one
Mobile apps
Instant messaging
Call center
Conferencing
Call management:
Virtual receptionist
Call-flow editor
Call forwarding
Call logs
Call park
Call recording
Advanced Call Routing
Caller ID with name
Voicemail messaging
Voicemail transcription
Messaging
Messaging has become a popular way to communicate since the advent of smartphones. Enterprise messaging allows individuals and teams to send and receive messages wherever they are—more efficiently.
Messaging features to look for:
Instant messaging:
Chat
History access
Group directories
Encryption
Mobile client (iOS and Android supported)
Web client (HTML5 supported)
Native client (Mac and Windows supported)
SMS messaging:
SMS DIDs
SMS forwarding
API support
Voice and videoconferencing
Conference voice calls are the go-to communication for many businesses and are typically part of the VoIP system.
UCaaS brings voice and video access together in one place. Teams still enjoy the features of VoIP voice conferencing with the added flexibility to shift between voice and video—with a couple of clicks.
Features may include:
Multi-party conferencing: Bring participants together on the device of their choice, using desktop or mobile cameras.
Access control: Easily add users and give them the appropriate permissions.
Chat options: Take chat private or make it open for users to share their thoughts.
Call center
A cloud unified communications service connects your call center software and business applications. For example, with a Salesforce integration, call center data moves seamlessly into the Salesforce app. This information transfer reduces the amount of time call center staff spends documenting and tracking calls.
Call center features to expect:
Call routing with:
Automatic call distributor (ACD)
Skills-based routing
Ring groups
Intelligent reconnect
No answer call forwarding
Reporting and analytics:
Desktop analytics
Voice analytics
Customizable, real-time reporting
Sentiment analysis
Customer satisfaction surveys
Mood rating
KPI thresholds
Email notifications
CRM Integration
Whether you use a Salesforce or Microsoft Dynamics CRM, your customer relationship management system will reach its full potential when it's integrated with your business communications system. Sales and service teams will better understand and meet customer expectations with real-time access to buyer data, faster response time taking orders, and more efficient order fulfillment and billing/payment processing.
UCaaS/CRM integration features may include:
Click-to-dial: Start a call right from your CRM
Inbound-call display: Identify the caller and contact information before taking the call
Call-detail capture: Instantly record and organize call details
Workspace transfer: Users can migrate the whole workspace, including call data.
Integration into CRM / AI systems to enable predictive ordering systems
Mobile VoIP
A UCaaS mobile app allows employees to access their business phone features on their mobile devices. Once they've downloaded the app, they can make business calls from their phone while keeping their personal numbers private.
Some of the mobile VoIP features include:
Extension dialing
Call transfer
Conferencing
Call hold/retrieve
Do not disturb
Directory query
CHECKPOINT
How much do you need?
Before you get too far into your UCaaS decision-making process, consider your communications needs. Start with these guiding questions.
How will a cloud-based UC solution improve your business?
How will the features help your team members in different locations collaborate on a daily basis?
Which features will you use most—and least?
Understanding how you will use a unified communication system will help guide your buying decision.
An overview of UCaaS architecture
There are two UCaaS architectures: single tenancy and multi-tenancy. Each has its strengths. Ultimately, the right choice comes down to a company's needs and preferences.
Single-tenancy UCaaS
Single Tenant is a single instance of the software and supporting infrastructure to serve a single customer. With single tenancy, each customer has his or her own independent database and instance of the software. Essentially, there is no sharing happening with this option. Which might sound appealing at first blush, until each company using it realizes they don't get volume-based operational and infrastructure efficiencies of sharing one platform and network, and its minimal costs when securely used by thousands or millions of users.

Opting for single tenancy—putting money into a system that will require upgrades and imminent replacement—may prove counterproductive and expensive given the benefits and efficiencies of a multi-tenant architecture.
Multi-tenancy UCaaS
Scaling a multi-tenant solution has far fewer infrastructure implications than a single-tenancy-hosted solution because new users get access to the same basic software rather than standing up new instances of the software for each customer.
Shared infrastructure also leads to lower costs. Multi-tenant UCaaS allows companies of all sizes to share operational infrastructure and data center costs. There is no need to add more applications or hardware to their environment, making it more cost effective.
Because it doesn't have to provision or manage any infrastructure or software above and beyond internal resources, multi-tenancy UCaaS enables businesses IT resources to focus on other tasks or more strategic initiatives. Additionally, software updates and upgrades happen automatically.
Multi-tenant solutions are designed to be highly configurable so that businesses can make the application perform the way they want. And, with open APIs, they can integrate their customized communications systems with other SaaS solutions to boost productivity, streamline processes, and improve overall user and customer experience.
Get your UCaaS right the first time
Enterprise businesses really accelerate productivity and accuracy when they choose more than a one-size-fits-all UCaaS solution.
That's what sets Ooma apart from off-the-shelf providers.
When you partner with Ooma, your organization gets a customized communications solution crafted to fit your business needs.
3. UCaaS vs. CCaaS: Better together?
Organizations often treat their call or center platforms as a separate entity. However, companies that integrate call center as a service or contact center as a service (CCaaS) solutions into their UCaaS platform experience a plethora of process improvements and efficiencies.
What is CCaaS?
Contact center (and/or call center) as a service is the multi-tenant cloud-based version of a premises-based call or contact center solution. CCaaS allows companies to connect call center and contact center activities to cloud business applications, such as CRM and ERP software.
Take customer service to a new level
A UCaaS/CCaaS solution allows companies to better understand how customers interact with their brand, as well as ensure a consistent, smooth customer communications experience.
For example, a sales associate may need to transfer a customer call to the service department. The service agent can see the customer's details instantly (such as purchase history and outstanding orders). The customer doesn't have to repeat any information, and the issue is resolved with minimal effort.
In today's buying environment, whether business-to-business or business-to-consumer, how a company communicates with customers is critical. An efficient and productive cloud communications system will build brand loyalty — long after the call has ended.
4. UCaaS vs. CPaaS: What you should know
There are many parallels between UCaaS and communication platform as a service (CPaaS). Both provide solutions for voice, video, messaging and conferencing.
What is CPaaS?
CPaaS is a platform that enables application customization. On its own, CPaaS allows service providers to customize business communication tools.
An example might be authentication capabilities—such as text notifications. Should a call center employee need to verify a customer's identity, they can send a verification code via text for the customer to repeat back or enter into a webpage field.
Why UCaaS and CPaaS work well together
Cloud UC providers weave CPaaS (and application programming interfaces or APIs for short) into the platforms, allowing them to create more customizable, intuitive solutions.
5. UCaaS vs. VoIP: Which do you need?
Whether you're new to voice over IP (VoIP) or an experienced VoIP user, you might be trying to decide whether to stay with VoIP or migrate to UCaaS. Let's look at the options.
What is VoIP?
VoIP is an alternative communication system to traditional phone service. The internet-based adaptor is set up on-site, and businesses either manage the service on-premises or through their VoIP provider.
At the enterprise level, VoIP will include a swath of features such as virtual receptionist, call waiting, voicemail, three-way calling, and group conferencing.
VoIP-only or UCaaS?
Ultimately, a business's needs will inform the decision to go with UCaaS versus a VoIP system. However, for enterprise businesses, faster, more intelligent communication requires immediate access to business data via integrations.
One feature missing from a VoIP-only system is video calls. With the help of session initiation protocol (SIP) trunking, videoconferencing and mobile video chats are affordable to implement without ripping out and replacing all legacy hardware.
Sorting out which system you need gets easier when you work with an enterprise-grade provider.
6. What to look for in a UCaaS provider
UCaaS companies offer a variety of products, plans, and services. A Google search for "unified communications as a service providers" will produce a staggering 25 million results.
As you start clicking through, you find that each offers a dizzying range of features, services and subscription plans.
Here are some key points to guide researching and choosing a UCaaS solution provider.
Does the provider understand your business?
When it comes to getting a cloud UC system, the features must align with your communication needs. For instance, a commercial real estate company's communications will be different from a corporate law firm's needs.
The right provider will take the time to understand your business. They can determine how customized unified communications, tailored to your business and integrated into your other critical SaaS solutions, will enhance productivity, accuracy, satisfaction and your bottom line.
Out-of-the-box UCaaS vs. a custom-fit solution
As discussed earlier, many providers offer an out-of-the-box solution. For some businesses, an off-the-shelf system will work. For others, a customized communication platform, with a dedicated team that helps you tailor your system, is essential.
Early in your research, take into consideration what you need.
Which business applications will you integrate (for example, CRM and ERP)?
Do you want the ability to easily and remotely configure your system with each office's directories and specific call flows?
A provider that has a dedicated customer success team can deliver the level of customization a company needs so you get the best communications fit for your business.
PRO TIP
UCaaS migration: Why your input matters
When your provider migrates your existing UC setup or phone system to a cloud-based unified communications solution, a lot is going on behind the scenes. To make the UCaaS migration as smooth as possible, here are some things to keep in mind.
Think partnership and strong customer support and relationship versus implementation and then you're on your own. Your provider will need to understand details about your business – how your organization is structured to support your sales model and how to deliver critical communications capabilities and continuity across each department and office location,
including home
offices. The better your provider understands your business model, the smoother the transition and more dramatic the transformative business benefits will be.
Your provider will port your existing numbers over to the new system (which can be an intricate maneuver). The process goes faster when your Direct Inward Dialing (DID) directory is up to date. That includes information about phone carriers and in-use (and inactive) numbers.
Get up to speed on your call flow. Your cloud UC provider will need to know how calls flow throughout your business. For instance, when a customer calls a number listed on your website, where does the call go—your call center, the service department, the sales team, an individual or even a specific ring group?
7. You are not alone: UCaaS service and support
The difference between providers lies in their ability to support customers immediately and professionally, 24/7. Switching to a UCaaS solution requires many moving parts, and you will want a provider to be there every step of the way—before, during, and after deployment. Once your system is up and running, you are sure to have questions as you work through various customizations and integrations to make your system the perfect fit for your business.
What people are saying:
The best feature for me is customer service. I'm able to reach out to Ooma with a support ticket and within minutes—definitely always same day—they are always able to fix the issue for me."
MAJOR
Web design and digital marketing
We have about 650 employees and 400 lines. When we switched to Ooma Enterprise, the support was amazing … we were basically up overnight. One of the coolest aspects of Ooma Enterprise is API access. We quickly built our directory, call flows, and different ring groups that made our lives immeasurably better."
BRIAN J ANDERSON
Systems Administrator Traction on Demand, a Salesforce and application development company
To ensure business continuity, we contacted Ooma Enterprise and were provisioned and up and running in under a week with phones for all 29 of our staff … with some assistance from the customer success team, I've been able to fully set up this system without the need for a dedicated IT specialist."
ATIRA PROPERTY MANAGEMENT
Wrapping up Unified Communications as a Service
Moving to a UCaaS system is a significant undertaking for an enterprise company. The change in your business communications touches everyone—from the C-suite to the remote sales team.
When you partner with an experienced cloud UC team with dedicated project managers and customer success professionals, the transition is seamless. Moreover, your enterprise communications go from "just phones" with bits and pieces of other solutions like videoconferencing or call center, to a powerful productivity-boosting solution that is integral to the success and growth of your business.