Small business phone services to help you work more efficiently.
How to set up your business phones fast without getting overwhelmed.
As a small business owner or manager looking for a new small business phone service provider, you need to quickly choose, buy, and install your phones. The last thing you want to do is spend days (or weeks) researching all the options, working out what you need, and hoping you're making the right choice.
We've got you covered!
Read on to determine:
Why you need new phones.
What to expect from a business phone service.
How the best business phone service can improve your business.
And more.
1.
Five signs you need a modern business phone system.
If you're thinking about upgrading your business phone services and wondering when to do it, here are some telltale signs to help you decide.
You have an 'original' VoIP phone system.
Maybe you have a VoIP phone with an on-site server. When you installed the system a year ago, it was probably the 'next generation' phone service and required an IT professional to set up the service and maintain it.
Then cloud-based phone business systems came along, which brought new functionality, productivity, and cost savings to millions of small and mid-sized businesses.
And, suppose you had to rely on IT to maintain your phones. Business phone service providers can simplify all aspects of implementing and maintaining your phone lines — from straightforward billing to plug-and-play installation of pre-configured IP phones, to additional lines via the web portal.
Today, you want your staff to be work-from-home ready.
In recent months, many small businesses have moved staff from working on-site to working from home.
There's a good chance the remote-worker model will continue for the foreseeable future.
Therefore, your remote teams — from managers to sales reps — need reliable, fast phone service that feels seamless, as if they're in the office.
With an agile phone setup, remote workers can take their IP desk phones home, and/or use mobile and desktop apps easily collaborate with team members, switching from desktop to laptop to a mobile phone. And even when you take your desk phone at home, all you have to do is plug it into the router and start making calls instantly.
Your business is growing, and you're hiring new employees.
Business growth can be unpredictable. A spike in sales or services demand may require expanding your staff phone numbers.
Getting them on board and situated with a phone to fit their work needs has to happen fast.
As you bring on new staff, you need a phone service you can adapt quickly to accommodate each new hire. That includes adding lines and knowing the exact cost. With easy, all-inclusive pricing for certain business VoIP solutions, you don't have any unforeseen or added costs, so it's easy to budget accurately.
Your staff experiences call routing challenges.
Your staff may not mention the difficulties they have with an existing phone service if it's an older, inflexible PBX system or one of the "original" VoIP systems.
During the busier times of work day, employees might muscle through the glitches (like dropped or missed calls, or sorting through voice messages without any text to make it faster to prioritize who to call back first).
But over time, phone challenges can slow employees' productivity. The sales team can miss a valuable call from a prospective customer. Or a supplier's time-sensitive message might not reach the warehouse manager in time to make a shipment that day.
Putting an efficient business phone system in employees' hands allows them to stay connected and do their best work, and it enables prospects and customers to get their questions answered and orders placed more efficiently, which boosts customer service and loyalty.
You need to ensure flawless customer service calls.
Are employees hearing from callers that they are on hold too long and hang up? Are callers leaving voice messages in a generic company mail box that is checked only once or twice a day, with the voice message later forwarded to the person that can help, wasting an entire work day of response time?
Whether they're calling for the first time or the tenth, customers expect to achieve what they set out to do quickly. If they can get a bill sorted out or make an appointment with minimal effort, they'll likely seek your services and buy from you again. A business VoIP phone service with a virtual receptionist ensures that calls will be routed to the right person in sales, service, or billing so the message is immediately seen and acted upon by the right team member.
QUICK TIP
Step into your customer's shoes!
Want to get a better idea of how your existing phones are maybe falling short? Call your business. Try to reach different departments and people — as if you're a customer. Was the process smooth or bumpy?
2.
How to choose a phone service that fits your industry and company.
One of the more challenging aspects of buying VoIP business phone services is determining what you need for your type of small business and industry.
For instance, a photography team at an advertising agency may rely on using mobile phones. In contrast, the receptionist at a dentist's office might prefer a desk phone.
When determining what you need for your business, where do you start? Do you need to buy new desk phones, or should you outfit everyone with softphones and headsets?
Let's look at the internet-based phone options and how hardware (like desk phones) might fit into that picture.
What is a softphone?
The word softphone is short for 'software telephone.' It's an umbrella term that includes desktop and mobile apps for business phone services. The phone software is loaded onto a device (your laptop, PC, or smartphone) via an app.
Once installed, users access the phone's dashboard to manage their calls. To make calls, they use a touchpad on a mobile phone or a mouse and keyboard on a computer.
Conversely, incoming calls pop up on the user's screen, allowing them to respond with a touch or a click.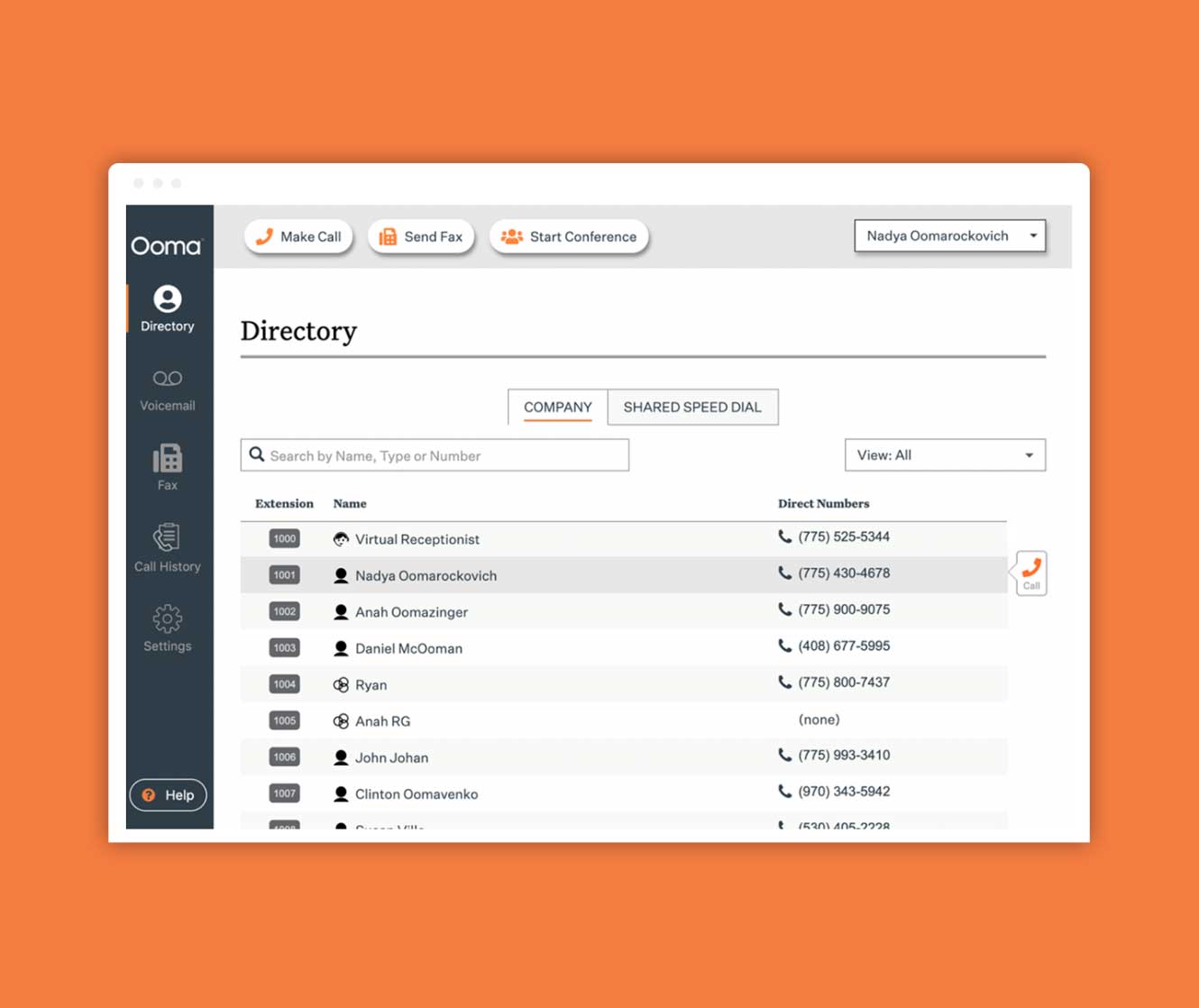 When you choose a softphone system over desk phones, you save money not buying hardware, although buying headsets is a useful option.
Also, while modern desk phones are easy to install, it's one less piece of equipment to have on your desk if you are performing a job that requires you to be on your feet and mobile.
You can even enjoy the flexibility of unlimited calling from any device with immediate access to business-phone features like extension dialing to one or more numerous locations, call forwarding, video conferencing, SMS messaging/chat, call recording and call waiting.
How does a desktop phone application work?
A desktop business phone application lets employees make calls from their PC or laptop. Users download the desktop app to their computer, sign in, and start using the phone features.
Here are some advantages and industry examples of using a desktop phone application.
Keep calls flowing to the right place 24/7.
During busy times, employees may not be available to take a call. However, call routing must reach the right person effortlessly.
That's where a virtual receptionist comes in. The virtual receptionist feature allows business owners and managers to set up a menu of options for directing callers to the appropriate team member or department. It also provides helpful information like business hours of operation and location.
For instance, in the restaurant industry, call routing across departments is critical for running a successful food service business.
If front-of-house staff is busy with customers, the virtual receptionist will route callers to the best option (e.g., "Press 1 to make a reservation, press 2 for restaurant address").
Likewise, the virtual receptionist can get staff emergency calls and supplier alerts to managers and chefs — whether they are in the restaurant, traveling in between different restaurants, or at a supplier's.
Spend less time managing voicemail.
In addition to accessing voicemail through your business phone service, you can seamlessly manage missed calls on the go.
When a caller leaves a message, it will appear in your email inbox. With a few clicks, you can listen to your voicemails or read the transcripts then mark them as read. You can easily prioritize callbacks and work with the utmost efficiency from wherever you are.
Make sales training simple, productive, and enjoyable.
Small businesses can record and review sales calls with their teams.
Unlike 'listening in' to sales conversations and providing feedback after the fact, leaders can sit down with staff members and go through the recordings — stopping as needed to provide insights and training.
See how a technology company uses call recording to coach its sales reps, resulting in a 28% increase in sales.
Reduce hardware spend.
Buying new business phones doesn't necessarily mean purchasing physical telephones. Depending on employees' individual phone needs, eliminating desk phones might make sense.
With the desktop business phone app, staff open the app and use their built-in computer speakers and microphone, or a headset, to make and take calls or join video meetings from their PC.
What if you want to use desk phones?
The great thing about internet-based phones is that you can probably adapt your existing VoIP desk sets to the new system.
Alternatively, you can buy a new desk phone or go with a hybrid set up of softphone and desk phones.
What is a mobile business phone application?
Business phone mobile apps allow employees to use their business phone service on their smartphones to make and receive work calls, listen to voicemails, SMS text their colleagues and join conference calls.
Users download the service provider's app from the Apple or Google Play app stores. To make a call, they open the app, log in, and click the contact they wish to call. Like the desktop application, an incoming call will appear on the user's smartphone.
Take a look at just some of the benefits of mobile applications and how industries use the features.
Stay connected on the go.
With a mobile business phone app, employees can continue working wherever they are.
For professional service businesses, such as architecture firms, legal firms and business consultancies, staff members can make and receive calls on their mobile devices as they travel between client appointments.
Make users' mobile phone numbers private.
Whether team members work from home or out in the field, they can make calls from their smartphones, while keeping their phone number private.
Also, calls to clients show up as users' business numbers, creating a more professional impression.
Flip from desktop phone to mobile device seamlessly.
A mobile business phone app allows employees who move between multiple departments and locations throughout the day to shift quickly from office phone to mobile device.
In retail businesses, for instance, team members are often on the move. A manager might be in the office for a few minutes then on the showroom floor or outside in a service area. They might start a call on a desk phone then flip to a mobile phone as they walk out to the service area — without interrupting the call.
Watch how one retail store fields a gamut of calls around its facility and between devices (including using mobile devices to send faxes and manage voicemail).
3. Make the phone buying process a snap.
With so many small business phone service providers to choose from, it's hard to know where to start. Sifting through the vendors, plans, and features can eat up precious time.
Here are three simple steps to bring some clarity to the research, set-up, and launch.
1. Start with a simple in-house phone audit.
A little upfront planning can help you understand what's not working well with your existing phones and features you need both now and in the future.
Talk to your staff in each department. Ask them about the limitations of the existing phones and the features they need to do their work from their homes or anywhere they need to stay connected. Determine future growth needs in terms of new employees you might onboard in the coming months or year, and where various team members will be located..
If you jump into the buying process without the 'big picture' in view, the flood of buying information may leave you with little time to sort out the details of your current and future needs for the best business phone service that is adaptable, flexible and scalable.
2. Pin down the details.
You've audited your existing phone users and have a good idea of what you need and want in the way of business telephone services. Now it's time to gather the final planning details.
Most vendors offer tiered plans to accommodate the business's size and call needs. The side-by-side visuals make it easy to understand what you might need.
To eliminate surprises, ask about any fees (such as one-time activation fees and per-line costs).
Additionally, get a clear understanding of the monthly billing cost and what the service includes. (Cloud based phone service invoicing should be straightforward — easy to understand and manage. You can find a provider with all-inclusive pricing so there are no surprise fees in your invoice at the end of each billing cycle).
Most small businesses report significant reductions in their phone bills when they switch from a traditional phone company to online phone services.
"

I was formally with AT&T. I am so glad I made the switch to Ooma. It offers me better user experience for my business and I cut my bill by over 80%! I am so happy I made the change!

"
–
Krystian M, Crab Apple Tutoring.
3. Launch!
Gone are the days of complicated phone installations — of flipping through a thick manual or calling in an IT professional to update the system or waiting for weeks for the phone company to do a truck roll to your location.
Setting up your new phone involves a few simple steps.
Choose your business phone number (if needed) from your computer or smartphone. You'll have options for local, repeating, toll free number, and vanity phone numbers.
Get Your Business Phone Number
Open the app on your device or plug your VoIP phone into your router (if you're using a desk phone).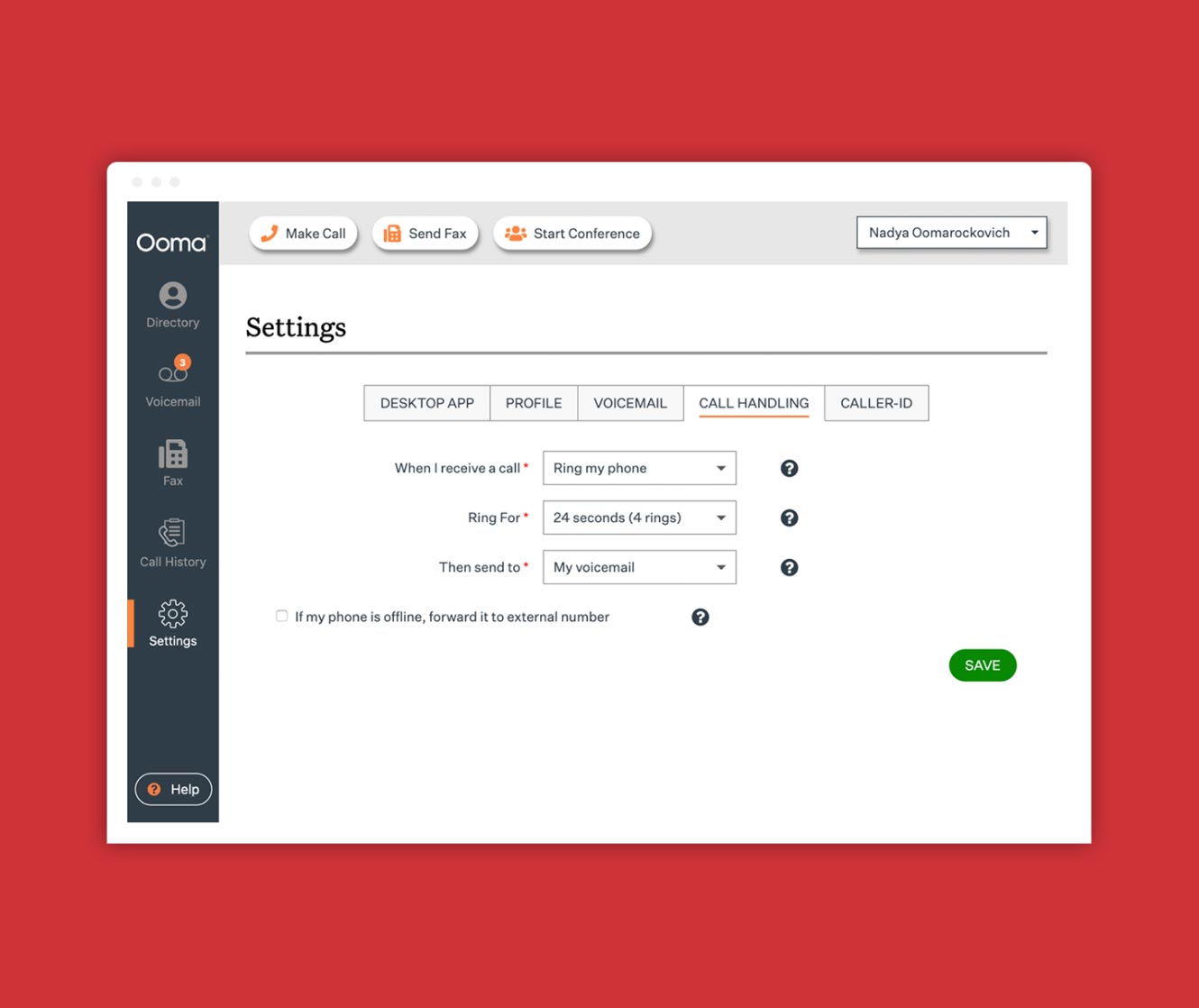 Set up your preferences in the portal page — put in your extensions and manage all your phone numbers, conference lines, and faxes.
Start making calls.
4.
Fuel business growth with the right business phone service.
Phones are a communication tool for growing every business — a portal that connects customers to your products and services.
Every in-bound and out-bound call makes a difference — from processing a sale to solving a customer's problem.
Whether your remote teams use desktop apps to communicate with customers or your manager takes a call on his or her mobile phone on the road, your business phones quickly become an indispensable, always-on tool that keeps you constantly connected and responsive.
Make a big-company impression with every call.
Features such as the virtual receptionist and call-parking show callers that your business is professional and organized.
It doesn't matter if your company has two employees or two hundred. Your new phones will give customers the professionalism of a large-business when they call.
Create consistent call experiences that customers love.
Customers expect a positive experience when they call your company. If they can reach the right person quickly and get the information they need, their trust increases.
Moreover, if a customer can call and solve a problem effortlessly, their loyalty grows.
In addition, vendors, partners and suppliers can efficiently reach the people they need to with productivity going up too.
Without a doubt, tailoring your phone system for every department and user across your business puts you in a position to attract and delight customers and grow your business.
5.
You're all set!
Like any buying decision, the better prepared you are from the outset, the easier you'll find the business-phone buying process.
Use the above information to choose the perfect phone for your business — without the confusion. In no time, your new business phone system will be up and running.
Finally, trust the word of thousands of users. Sources like PC Mag polls its readers for their impressions on the best VoIP services. Choose the best business phone services by users that have positive experience in addition to savings so you can't go wrong.
Set up your business phone services without the hassle.
GET A QUOTE
---
We'll follow up with you in one business day.
Other Business Industries
Whether you're a local or national business we can help – Ooma is the #1 VoIP solution for a variety of business industries.