Ooma Free Calling App
Your Home Phone in Your Pocket
Any existing Ooma customer with a compatible iOS or Android device can access the Ooma app.
New customers can access the app by making a one-time purchase of Ooma Telo.
Get the Free Calling App That Takes Ooma Anywhere
Enjoy crystal-clear calls using the FREE Ooma Mobile app on your iOS or Android device.
Not only can you make unlimited mobile domestic calls with any Ooma plan, but Ooma Premier customers can receive unlimited mobile calls in the U.S. and Canada. You can also make international calls on your mobile device for next to nothing through the Ooma app.
How does the Ooma Mobile app support free calls?
The app transmits calls through your device's wifi or data connection, which means you reduce the number of minutes you use per month without sacrificing call quality or bandwidth.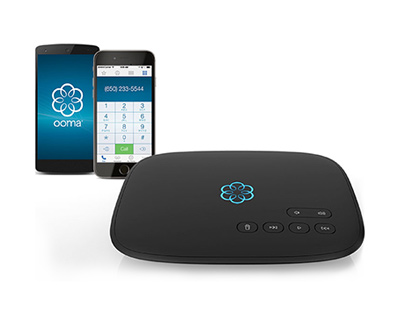 Benefits of Using Ooma Mobile
Ooma Mobile gives you flexibility and top-notch call quality directly from your smartphone. However, convenience isn't the only great feature:
Never miss a call: The app is linked to your Ooma account, so you're up-and-running 24/7.
Save big on calling costs: All Ooma subscribers enjoy unlimited domestic mobile app calling.
Spend less on international calls: Ooma app users can save up to 90% on international rates when calling through the Ooma app. If you dial international calls frequently, you can make unlimited calls to more than 60 countries for only $17.99 per month.
Free mobile calling on your terms: Check your voicemail, update Ooma account preferences and more, all within the app.
To get started, simply download the app from the iTunes store or Google Play store. Then, login using your Ooma username and password (the same one you use for the Ooma website). From there, you can start making free calls by accessing your contact list.
Quality Calls Without the Expensive Price Tag
The Ooma Mobile app includes PureVoice HD technology, so every call you make still ensures the best possible quality without additional bandwidth. When calling over wifi with a good internet connection, the call quality will be the same as calls made from your Ooma device. When connecting over 3G, 4G or LTE, the call quality will vary depending on your location.
Whatever your home phone needs are, Ooma has the solution. Thanks to the Ooma Mobile free calling app, you can take your Telo on the road and still enjoy quality calls without the added cost.
Visit the iTunes store or the Google Play store to learn more about how the Ooma Mobile app works with your iOS or Android device.
Ooma Mobile App FAQs
▶ Who can download the Ooma app?
Existing customers: All Ooma users can download the Ooma app if it is compatible with their mobile device.
New customers: You must be a Ooma Home Phone Service user to download this free app. Get your Ooma Telo today!
▶ How much does the Ooma app cost?
The Ooma app is free for both iOS and Android users.
▶ What benefits do I get as an Ooma Premier subscriber?
In addition to making unlimited calls in the U.S. and Canada with the Ooma app, Ooma Premier subscribers can receive unlimited calls through the app.
▶ How much do calls made from the Ooma mobile app cost? How can the Ooma app save me money?
Calls to any Ooma number are free when you use the Ooma app, as are calls to U.S. and Canada numbers. You can save money on international calling by taking advantage of our low rates, or by signing up for an Ooma international calling plan.
Ooma Mobile is also a great option when you are traveling abroad. Instead of paying outrageous roaming fees to call home, simply log into an available wifi network and use the Ooma Mobile app to make calls. As an added bonus, when you call using the app your Ooma account caller-ID will show up so people will know that it is you calling.
▶ How do I make an international call using the Ooma mobile app?
To make an international call with the Ooma app, dial "011" followed by the country code and phone number you wish to reach.
Note: Calls to Canada, Puerto Rico, U.S. Virgin Islands and other countries included in the North America Numbering Plan can be made by dialing the number as you normally would, without the 011.