Best practices for video meetings: Host and participate like a pro.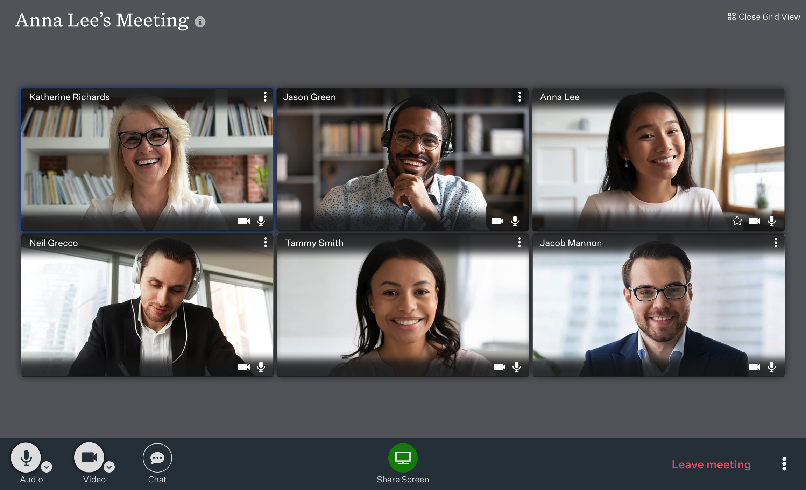 Following video meeting best practices is vital to remaining productive in a remote working world. When you are working from home, video calls can become a vital link to colleagues and customers. Unfortunately, some people have struggled with video conferencing tools. In some cases, individuals have lost their jobs as a result of how they acted on video calls. That doesn't have to happen to you. With a few simple tips, you can run video conference calls like a pro and quickly get your work done.
Preparing for video meetings: Best practices
Preparation before video meetings begin can make an essential difference in your communication experience. Review these tips before your next video call for a smoother, more enjoyable experience.
Spend time learning your video conference software tool.
Each video conference software tool has different features and capabilities. For example, Ooma Meetings lets two people screenshare simultaneously—a great way to collaborate. In addition, you can set up recurring video meetings to save time. Whichever video conference tool you choose, there are a few features that are helpful to learn:
Mute buttons. Find out how to mute and unmute yourself. The options may be different if you are the meeting host.
Meeting passwords. Maintaining security on video calls matters! Make sure you know how to enable meeting passwords.
Screensharing. Screensharing options take some practice. For example, sharing your entire desktop is not always necessary. Sharing a single application like a presentation may be a better choice.
Phone call connection. Some video call tools let participants join by phone call. Find out if your tool has this feature. For example, a customer might prefer to participate by calling a phone number.
Security settings. Did you know that some troublemakers disrupt video calls? Known as "Zoom bombing," this behavior can be stressful. Fortunately, the risk of disruption to your confidential conversations can be reduced by enabling meeting passwords. Look for the security options in your platform to protect your call.
Privacy options. Depending on the call and your comfort level with video, you may not want to appear on video. Before you join a call, find out your options to participate by phone or turn off video. If you have the option to join a call by telephone, that is a good option to be aware of. In addition, some video conference tools let you set up a digital background image so you can limit how much of your home is displayed to other people. Once you understand these settings, tell other people about them before planned calls so they can join the conversation with or without video as they prefer. 
Test your video camera settings and configuration.
Your laptop or smartphone probably has a video camera. However, you may be unfamiliar with using it for longer video calls at work. That's why it makes sense to test your video camera. Specifically, you will want to try a few points to make sure you are easy to see.
Look directly into the camera, rather than your screen. By looking directly into the camera, it will be easier to maintain eye contact with other people. If you find it hard to look into the camera, consider changing the angle.
Check your lighting situation. Poor lighting conditions make it harder to see you. Sit facing a light source if possible, such as a window or lamp.
Check your background. Your video camera will show more than your face. The area immediately behind you, such as a messy room, may appear on the video call. Consider using a digital background image to maintain your privacy. That said, digital backgrounds do not always work correctly, so do what you can to make your background area presentable.
Test your audio settings and configuration.
If other people on video calls cannot hear you, it will be difficult to achieve anything. Use these tips to minimize the chances of an audio disruption.
Practice using the mute function. Some people struggle with muting and unmuting themselves effectively. 
Have a backup audio option. Consider buying a second pair of headphones or a headset just in case. A pet might damage your headphones when you're not looking, so a backup can make all the difference.
Experiment with different internet connection options.
When you are working from home, various factors can influence your internet connection's speed and quality. For example, if your home office is on a different floor from your wireless router, you may have a slow connection. In that case, relocating your computer to a spot closer to the router may improve your internet speed. If other people live with you, consider asking them to avoid video streaming services, video games, and other bandwidth-intensive activities during your video meetings.
Tip: Your internet service provider (ISP) may be able to assist you with additional ways to improve your internet connection. Consider contacting them for help if you are worried about the speed of your connection.
Plan to reduce background noise management.
Working from home means that background noise may become a problem. There are a few ways you can minimize such distractions.
Focus on the mute button. Muting yourself whenever you are not speaking will help reduce background noise.
Change your microphone settings. Consider reducing the gain setting for your microphone. You may have to speak more loudly to be heard, however. 
Ask other family members for quiet. In remote work, other people may be present. Tell them about your essential meetings in advance and ask them to stay quiet during those times.
Move pets to another room. Pet may distract you from your video calls, so consider moving your pet to a different room or floor of your home.
Close the door and windows. If possible, close the door and windows to your workspace to minimize background noise.
If background noise is persistent during your video calls, you may need to buy other products. For instance, a microphone windshield or windscreen may help to reduce background noise.
Run a test video call with a friend.
Before you run an essential meeting, ask a friend to practice with you on a video call. Setting aside five to 10 minutes for a practice video call can make all the difference in helping you fine-tune video, audio and lighting.
Video meeting best practices: Making the most of your video calls
Participating in video calls takes some practice. To reduce your learning curve, take note of these tips.
Maintain eye contact. It is somewhat challenging to maintain eye contact during video calls. Looking directly into the camera will help you to stay connected with other video call participants.
Make time for casual conversation. In face to face meetings, there is often a chance for an informal hallway conversation. Consider making some time for informal discussions in your video calls before you get down to business.
Avoid relying exclusively on video calls. Research published in the Harvard Business Review found that video calls are draining partly because they demand more focus: "They force us to focus more intently on conversations to absorb information." Therefore, it may be wise to use various communication methods (e.g., email, phone calls, and video calls) throughout the workday day to avoid burnout. 
Becoming an expert at video calls takes practice. With each call you complete, look for lessons and tips from other people, and your skills will keep improving over time.
Thank you!
By subscribing to Ooma's Business Blog, you can expect to receive insightful emails about latest updates, helpful tips, and useful tricks.
Call us at: 866-573-0707 for any other inquiries
Unlock the full potential of your Ooma experience: Tips and Insights from the Ooma Business Blog