As the #1 CRM in the world, Salesforce is one of the best ways to track your customer data. What would happen if you embed data from every phone conversation and text message into your Salesforce system?
By integrating your phone system with Salesforce, your business will see improved order processing, customer satisfaction, increased employee productivity, and more efficient business operations.
Benefits of a Salesforce Integrated Phone System
Salesforce supports computer telephony integration (CTI), and when your phone system is integrated with Salesforce, your business can gain the following benefits:
Increased sales: Integrating your phone system data into Salesforce can maximize sales by helping you see and use your data better. One eCommerce company reported staggering metrics after integration:
Average number of calls increased 520%
Closed deals increased by 227%
Time Savings: Integration can enable the automation of many telephony tasks, which streamlines handling time. Instead of doing things manually, technology can automatically log call activity and let you place calls with a single click.
Data Transparency: There's no need to worry that someone on your team has made a sales call without logging it into the system. Users across your team can have real-time visibility of automated call logs that help staff work efficiently and track calls easily.
Better Customer Service: Technology can enable a more personalized customer experience with screen pops that instantly display customer information of inbound callers so agents can troubleshoot and process orders faster.
Data Accuracy: System integration takes human error out of the equation. Sales managers, call center agents, and managers are confident that the call details entered into Salesforce are accurate.
Improved Employee Satisfaction: By freeing up your team from mundane data entry, they'll be more productive, more satisfied with their jobs, and more focused on meeting their goals and responsibilities. 
How to integrate Salesforce with your phone system.
When you're integrating your phone and call center systems with your Salesforce data, there are two logistical factors to achieving the type of integration that works best for your business's needs.
In Salesforce, you'll need to consider: 
The data you want to be saved in Salesforce: This includes the phone activity you want to track and where in Salesforce you want to track it. For example, you could be logging which user made a call, the timestamp of when the call was made, the duration of the call, a sentiment analysis, and a saved call recording. 
Added functionality using Salesforce data: This is an action-based consideration where data is being used rather than stored. For example, you could have an informational screen pop on your records with valuable customer details. You could also implement click-to-dial technology so that outbound calls can be effortless and fast.
When integrating your cloud-based VoIP into Salesforce, look for providers that offer:
Maximum voice quality and reliability: Your Salesforce integration won't be valuable to your company if the phone system itself doesn't provide excellent connectivity and reliable data. A strong telephony network with globally distributed data centers ensures maximum uptime and voice quality. This will allow you to support disparate and remote workers with excellent call quality via their mobile or desktop apps or pre-configured IP phones. 
Tools for call centers and customer service teams: Integration with Salesforce can have a tremendous benefit when it's done at scale. Phone systems that support a call center, remote workforce of agents, or customer service reps can offer features to reduce friction. This can include skills-based call routing to intelligently match callers with qualified agents, unlimited queues, ring groups, and intelligent reconnect to instantly pair a dropped call with the previous agent. 
API integration: Integration via an API provides maximum interoperability and flexibility. This works at the software architecture level to let you choose how you want the systems to connect. The best way to get the benefits of API integration is to look for a provider with an outstanding customer success team that can assist with integrations and customizations. Unlike Vonage's "orange-glove setup," which helps with onboarding, Ooma Enterprise's Success Heroes provide concierge-like service to help you customize your system to perfectly fit your business model.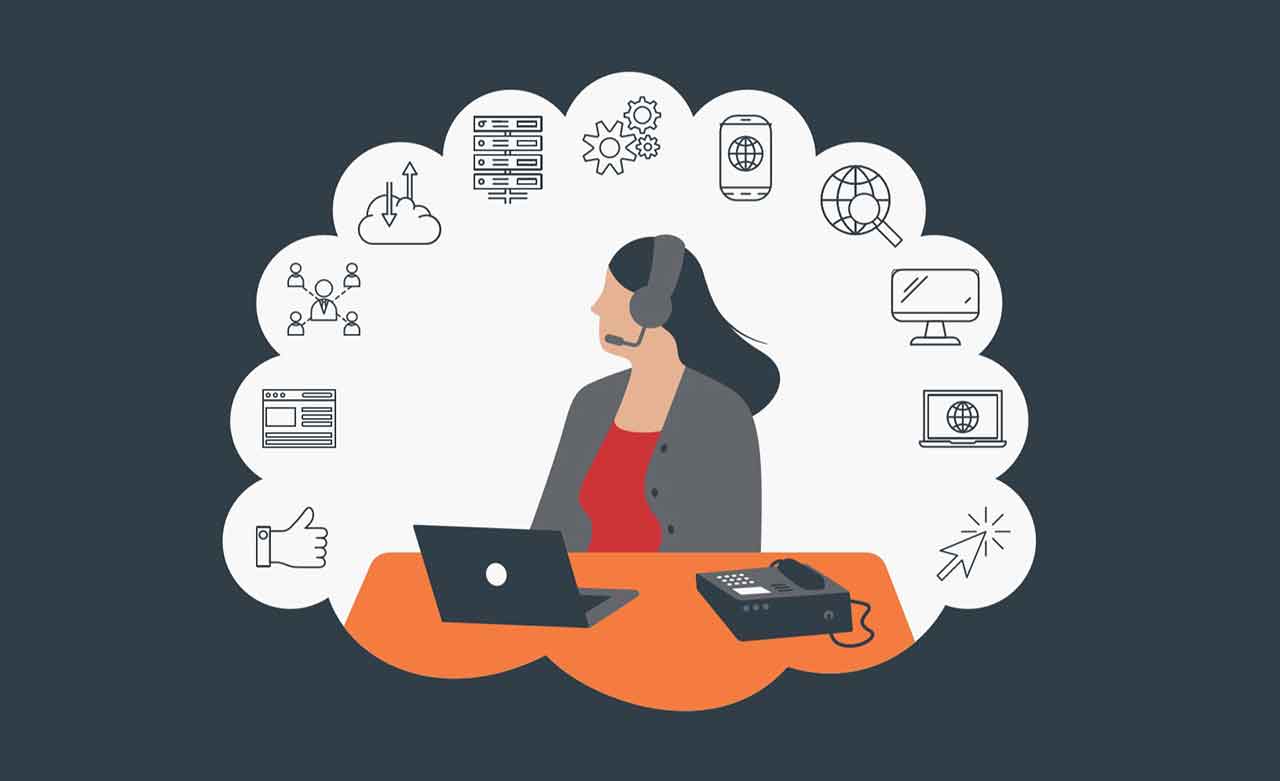 Best VoIP and UCaaS Systems for Salesforce
When choosing a VoIP or UCaaS system for Salesforce, evaluate providers using the checklist below:
Are there business-class features?
Your business could have a competitive advantage by using intelligent phone technology. Consider the level of service you can provide when calls are intelligently routed and customer contact information is automatically displayed for each incoming call. Reps and agents can instantly see details like recent account activity such as their most recent orders, and personal notes a rep might want to reference like a customer's birthday that is coming up or a favorite sports team.
This gives you full interoperability and customizability. Your VoIP or UCaaS integration should work as you need it to, custom-fit to meet your business needs rather than your business being forced to use limited "off-the-rack" integration options.
Is there real-time reporting?
Analysis is often a key driver of growth, team member success, and customer experience. To be able to fully maximize your system, you need robust business intelligence tools that provide real-time information whenever you need it, like the "My Day" view that tracks real-time performance for both agents and call center managers.
Does it provide the core competencies you need?
Evaluate a company for its voice quality, reliability, ease of use, and features like call recordings, drag-and-drop automated call routing, call histories, and UCaaS to bring together voice, SMS and video.
Is there highly rated support?
Problems and delays can negate your ROI. The best VoIP and UCaaS companies won't give you the runaround when you need help. Seek out a provider that consistently delivers top-quality service from day one and offers that level of support to help you customize and tailor your system to enhance user and customer experience throughout its lifetime.
Is it scalable, flexible and global?
Look for a provider that uses modern, agile technology that can evolve with you as your company and your requirements grow. Make sure it can handle your needs five years or 20 years from now. Consider how you might want to expand into new regions and markets, fully integrate remote workers, extend your supply chain ecosystem, or open an overseas call center. Choose a company that has a global infrastructure and the flexibility to meet your needs now and into the future.