Cloud Phone Systems for Beginners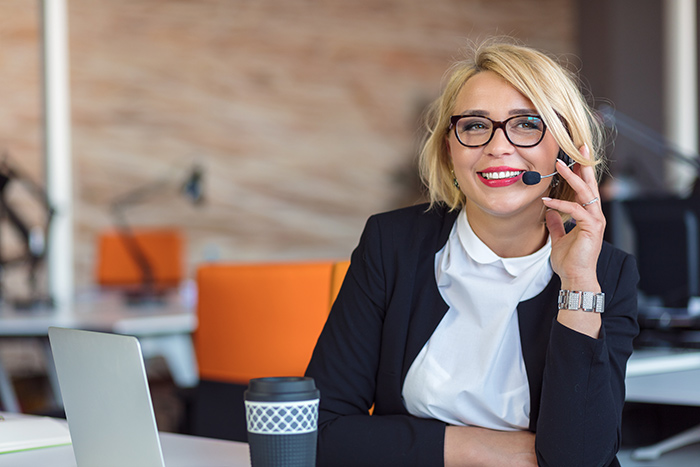 Cloud technology has already transformed how you do business. Cloud email systems provide access from anywhere using any device. Cloud-based file storage makes it easier to collaborate. You may even have your own private cloud to host your internal database, or you might use a cloud CRM system to track and maintain all your sales activity and customer information.
While business phone systems were previously viewed as a utility, cloud phone systems demonstrate that treating your voice communications like a transformative technology can provide significant advantages across all areas of operation.
Learn about the basics of cloud-based phone systems, including what it is, how it works, and how it provides the framework for better business communications.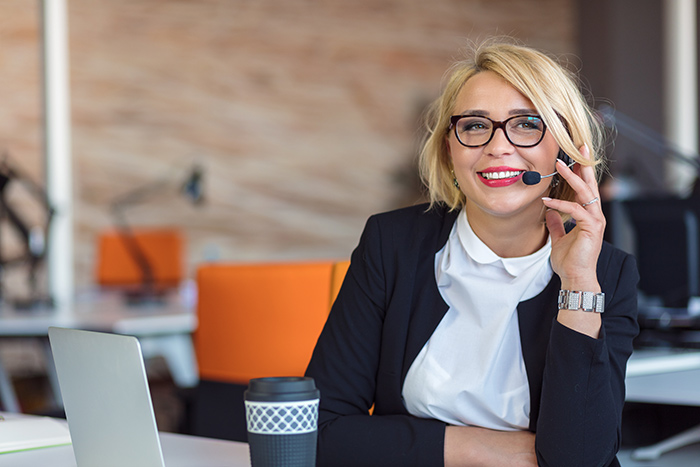 FS-Stock –
stock.adobe.com
What Is a Cloud Phone System?
A business cloud phone solution provides the same functionality of a local PBX, but the system routes calls over your internet connection rather than through traditional copper phone lines.
Also known as Voice over Internet Protocol, "VoIP" solutions or hosted private branch exchange (PBX), services are hosted on servers, allowing a call from your desk phone to be bridged with any other phone number via the internet. Even though the user experience is the same, the behind-the-scenes technology is much different.
The advantages of hosted VoIP service include access to high-tech features, lower cost than traditional phone service, and easier deployment since you won't be paying for hardwired phone lines.
What Does a Cloud Phone Setup Look Like?
The setup of your cloud phone system will depend upon both your business needs and your provider. With Ooma, users can choose between several types of devices and user clients:
Analog phone communicating wirelessly
Analog phone communicating wirelessly via an Ooma Linx
Ooma mobile app for anywhere access from any mobile device
IP desk phone communicating wirelessly
IP desk phone connected to Ethernet port
IP conference phone
Cordless IP phone for roaming access within your business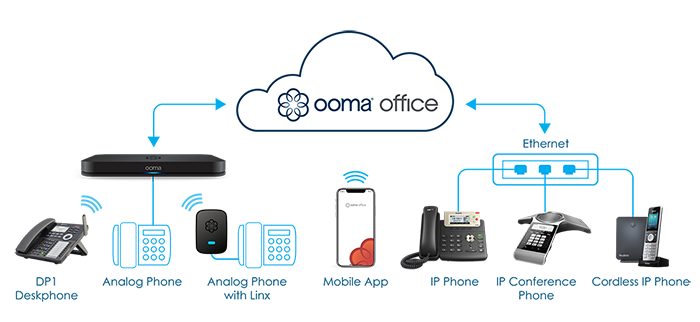 How Do Cloud Phone Systems Help You Solve Mobility Access?
Too often, businesses try to piece together voice communications by having a small business office phone system that's supplemented with cell phone numbers. While this does provide the connectivity coverage, it certainly isn't convenient to have multiple contact numbers or to make and receive business calls from a personal cell phone number. Having the ability to make and receive business calls through a cloud business phone system on devices inside and outside of the office creates continuity and enhances the professional image by being reachable via the business phone system regardless of where you are.
The Ooma business mobile app lets you add your office phone as a secondary line on a mobile device. Personal calls will ring on the phone's native calling app, and work calls will ring via the Ooma Office mobile app.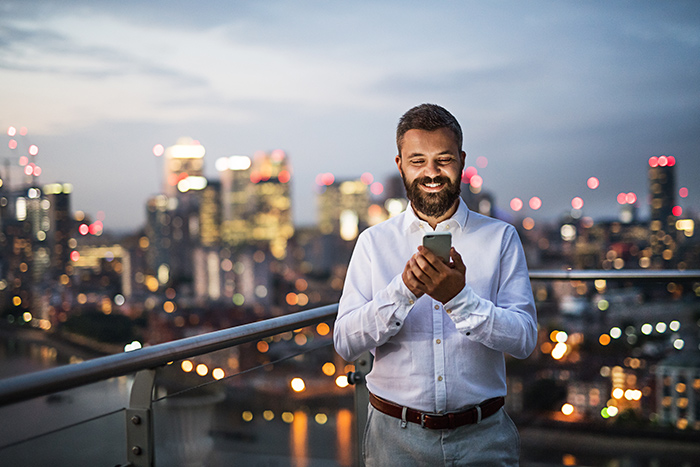 Halfpoint –
stock.adobe.com
The business calling app is full access, letting you make and receive incoming calls as though you were at your desk. Callers won't even know that you're not at your desk because you can transfer calls, check voicemail, and have the same level of connectivity.
Mobile business guides frequently explain how cloud technology supports today's mobile workforce. A cloud phone system streamlines connectivity, reducing the unnecessary confusion of split communications with different numbers for different devices. It helps employees stay on the ball when they're away from their desk, and it can be a way to network remote workers into your business' phone system.
What Else Can a Cloud Phone System Do?
The transformational functionality of a cloud phone system provides optimization for many areas of business communications.
These advanced business VoIP features provide a strong communications framework:
Virtual Receptionist: Automate your incoming calls with a menu system that allows callers to speak with a specific staff member, a certain department, listen to a pre-recorded status update, or get basic business information such as hours or directions.
Ring Groups: Avoid the missed opportunity of when a call goes to voicemail. Ring groups allow a call to a single number to ring on multiple phones.
Conference Bridge: Businesses don't need a separate app when conference calling is built right into the existing phone system.
On-call Functionality:Support your callers better with on-call functions. Place a caller on hold, transfer callers to another extension, and use Call Park to queue up multiple callers on hold.
Businesses that have more advanced communications needs can benefit from an
enterprise phone system
with features such as:
UCaaS: With unified communications as a service in the cloud, you can use business communications across multiple channels, including integrated messaging and video conferencing.
Advanced Analytics: Calling analytics can give you the business intelligence to understand caller sentiment, agent performance, keyword activity, customer satisfaction, and more.
Call Center: Establish a powerful call center with intelligent call flows, skills-based routing, interactive voice response, intelligent reconnect, and more.
CRM Integration: Sync your customer management database directly with your phone system to improve operational efficiency and the quality of your customer service.
What Are Your Cloud Phone Options?
You can select from different cloud phone solutions that provide varying feature sets that support both the size and complexity of your business and communications needs.
For example, a small start-up with a staff of 10 may want an approach that combines innovative features with ease of use. For these situations, Ooma Office provides small businesses with the advantages of cutting-edge communications technology with an easily deployable solution that's simple to use on any device. It's flexible, powerful, reliable, and SMBs can enable contractors to work remotely within their business communications system. Moreover, it's not so cumbersome that you'll need to call your IT consultant or department.
As one real estate agency owner explains, Ooma Office saved the company 30 to 40 percent on its phone service while providing great call quality and ease of use. In fact, many customers save more than $6,000 in just three years. Use the Ooma savings calculator to see how much you could save.
Larger businesses that are working at scale may have more complex needs that can be accommodated by Ooma Enterprise VoIP Solution. This system offers unified communications or UCaaS, plus call center capabilities that are easily customizable to provide the perfect fit for your business protocols and processes. Easy drag-and-drop functionality lets you build customized call flows in minutes. With Ooma Enterprise, the cloud platform enables application integration so you can sync your phone system directly with your other cloud software. It also delivers top quality and security through a global network of distributed data centers.
Ooma Enterprise comes with dedicated success heroes who go beyond customer support to guide you through the entire process so that you won't have to jump through hoops to get a phone system that's just right for your business. The Ooma success heroes are part of your all-inclusive monthly service fee, so you get amazing value at a very affordable rate.
What Are the Leading Cloud Phone System Providers?
Cloud-based business phone systems are on the rise, and the market recently topped $5B in annual sales. These are the leading cloud phone system providers and their satisfaction ratings:
Overall satisfaction score by PC Magazine's Business Choice Awards*2018 figure used because 2019 data not available.
What Distinguishes a Good Cloud Phone Provider?
When choosing a system, two main considerations should influence your decision.
The first is call quality. With the great calling features of Ooma, it's easy to be sold on the solution because it delivers top-notch voice quality that's optimized across changing internet conditions and geographic locations.
For the past six years, Ooma Office has been the #1 small business VoIP phone system in PC Magazine's Business Choice Awards. It was also the top choice in the categories of call quality and reliability.
The second consideration is the ability of the phone service to meet your business' exact needs. While many providers try to retrofit your communications into the solution they're offering, Ooma Enterprise is a highly flexible and customizable system that can be tailored to your needs. Especially when you're working at a scale of hundreds or thousands of employees, there's no need to establish workarounds. You can easily build, modify, integrate, and standardize your business communications system and process workflows across numerous teams and locations to deliver the perfect fit.
Your business isn't like other companies, and now you don't have to use a cookie-cutter solution that falls short of meeting your business' demands.
Learn more about how Ooma's Enterprise VoIP Service can help your business stay connected.