Ooma provides a full set of mobile apps to keep you connected while you're on-the-go.
Ooma app (Residential)
(iOS, Android) If you subscribe to Ooma home phone service, the Ooma app keeps you connected, even while you're away from home.
Telephone connectivity: Basic customers can make unlimited calls to anywhere in the U.S. Unlimited access for Premier customers expands to Canada and Puerto Rico, and Premier customers can make calls as well as receive them.
International dialing: Use the app to access Ooma's low per-minute dialing rates no matter where you are, and subscribers to our international calling plans get unlimited access to included countries.
Staying safe with 911: All app users have access to Ooma's patented 911 feature. After logging your home address in our system, a 911 call from any device within your Ooma account will be directed to your home's local emergency services. Also, emergency personnel will automatically receive your home address so they can respond to your emergency as quickly as possible.
Staying connected with traveling abroad: When you're out of the country, the Oooma app is an easy way to have telephone service without paying overseas cellular rates or switching your phone's SIM card. Simply connect to Wi-Fi to make calls through the app as if you were at home. Premier customers can make and receive calls through the mobile app.
Want more info about the Ooma Mobile app? Check out our FAQ.
Ooma Telo Setup app
(iOS, Android) When installing your Ooma Telo, this mobile app will give you easy access to all setup features. Keep in mind that this setup app is not for making phone calls; it's just for setup.
Activation: It's easy to activate your Telo — just scan the QR code on the bottom of your device.
Configuration: Input all of your information and adjust your settings in a few easy steps.
Check Status: The app will clearly state the status of your system.
Want more info about getting started with Ooma using the Ooma Telo Setup app? Check out our FAQ.
Ooma Office app
(iOS, Android) If you're an Ooma Office customer, this mobile app will give everyone at your business access to their business phone no matter where they are.
Connectivity for remote workers: Incoming calls can be transferred from HQ to your remote employee in Indiana, to a delivery driver stuck in traffic in Texas, to a salesperson on the road in Connecticut, or even to another location.
Desk phone in your pocket: Make and receive calls on the app as though you were using your desk phone. Your customers will never need instructions to use a different phone number during different hours. All of your communications will be consistent and professional.
Voicemail on the go: You'll never miss a message when you have complete communications access from your mobile device.
Want more info about the Ooma Office Mobile app? Check out our FAQ.
Ooma Home Security app
(iOS, Android) Monitor your home remotely and get alerts with this easy to use mobile app.
Unlimited sensor capacity: Protect your entire home using a network of smart sensors monitoring doors, windows, garages, motion, security video, smoke detector, and water sensors.
Real-time alerts: Receive immediate notification when activity is detected. Whether it's letting you know the precise moment that your kids get home from school or it's an alert of unexpected activity at home, you'll always be in the know.
Remote connection to your local 911: Ooma is the only service to integrate your home security into emergency communications. If you need to take action in response to unexpected activity, calling 911 from the app will automatically connect you to your home's local emergency services. Also, emergency personnel will automatically receive your home address so they can respond to your emergency as quickly as possible.
Customization: Set your notification preferences, manually switch between Home and Away modes, set up mode automation, and more.
Want more info about the Ooma Home Security app? Check out our FAQ.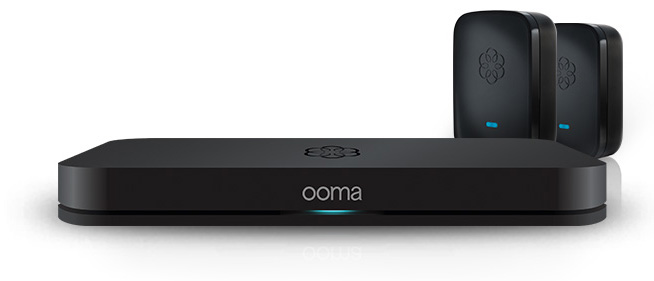 Ooma Office offers reliable phone service and advanced enterprise-grade phone features like a virtual receptionist, extension dialing, conferencing, and music-on-hold. And when your business grows Ooma Office can expand with your needs.
Risk-free 30-day return
Total Price: $199.99
Call 877-959-6662
The following two tabs change content below.
Dennis Peng
Dennis is the vice president of product management and technical advisory board member of Ooma and is responsible for creating an intuitive, compelling user experience. Prior to joining Ooma, Dennis worked at Cisco Systems for 11 years where he began his career as a customer support engineer. He later joined the Escalation Team where he focused on fixing the most technically challenging problems, as well as supporting the design, rollout and operations of the largest remote access and broadband aggregation networks worldwide. He was honored with the title of Distinguished Support Engineer because of his expertise in networking protocols, isolating and fixing highly complex issues, and leadership among his peers. Dennis holds Bachelor of Science and Master of Science degrees in Electrical Engineering from Stanford University.
Latest posts by Dennis Peng (see all)