How Does a Cloud Based Phone System Work?
Cloud-based phone systems have gone from being an alternative form of voice communication to a predominant phone technology that's used by millions. What does it mean to have cloud phone service, and how does it work? Let's break down the basics of this technology.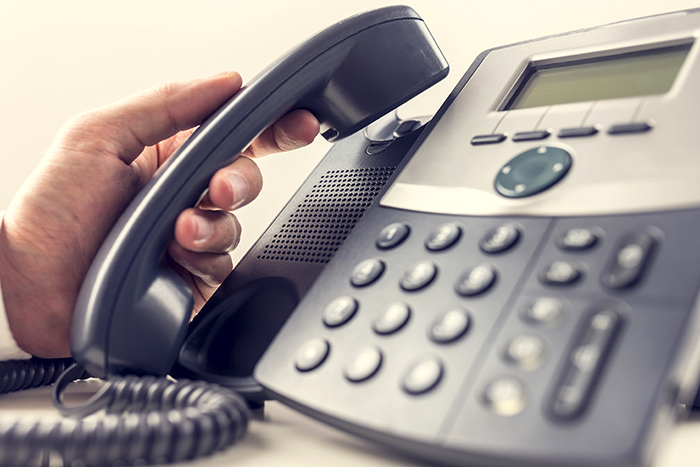 Gajus – stock.adobe.com
What Is a Cloud-based Phone System?
Rather than using traditional phone wires or a cellular voice network, an enterprise VoIP uses your internet connection to provide voice communication. Many companies use cloud phones to connect employees to their telephone network. Also called a cloud PBX, virtual PBX, or business VoIP, cloud phone systems frequently offer advanced productivity tools and unlimited calling.
While residential VoIP service (Voice over Internet Protocol) is also hosted in the cloud, the term "cloud phone" is most often used for business phone systems.
How Is a Cloud-based Phone System Different from a Traditional PBX?
An on-site PBX phone system is a traditional phone service with wired phone lines that can connect business departments and employee extensions. These private branch exchange (PBX) phone systems are aging technology that typically requires intensive maintenance and installation. Additionally, PBX systems rarely offer the high-tech features that are available through modern cloud-based systems.
Comparatively, cloud communication systems are software based. Typically, there's lower maintenance, relying instead upon your existing internet infrastructure. It also provides the advantages of today's latest technology, including flexible networks, diverse connectivity options, and online resources.
What's the Best Business VoIP Phone System?
Ooma Office is a lightweight, user-friendly, and flexible phone system that's a top choice for small businesses.  In fact, it's been named the #1 VoIP phone system in PC Magazine's Business Choice Awards for the past 10 years.  It's a plug-and-play system with the type of phone features that can help small businesses seem like a big deal.
For larger businesses or those wanting even more communications tools, Ooma's enterprise phone system provides a customized UCaaS. In addition to enterprise call center platforms, video conferencing, and softphone apps, Ooma Enterprise offers application integration, so your phone system can with integrate directly with a CRM such as Salesforce or Microsoft Dynamics. This can unify your business cloud by providing automated features such as integrated call logs or conversation recordings saved to customer profiles.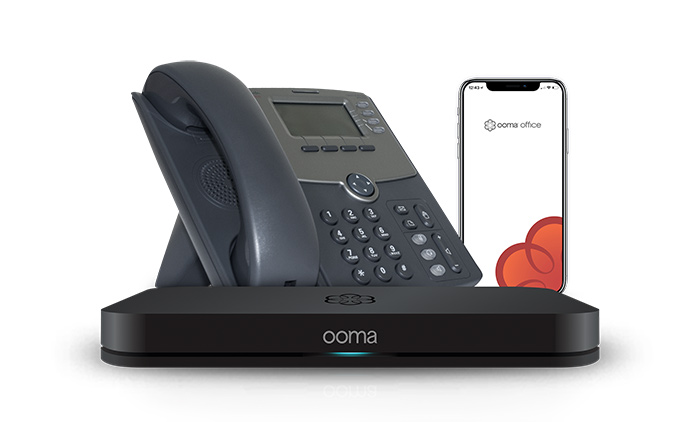 What Is the Call Quality of Cloud-based Phones?
When it comes to cloud PBX phone technology, call quality can vary widely based upon the phone provider. You may be familiar with poor quality calls where audio is stuttered or garbled, with ill-timed pauses causing you to miss key parts of a conversation. Not only is low-quality audio frustrating, but it could also reflect poorly upon your business.
In the 2019 PC Magazine Business Choice Awards, Ooma had the highest score of all the providers surveyed. Ooma Office phone service uses behind-the-scenes protocols that provide the framework for high-quality audio. Ooma uses advanced voice compression to reduce bandwidth, dynamic prioritization so your calls aren't interrupted by internet traffic, and adaptive redundancy to avoid audio gaps, all collectively known as PureVoice Technology. As you can see in the video below, even sound engineers rave about Ooma's call quality.
Can I Use a Cloud-based Phone System with My Cell Phone?
A key advantage of cloud phones is that service can be as portable as your internet connection.
While not all business VoIP providers provide phone access via a mobile device, both Ooma Office and Ooma Enterprise offer mobile apps.
When using the app, your employees will have full access to make and receive calls on their work line directly from their mobile device. Callers won't know which device you're using or that you may not be at your desk, providing a seamless connectivity experience.
What's the Device Configuration of a Cloud Phone System?
There are many ways to arrange your cloud phone infrastructure to accommodate user needs, office configuration, and desired hardware.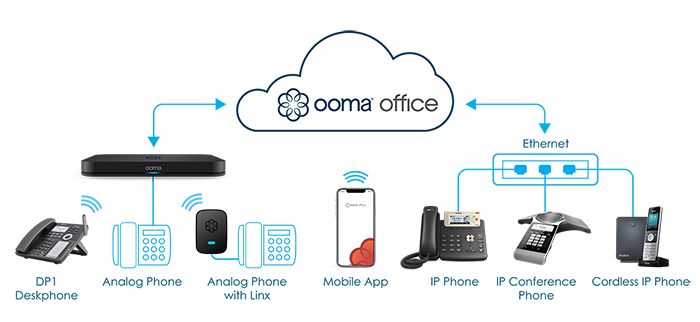 With the Ooma Office cloud-based phone system, these different formats can be used in any combination:
With IP phones, users can create a virtual phone system that offers full communication functionality without a base station.
Those who want to continue using their traditional analog phones can plug their existing handsets into an analog telephone adapter, which provides the analog to digital conversion.
All users also have remote access to their Ooma phone system via the Ooma Office mobile app.
The Ooma Office mobile app can also be used to unify voice communications for remote workers. Therefore, even if your small business HQ is in San Antonio, you can still transfer calls to a coworker in Chicago who's using the mobile app.
Conference lines are just as easy to connect as handsets with the IP Conference phone that offers built-in Wi-Fi and Bluetooth.
How Much Does a Cloud-based Phone System Cost?
According to Cost Owl, hosted VoIP system can cost from $8,000 to $30,000 for a 16-person phone system. For a 64-person VoIP system with a dedicated server, businesses could spend about $35,000 to $50,000.
Even though Ooma offers robust communications tools, it's priced very affordably, as compared to the competition. Ooma Office's Essentials plan costs only $19.95 per month for each user to have a full package of more than 50 curated features. It's a straightforward pricing model that gives each employee the freedom to use the features he or she wants.
When deploying Ooma Office Essentials for a 16-person business, costs would be $319.20 per month, which comes to just $3,830.40 per year. That's less than half the rate of Cost Owl's lowest estimate for business VoIP and 87 percent lower than its higher bracket.
These rates don't include hardware costs, which could vary based upon your configuration, such as if you plan to upgrade to IP phones or use an adapter with analog handsets.
Learn how Ooma can help you modernize business communications with a cloud-based phone system. Read more Enterprise business content and Ooma vs. Mitel.