Hard-wired telephone landlines have been around for more than 100 years. However, today's changing communications technology may render them extinct.
As one cultural commentary in The Guardian quipped, "The landline"s primary use is on TV, as a signifier you're watching a period drama, i.e. anything set in 1995."
How are telcos managing copper-wire landlines and responding to changing telephone needs? Let's take a closer look at the state of the landline infrastructure in the United States, as well as how VoIP is taking on big telcom to provide smarter solutions to connectivity needs.
The Downfall of Landline Technology
Today's landline technology isn't significantly different from the early copper telephone lines implemented by Bell Telephone Company back in 1877.
However, a change in telecom financial regulations in the 1990s reportedly allowed phone companies to spend less on maintaining telephone infrastructure. This regulatory spending change was swiftly followed by new technology such as high-speed internet connections, mobile phone networks, and fiber networks.
According to the latest data, 53 percent of the population no longer has landline phones. Households that have both landlines and wireless phone service total 38 percent, and only 6 percent of households have only landline phone service.
This combined situation of decreasing demand for landline service and a deteriorating network has prompted companies such as AT&T to push for legislation to end landline phone service altogether. In a 2013 letter to shareholders, AT&T announced its efforts to phase out landline phone service. At that point, it was estimated that the total expenditure by phone companies to maintain lines was $13.5 billion per year.
Landline deregulation has been successful. In 2017, Illinois legislators voted to allow AT&T to disconnect the state's 1.2 million landline customers. Illinois isn't the only place where this has occurred. Legislators in at least 19 other states "have voted to allow AT&T to end landline service in order to invest more in wireless or internet-based phone networks," according to CBS News.
According to the Center for Responsive Politics, AT&T has consistently been one of the country's top lobbyists in recent years, spending $14.7 million in 2018.
Consumer Problems with Landline Service
It's easy to assume that reports about landline service problems only occur in remote rural areas, but this isn't true.
In a Brooklyn neighborhood, residents report landline issues that Verizon says will take 3-6 months to repair. In some cases, residents were told not to expect any repairs at all, and to wait for when the building switches to Fios.
Some state agencies are holding telephone companies to task to ensure that landline maintenance complies with current laws.
Recently, a 500+ page document prepared by Minnesota's Department of Commerce detailed an investigation of more than 1,000 customer complaints about telephone provider Frontier Communications and alleged violation of at least 35 separate laws.
"The findings of this investigation detail an extraordinary situation, where customers have suffered with outages of months, or more, when the law requires telephone utilities to make all reasonable efforts to prevent interruptions of service," said the report. "Frontier customers with these outages include those with family members with urgent medical needs, such as pacemakers monitored by their medical teams via the customer's landline."
As Motherboard points out, similar filings against Verizon have occurred in New Jersey, New York, and Pennsylvania.
The Growth of VoIP Phone Service
Cellular phone service, of course, offers the connectivity and mobility that's expected today. However, cellular phone service isn't the only option.
Amidst the deteriorating infrastructure of traditional phone lines, Voice over IP (VoIP) internet-based telephone service has risen steadily. According to industry analysis, consumers are switching to VoIP phone service because it saves money, integrates with IoT devices, and offers remote access to home phone lines.
Consumer adoption is expected to rise rapidly, and North America is projected to see a 124 percent growth rate in the next five years. In particular, there's interest in the mobile VoIP market, which relies upon a calling app to provide internet-based phone service from a mobile device. Globally, the mobile VoIP market is expected to reach $146 billion by 2024.
For consumers, the advantages of VoIP are two-fold: more features at a lower cost. Ooma's home phone calculator reveals that those switching from a landline to Ooma Telo residential VoIP phone service on average save 73 percent the first year and 91 percent in subsequent years. Those making international calls also see significant savings, benefiting from access to low-cost international rates and unlimited international calling plans.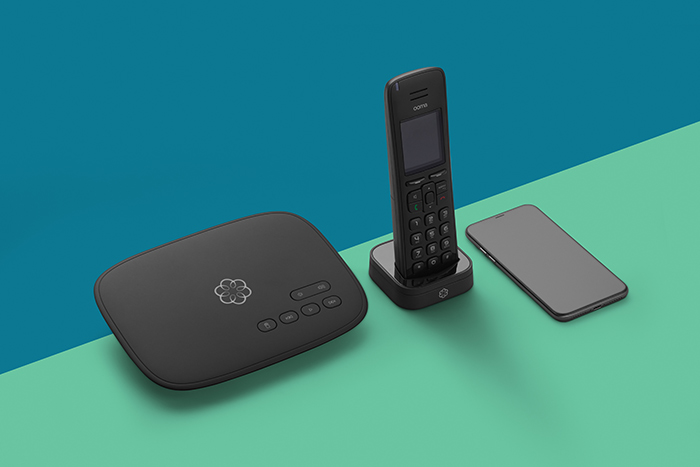 Stopping the Spam Phone Calls
Especially for landline users, robocalls are a widespread problem. Every second, about 1,300 robocalls are made. Last September alone, there were about 1.76 billion illegal spam calls in the United States. That's 21.12 billion per year, or about 167 per U.S. household, assuming equal distribution. The FCC chairman told The Economist that Americans are "mad as hell."
As the scammers use technology to wage their spam campaigns, consumers can use telephone technology to fight back.
Subscribers to the Premier Home Phone Service get access to an array of advanced telephone tools, including five categories of call blocking technology to fight the onslaught of unwanted calls. With Ooma, caller ID blocking options include known spammers, suspected spammers, anonymous callers where the phone number is hidden, custom blocking, and contacts-only blocking.
Staying Connected and Secure During Outages
Critics of VoIP technology cite the safety concern of losing phone service during outages. There are good reasons why phones have become our lifeline, and the right implementation of VoIP technology can help keep users safe, secure, and connected.
To help you stay connected during outages, Ooma offers powerful backup tools to strengthen your phone system. The Ooma Telo Battery Backup keeps your system powered up, even when the lights are off. Additionally, if your internet service goes down, the Ooma Connect 4G Adapter provides a way for your phones to connect to the Sprint 4G LTE digital data network to transmit calls.
For traditional home security systems that relied upon the aging network of landline phones, today's alternatives are smart security systems such as Ooma Home Security and Ooma Home Security Cam. These security tools rely upon the internet to keep you in the loop about what's happening at home, and just like for our phone service, your system can remain functional during outages by using Ooma's battery backup and the Ooma Connect 4G Adapter.
911 Safety and Seniors
Older Americans continue to be slow to let go of traditional wired home phones. Only 24 percent of those aged 65 and older have cut the cord on their landline, a much lower rate than 53 percent of all Americans. Yet, the deteriorating landline infrastructure can put seniors at risk.
An Ooma report about 911 calls found that 63 percent of people were unaware of the geolocation limitations of making a 911 call from a cell phone, the common alternative to a home phone service. For example, in Washington D.C, the success rate of 911 dispatchers determining a location from a cell phone is only 10 percent, and in Texas, it's only 33 percent.
Ooma customers using either their home phone or the free VoIP calling app have access to advanced 911 service. This means that emergency calls are automatically routed to your home's local dispatcher, and your home address will be automatically relayed, saving valuable time when you need it the most.
Flexible Tools for Business Phone Service
Households aren't the only ones affected by the aging telephone infrastructure. Whether it's a sales team connecting with customers or a hotel providing phone service for guest rooms, aging landlines mean businesses could be faced with poor service and high costs.
Ooma Office is a business VoIP service that provides the functionality of a traditional business line at a fraction of the cost. Service includes 35+ high-performance features including the Ooma Office business phone app, multi-level virtual receptionist, Call Park, caller ID, and a virtual fax. For a business with just three users, the projected savings on phone service over three years would be $6,185.44.
Ooma Office has been consistently at the top of its class, ranking as the #1 VoIP provider for the past eight years in PC Magazine's Business Choice Awards. For businesses that can't afford to risk the deteriorating service of traditional landlines, Ooma Office provides a smart alternative at a smart price.
Find out how Ooma is providing homes and businesses with reliable, award-winning phone service at a low cost.