Hosted vs. On-Premise Cloud Communications
Call
866-467-6935

, Let's Talk
---
We'll follow up with you in one business day.
Thank you!
We'll be in touch shortly.
Are cloud-based services right for your business?
Traditionally, businesses set up communications systems and applications by installing software on in-office hardware. Cloud-based computing and communications offer a new paradigm in which systems are located in secure data centers, and service providers take responsibility for owning, configuring and managing them. Businesses connect to these applications through the internet or private connections. The benefits of this model are plentiful for several reasons.
Here's a side-by-side comparison of the Ooma Enterprise cloud communications model and the on-premise approach.
Cloud Communications
On-Premise PBX
Management
There's no need to have on-site IT staff for troubleshooting, nor do you have to wait for technicians to be available.The equipment needed to run the phone system is located off-site and is managed by the vendor.
All of the equipment associated with the PBX — servers, cables, routers, etc. — must be installed and maintained by company staff or a technician handled to take care of it.
Scalability
Cloud technology makes efficient scalability possible, so your company can quickly respond to market changes. The vendor will help perform tasks like adding lines and extensions, or using an auto-attendant to handle spikes in call volume. You only pay for what you use in the present moment with the option to scale up or add features later.
If you choose to maintain the PBX on-site, you're responsible for the physical modifications needed to add a new line or extension. Adding or modifying hardware can be both expensive and time-consuming. You must predict future growth and pay now for users and features that may not be needed immediately.
Portability
IP desk phones, plugged into an internet connection or softphones running on a PC, can be used to access your business phone system. Phone functions also can be accessed from mobile devices like cell phones and PDAs.
On-premise PBXs are limiting in many ways. One of these is its inability to provide access to employees when they're outside the office. External access is limited to checking voicemail and doesn't provide all of the benefits of the business
phone system
. In short, remote workers are disconnected.
Future expansion
The Ooma Enterprise cloud communications system is constantly refined, improved and updated with new features. Customers benefit from these new features without expensive hardware and software upgrades.
With a
hosted PBX solution
, you get the features that are available today. Adding new functionality typically requires expensive hardware and software upgrades and may increase the complexity of system management.
Support
Ooma Enterprise's knowledgeable, friendly support staff will not only answer technical questions, but will help configure and maintain your system to meet particular business needs. In addition, they will support your end users directly.
Support for PBX systems vary, but typically the responsibility lies on the user/company to configure the system, manage changes, and provide help desk support for their phone systems.
Business continuity
The Ooma Enterprise solution is hosted in redundant data centers. If your business experiences anything from a weather-related emergency to a total disaster, your phones will continue to work and can be managed remotely.
If your business communication system is physically located in your office, it is subject to becoming unavailable in the event of a power outage or an emergency that keeps employees from safely entering the building.
UCaaS isn't right for every business, but most companies find that cloud service delivery models offer significant advantages. You don't have to own infrastructure, keep it safe, keep it running, and hire someone to manage it. In addition, you can buy what you need only when you need it, have it delivered wherever you are, and the technology is easy to use.
Most likely you are already using some sort of cloud application in your business today. As we see increasing acceptance of the cloud as a service delivery model, applications like communications should follow this model as well.
If you're interested in cloud-based communications services for business or have additional questions, don't hesitate to reach out to one of our experts. You may also read our cloud communications glossary for more information and a quick reference.
Get exactly what you need and nothing you don't using Ooma's custom-built communications platform.
Enterprise White Papers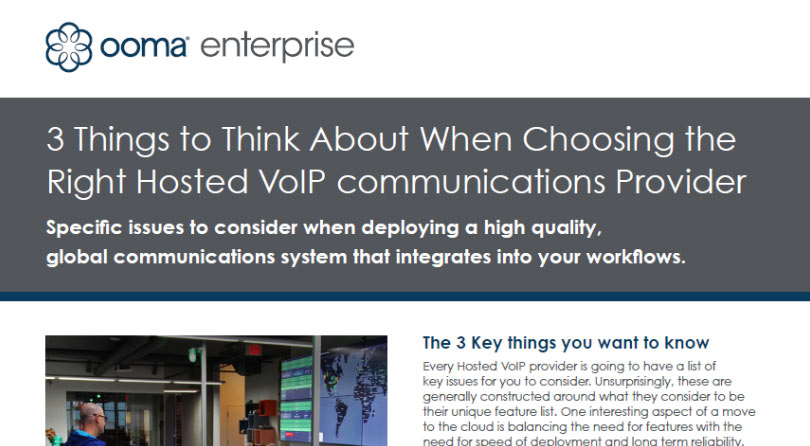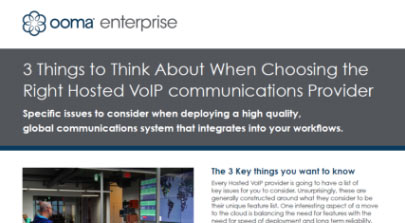 3 Things to Think About When Choosing Hosted VoIP Provider
Discusses specific issues when deploying a global communications system.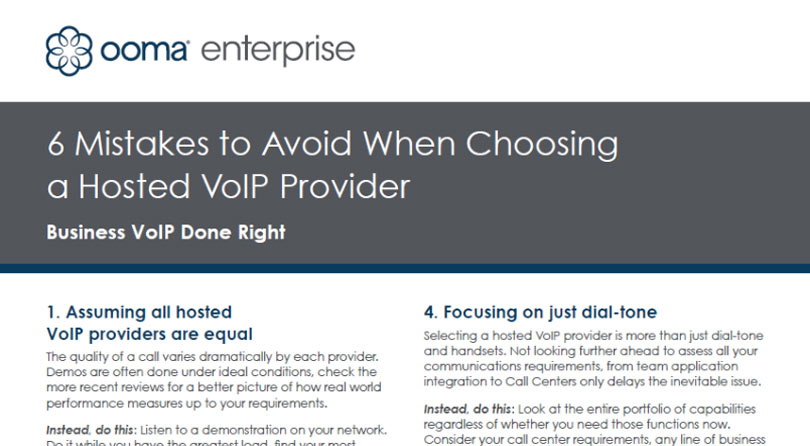 6 Mistakes to Avoid When Choosing a Hosted VoIP Provider
A quick checklist review of things to consider for cloud based communication.