Because Spectrum for Business phone service can be bundled with Spectrum's Internet and TV service, it's easy to assume that the bundle would give you a better rate and better service. After comparing Ooma's business phone service to that of Spectrum in detail, however, we found that Ooma Office small business phone systems is more reliable, easier to use, and costs less.
Since all businesses have different needs for their phone system, a business phone comparison is the best way to understand which business phone service is right for you. Let's compare Ooma Office and Spectrum Phone for Business so you can make an informed decision about which service is best for your small business.

Syda Productions – stock.adobe.com
Ooma vs. Spectrum – Service Quality
Not only is Ooma Office a better financial business choice, but it was also the #1 VoIP phone service in the 2020 PC Magazine Business Choice Awards, while Spectrum ranked 6th.
Ooma received top scores as the most reliable VoIP phone company. Notably, 75 percent of business owners are likely to recommend Ooma Office, whereas only 11 percent of Spectrum users would recommend the small business phone service.
Ooma Office's top quality service isn't anything new; Ooma has been ranked as the #1 small business VoIP phone service for nine years in a row. The quality of your phone calls can affect your customer experience, and Ooma's behind-the-scenes transmissions rely upon PureVoice Technology to optimize voice quality while dynamically responding to internet conditions.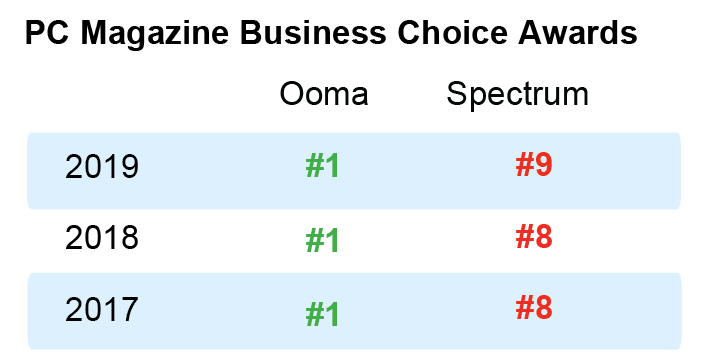 Additionally, Spectrum and its parent company Charter Communications are known for their incredibly poor customer service, which contributed to their ranking as the 12th most hated company in the country.
On the other hand, when Business News Daily tested Ooma's customer service by making several anonymous calls to customer service, it reported a high-quality experience. "During our calls, the Ooma representatives were helpful and friendly," said the reviewer. "They answered all of our questions clearly and thoroughly. Some of the other providers we spoke with didn't provide the same level of detailed answers that Ooma did.
Ooma vs. Spectrum – Features
While both services provide unlimited calling within the United States, we're interested to see how the two services stack up with their business phone features.
Both Ooma and Spectrum include features such as extension dialing, virtual receptionist, caller ID, ring groups, call logs, virtual fax, and voicemail listening via email.
Some features, such as a new toll-free number, are included in Ooma's service, but Spectrum charges an extra fee. Other features, such as conference bridge, are automatically available with Ooma. With Spectrum, you'll need to contact the company to activate the feature. Additionally, Spectrum limits the number of participants in the conference call to the number of active seats you have. If you want more, there's a $5 per month fee. Spectrum doesn't advertise information about transferring your phone number, but porting the numbers to Ooma Office is complimentary for the first number per user.
Ooma's business phone mobile app is a significant advantage over Spectrum, providing users with on-demand access to their business phones from their smartphones. When work calls are transferred to your extension, they can be answered via the mobile app, and all calls made from the app will show your work number, which keeps your client interactions consistent and professional.
Comparatively, Spectrum's app called MySpectrum is an account management tool rather than a way to make calls. Spectrum does offer an Office Anywhere solution, which is a way for legacy customers to remotely make outbound calls on their work line by first dialing an 800-number. Incoming calls can be received remotely through the Call Forwarding feature. While this piecemeal solution might work in a pinch, it's not available to new clients, and it's not the same thing as having a streamlined app that gives you a single platform to make or receive calls, check voicemail, update settings, and more.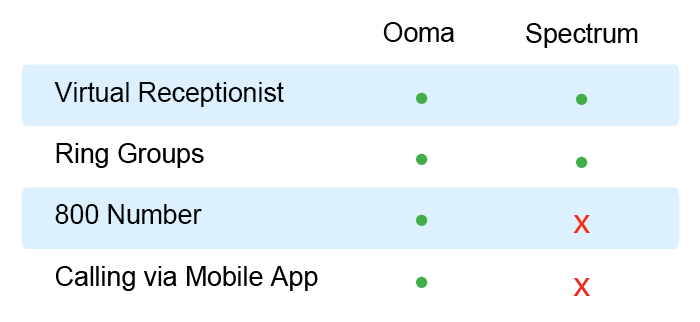 Ooma vs. Spectrum – Phone Plans and Costs
Ooma Office is a VoIP phone service provider otherwise known as Voice over Internet Protocol. This means that Ooma is an internet phone, transmitting calls via your internet connection while still using traditional telephone hardware such as desk phones. This technology uses secure encryption and provides a landline-like experience with an Ooma Office desk phone as well as a cellphone-like experience with the Ooma Office mobile app.
However, one of the most notable features of VoIP services such as Ooma Office is its low cost. In fact, Ooma's monthly rate is just $19.95 per user for its comprehensive business phone service.
Small business phone systems typically depend upon the size of your small business. Home-based businesses or micropreneurs looking to save on cost can opt for Ooma Telo, the residential VoIP service that offers fewer business features. On the other hand, larger businesses looking to switch to a hosted PBX system can consider Ooma Enterprise VoIP.
On average, Ooma Office customers that have three lines report that they save $6,185.44 in three years after switching to Ooma, excluding hardware costs and taxes/fees. Find out how much you could save with our Savings Calculator.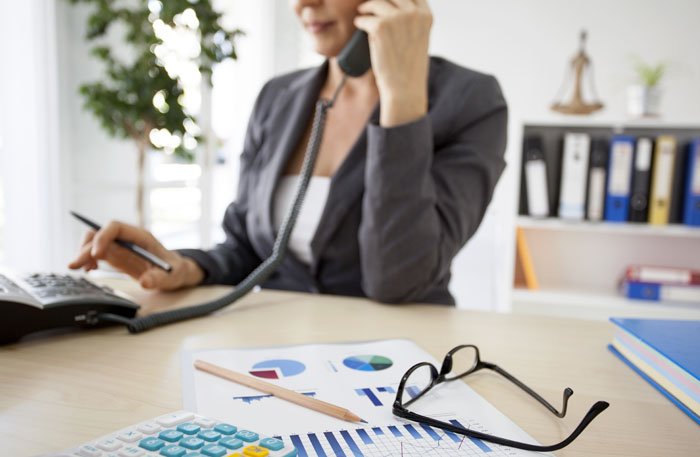 sebra – stock.adobe.com
Comparatively, Spectrum Business Voice service costs $29.99 per month for the first 12 months, followed by subsequent rate increases after the promotional period.
Conclusion
When comparing Ooma Office to Spectrum for Business, Ooma wins on all points: it costs less than Spectrum, provides a higher quality business phone with crystal-clear audio, and has reliable service that's easy to use. Yes, it's possible to get better phone service at a better value.
Learn more about how Ooma Office can help your business stay connected.
Sources:
https://www.pcmag.com/image_popup/0,1871,iid=564737,00.asp
https://business.spectrum.com/phone.html
https://business.spectrum.com/bundles.html https://enterprise.spectrum.com/content/dam/business/omega/business-twc/pdfs/support/user-guides/spectrum-business-voice-user-guide.pdf
https://business.spectrum.com/content/dam/spectrum/business/en/pdfs/new-terms/11_L-CHTR_SMB_Voice_Price_Guide.pdf
http://spectrum.helpserve.com/Knowledgebase/Article/View/4/9/conference-calling
https://247wallst.com/special-report/2017/01/10/americas-most-hated-companies-4/5/
https://web.archive.org/web/20171028090022/http://www.businessnewsdaily.com:80/7818-best-phone-system-small-office.html
https://itunes.apple.com/us/app/my-spectrum/id942608209?mt=8
https://web.archive.org/web/20170512113311/http://www.pcmag.com:80/article2/0,2817,2486575,00.asp