When using Ooma Office VoIP phone service for your business, there's powerful technology working behind the scenes to provide you with a high level of call quality. Learn more about the call quality with Ooma Office, learn how it works, discover its potential impact, and see what people are saying about it.
How Can Call Quality Impact Your Business?
Digital voice services with poor call quality can tremendously hinder your business calls. After having phone conversations with customers where the audio is stuttered, garbled, or has ill-timed pauses, you may be frustrated with the call, and you could appear unprofessional to the customer.
In turn, this poor quality could impact your bottom line. Not only can a frustrated tone impact your sales call, but a poor experience influences the customer.
The American Express Customer Service Barometer reports that 70 percent of U.S. consumers have "spent more money to do business with a company that delivers great service." On the flip side, more than 50 percent have responded to bad service by canceling planned purchases or transactions, and 33 percent would consider switching companies after just one instance of poor service.
While your telephone provider can't help you say the right thing on a business call, phone service that provides good call quality can remove any potential barriers that are preventing you from having an easy and effective phone conversation.
How Does Ooma Office Optimize Call Quality?
Ooma uses a series of behind-the-scenes protocols collectively known as PureVoice Technology, which optimize call quality by dynamically responding to changing network conditions.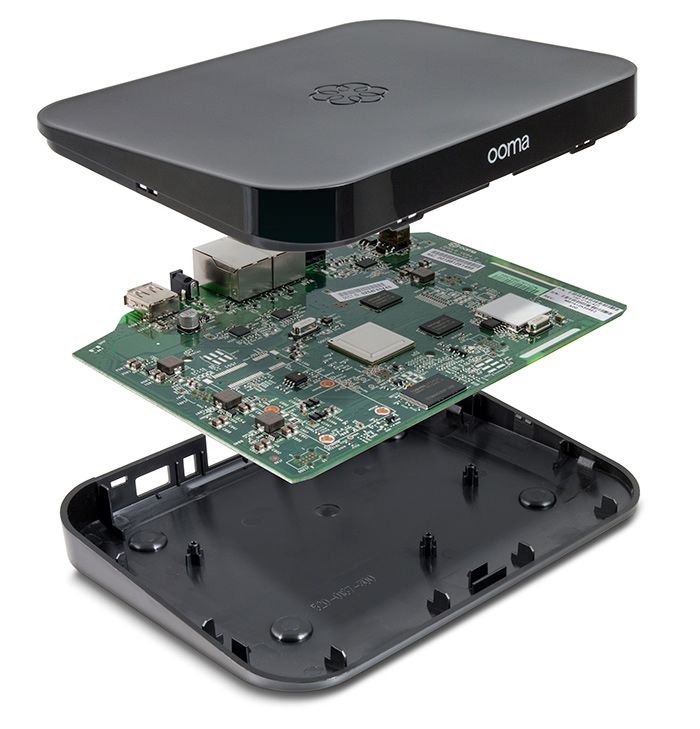 Here are the three components that support Ooma Office's voice quality:
Advanced voice compression: During the internet transmission of your phone call, high compression can result in a faster transfer with less latency. Ooma's advanced voice compression algorithm reduces bandwidth consumption by 60 percent over standard VoIP technology, while still preserving call quality.
Prioritizing calls: The Ooma Office Base Station can be installed in a number of network configurations. However, when you use the recommended setup of placing the Base Station between your modem and your router, the device dynamically responds to internet traffic so you can maximize potential bandwidth and preserve voice quality even while activities such as large file downloads are ongoing.
Adaptive redundancy: To achieve high-quality phone calls, Ooma uses an intelligent transmission technology that dynamically responds to packet loss, which can make a call sound garbled or stuttered. To counter this, when packet loss is detected, Ooma will automatically transmit redundant packets to fill in the audio blanks so your call can be clear.
Call Quality on the Ooma Office Mobile App
Using the mobile app for work calls is a productivity hack that gives Ooma Office users full access to their work phones even when they're not at their desks. With the app, calls will be made using your mobile device's internet connection, so making calls when connected to Wi-Fi can help you avoid data charges from your cellular provider.
The call quality that you experience when using the Ooma Office mobile app will be the same as you'd have when using a desktop phone with the same connection.
If you're making calls with Ooma Office over a cellular connection, keep in mind that cellular signal strength may vary. For example, during your commute, you may encounter variable cell signal zones that could affect your call quality when using the Ooma Office app.
What Do Ooma Office Customers Say About Call Quality?
Our customer experience surveys of Ooma Office users reveal that 76 percent rate the sound quality in the top tier, defined as an eight or higher on a scale of 10.
Additionally, there are very few instances of users having faced challenging call quality. Less than three percent of users reported having experienced call quality problems with any regularity.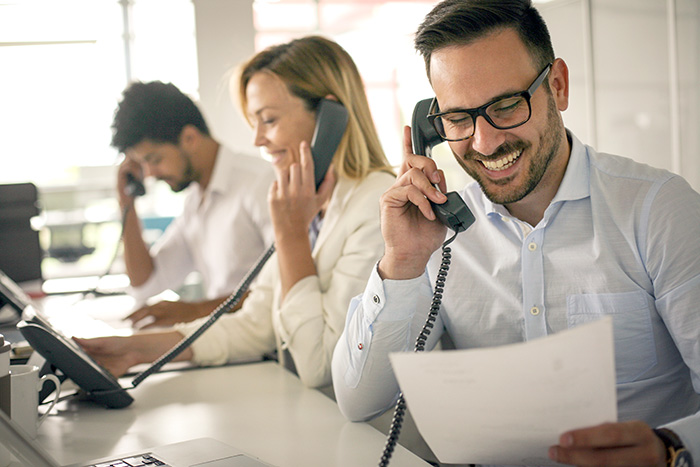 liderina – stock.adobe.com
How Do Reviewers React to Ooma Office Call Quality?
Ooma Office customers aren't the only ones who've noticed Ooma Office's call quality. Here's what PC Magazine's lead software analyst had to say:
"I was pleased to find that the sound quality was among the best of the VoIP services I'd tested, and everyone I've called to test my VoIP services agreed." – PC Magazine
This praise is not a fluke. For the past nine years, Ooma Office has been named the #1 VoIP phone service in PC Magazine's Business Choice Awards. In the 2020 awards announcement, editors commented:
"Ooma has the top score in every single category of our survey. That's really all you need to know."
Discover how Ooma Office is a scalable, affordable, and feature-rich business phone that could save you $6,000+ over three years.