VoIP or landline phones: Which is best for your business?
When researching business phone systems, you'll quickly see the two main options are VoIP and traditional landlines. While it may be tempting to dive right into considering the many service providers that offer those systems, there's something you need to do first: Choose whether to go with a VoIP solution or traditional landline service.
These days, it's almost unheard of for a new business to start out with a business landline system. VoIP solutions win out because they offer better technical performance and a wider range of features at a fraction of the price of traditional landlines.
But what does that technical difference mean for you, and how can it help your business? What advanced features can you take advantage of with VoIP over a traditional system? In this guide, we'll explore how both VoIP and business landline phone solutions work and go over the advantages and disadvantages. You'll learn whether VoIP is better for you or if your business might come out ahead with a traditional system, and you'll be able to make the best decision for your company.
VoIP vs. landline: What's the difference?
There are many differences between VoIP solutions and landline solutions. But at a high level, the differences can be boiled down to:
Voice over Internet Protocol (VoIP) phone systems are a digital technology that uses the internet to transmit and receive phone calls.
Landline phone systems are an analog technology that use copper telephone wires to connect calls.
These distinctions might not sound like a big deal, but they quickly add up to major differences in cost, performance, features and more.
How do VoIP business phone systems work?
VoIP phone systems have become increasingly popular in recent years. There are many reasons for this: VoIP systems are more cost-effective, provide noticeably better call quality and offer a wide range of call management features.
All these benefits are made possible by the way that VoIP systems work. VoIP systems connect to your existing business internet network to transmit data. They're built on open standards that make it easy for different VoIP solutions to connect to each other and legacy phone systems.
For end users, using a VoIP phone is similar to using a traditional phone system, but with much more flexibility. When you use a VoIP phone system, you still have a business phone number, may use a desk phone, voicemail inbox and more. On top of these standard features, many VoIP solutions offer extra tools, including desktop and mobile apps, that allow users to connect from anywhere.
Key VoIP business phone system features
One of the key reasons businesses embrace VoIP technologies is the breadth of features offered by leading solutions. There are many VoIP providers: Some provide only basic features, whereas others, like Ooma, offer over 50 business phone features that help you run your business more effectively.
Popular VoIP business phone features include:
Virtual receptionist: These automated receptionist systems direct callers to the right person, giving customers options like "billing" or "technical support." Advanced VoIP solutions offer increased levels of customization and scheduling.
Call management features: Tools like call forwarding, extensions and ring groups are essential in helping your business communicate effectively with customers. Many VoIP solutions offer advanced call management features.
Mobile app: Leading vendors have an app you can download to your smartphone that enables you to get access from anywhere. That's important if you have employees who work remotely or in the field.
Long-distance calling: Because VoIP phone systems use the internet rather than physical infrastructure, long-distance domestic and international calls are much more affordable than on a landline phone system.
Collaboration: Some VoIP platforms serve as comprehensive business communication systems, offering so much more than just a standard phone line. That includes video conferencing solutions that empower employees to collaborate virtually.
This is just a small selection of the tools offered by VoIP systems. To discover more, check out this complete list of Ooma Office features.
What are the advantages of VoIP phone systems?
With so many advanced features and scalable, digital technology, VoIP phone systems offer businesses a variety of advantages. Here are a few of the most notable:
Cost savings: VoIP solutions are significantly cheaper than traditional landlines. That's true both for installation costs and ongoing service fees. Interested in learning how much you could save? Check out our VoIP savings calculator.
Higher call quality: Provided you have a high-speed internet connection, VoIP phone systems deliver superior call quality than analog alternatives. With a high-quality VoIP phone system like Ooma Office, you won't experience static, dropped calls or other issues that make it difficult to communicate.
Flexibility: The adaptability of VoIP systems makes them ideal for businesses that need a flexible solution. It's easy to add new numbers and update your settings. Cloud-based phone solutions enable employees to access their phone line from anywhere using a VoIP phone, desktop app or even their own smartphone.
Improved customer experience: Embracing VoIP technologies enables businesses to provide a higher standard of customer service. Advanced call management features quickly route callers to the right person and help agents solve customer issues faster than ever before.
As you begin to use a VoIP phone system, you'll discover advantages that are unique to your company. Embracing VoIP phone systems can have a transformative effect on the way your business communicates.
What are the disadvantages of VoIP phone systems?
There are a few drawbacks to keep in mind. However, with the right approach, it's possible to limit the impact these disadvantages have.
Let's explore these disadvantages and the strategies to mitigate their impacts:
Reliance on internet connection: VoIP phone systems need an internet connection to work. According to the FCC, VoIP calls require a download speed of 0.5 Mbps. Almost all internet networks provide download speeds above this level, but if you have a low-quality business internet solution that frequently drops, consider upgrading to a better business internet provider. You could also consider adding a backup internet system that keeps your business online in the event of internet or power outages.
Network jitter: Poor internet connections can also result in network jitter which impacts VoIP call quality. Fortunately, there are many steps businesses can take to reduce jitter, including using a wired internet connection for VoIP phones and setting up a jitter buffer. Some VoIP phone system providers, including Ooma, will manage jitter for you.
Emergency service limitations: Many VoIP phone systems are not tied to a physical address, which can make it difficult for emergency services to pinpoint your location in the event of an emergency. Advanced VoIP systems address this issue with Enhanced 911 (e911) technology that provides emergency services with your service address.
Don't let any of these disadvantages sway you from upgrading your business communications infrastructure to a VoIP phone system. All of these downsides can be addressed with the right solution, leaving you with a fully functioning system that has no performance limitations.
How do traditional landline business phone systems work?
Landline systems operate in a completely different way from VoIP systems. They connect homes and businesses using copper wires routed to a switching station where calls are connected. Voice data is transmitted using electrical pulses transmitted along these lines.
Business landlines require physical infrastructure known as a Hosted Private Branch Exchange (PBX). This equipment must be installed into your office by your business phone system provider, unless it already exists. Every phone line is hard-wired into this network, although cordless phones with a limited range are available.
Key landline business phone system features
Business landline solutions typically offer some, but not all, of the features offered by VoIP phone systems. The features offered vary by service provider. Expect to pay more to access advanced features.
Common features include:
Call forwarding: Users can forward their calls to another number or transfer calls to another number within their system. Some systems have additional call management features including caller ID and call waiting.
Voicemail: If you're unable to answer the phone, callers will be able to leave a message. There may be additional charges for this feature.
Three-way calling: It's possible to create a three-way call by merging two calls onto the same line.
Landline systems typically don't offer any features over and above those provided by VoIP systems. However, adopting a landline phone system does come with some benefits.
What are the advantages of landline phone systems?
The analog technology that powers landlines is much more simple than the digital infrastructure that enables VoIP systems to work smoothly. While this holds back performance and limits the features available, there are some advantages for businesses. These include:
Reliability: Landline phone systems have traditionally been considered to be fairly reliable. Your service will generally be less affected by weather events and you'll be able to make and receive calls during a power outage. However, now that the FCC no longer requires telecom companies to maintain traditional copper phone lines, it may take longer for lines to be repaired.
Widespread availability: While VoIP systems require high-quality internet connectivity, landline systems don't. The copper wire telephone network extends all over the country – even into remote rural areas with poor internet coverage.
Familiarity: Landline systems have been the default communication method for decades. Many businesses are comfortable using them and already own the required equipment.
These advantages might be important to some businesses, but if you're in the majority that values factors like performance, low cost and customer experience, the disadvantages of landline phone systems will likely outweigh these advantages.
What are the disadvantages of landline phone systems?
Landline phones are considered an outdated legacy technology and many providers are beginning to sunset their business landline solutions. The fact is that the disadvantages of landline phone systems, and the strength of alternative solutions like VoIP phone systems, are rendering landline phone technology obsolete.
These disadvantages include:
Required equipment: Business landline systems require your office to be hard-wired for telephone lines. Unless your office already has this infrastructure in place, it's likely cost-prohibitive to install it. You'll also have to buy analog phones for each employee.
Cost: In addition to the cost of installing and maintaining the physical infrastructure a landline system requires, monthly service charges are typically more than comparable VoIP solutions. In fact, most businesses can cut their bills dramatically when they switch to a VoIP solution. Use the savings calculator for an estimate on how much you will save with Ooma Office Essentials.
Limited performance: Landline systems offer less functionality than VoIP solutions, with limited features and inconsistent call quality. If communication is important to your business, a VoIP system offers increased performance on practically every metric.
Vendor support: Industry experts predict that landlines will eventually be phased out entirely. That makes them much less of a priority for the companies that provide these services. Many business landline vendors are shifting resources away from their landline services, instead investing in modern VoIP solutions. For customers, that means no innovation and poor customer service.
Users can't do much to mitigate the downsides of choosing a traditional landline system. This once innovative technology has become outdated and is rapidly being replaced by VoIP communication systems.
4 factors to consider when choosing a phone system service provider
Regardless of whether you opt for a VoIP phone system or a business landline, there are several factors you must consider before making a final decision. Your communications system is going to be a cornerstone of your business and it's vital you make the right choice.
Here are four factors business owners should consider before choosing a business phone system:
Cost
Cost is an important consideration in any business purchasing decision. Many business phone systems are priced on a per-user basis, meaning that you'll only pay for as many phone lines as you actually use. This model makes it easy to add and remove users as your business grows and changes.
There are often several pricing plans to choose from: Plans with basic features will be less expensive while those with advanced, enterprise-level features typically cost more. You shouldn't make your decision based solely on cost. Instead, evaluate the options available and select the one that best suits the needs of your business.
Reliability
A phone system is vital to the everyday operations of your business, enabling your employees to seamlessly connect with your customers, partners and each other. That makes it important to choose a phone service with a reputation as a reliable provider.
To establish which providers fit the bill, look at independent reviews and awards given to different phone service providers.
Customer service
While it's important to consider the technical performance of different solutions, it's equally important that you feel your new phone service provider will be a good partner. Ideally, your business will stay with your new provider for years to come.
With that in mind, you need a partner who can adapt to your needs as you scale. Make sure you choose a partner that prioritizes customer service and promptly resolves any issues that you have. That means 24/7 support in case you run into problems on the weekend or outside normal business hours.
Features
Ultimately, what matters most is the performance of your phone system. Take the time to research what your employees need in a phone system and make sure you select a solution that fulfills these needs.
For example, if you have a large workforce of field technicians or sales representatives, it's crucial they have a mobile app. If you receive a large volume of incoming calls, a sophisticated virtual receptionist system is crucial in allowing you to provide a high quality of customer service.
How to migrate from landline phone systems to a VoIP business phone system
If your business already has a landline phone system and is considering making the switch to a VoIP solution, there's nothing to fear. The migration process is easy: You can keep your existing phone number and even your analog phones – all you need is high-speed internet and an adapter or base station for your old phones.
Ooma is a leading provider of business phone solutions for both small businesses and large enterprises. Ooma Office provides businesses with cutting-edge communications technology at affordable prices, with an easy setup process that can have your new communications system up and running in 15 minutes or less.
Select your plan today to get started with Ooma Office.
If you need a more advanced enterprise-level system, the Ooma Enterprise team can recommend a solution that's the right match for your business.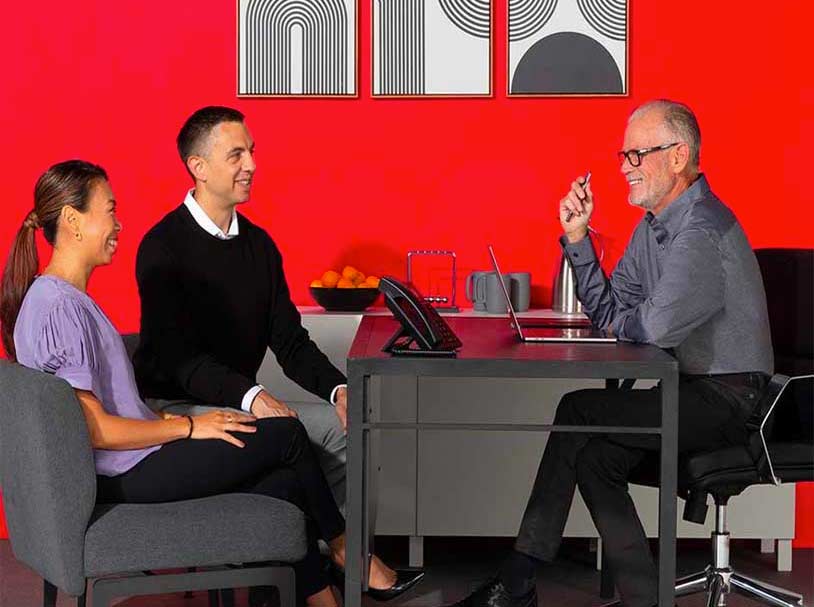 Learn more about how Ooma Office can help your business.
Thank you!
An Ooma Office Sales Representative will be in touch shortly.
866-573-0707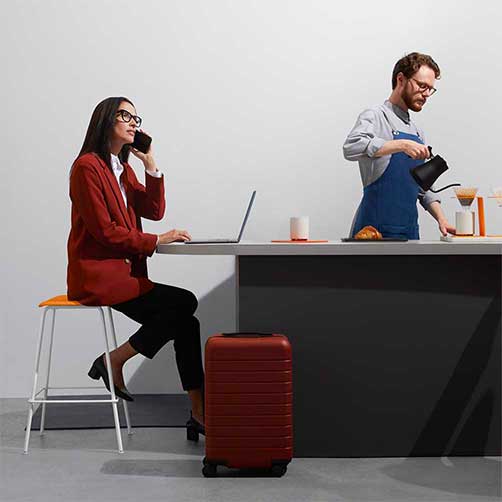 Learn more about how Ooma Office can help your business.
Just call 877-621-0515 or click this to CHAT. Or, fill out this form and someone will reach out to you shortly.