Mulberry's Market, a family owned specialty food store in Piedmont, California, thrives on face-to-face relationships with customers in a downtown location where there's usually plenty of foot traffic from a school and other nearby stores.
Laura Pochop, co-owner of Mulberry's Market, says customers would line up at the deli counter during lunch hours to order sandwiches named after "hometown heroes," such as "The Coach Roy" (turkey, bacon, avocado, jack cheese, lettuce, tomato and mayonnaise on a chewy sourdough roll) or "The Tess" (oversized meatballs smothered in house made marinara, provolone and parmesan cheese baked on a sweet French roll).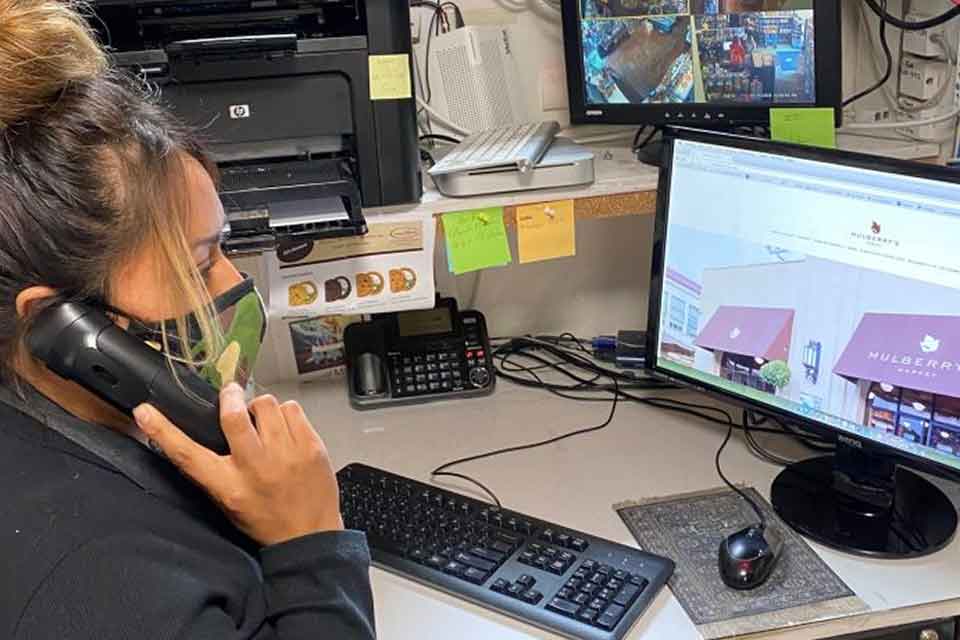 Mulberry's Market employee Ivonne Escobar in the back office
The sudden arrival of Covid-19 in March threatened to wipe out the market's sandwich business, because people were no longer allowed to congregate in the store while waiting to order or pick up their lunches.
Fortunately, Pochop had switched to Ooma Office in September 2018 and had the flexibility to quickly adapt.
"So, COVID-19 end-of-the-world times aside, we've never been all that great at answering our phone," the market said in an email to customers on March 25. "Truthfully, we're terrible at it. However, during the current health crisis, we'd like to provide a reliable option to order sandwiches or other deli items at lunchtime without having to linger in the store and risk life and limb.
"We'd therefore like to introduce The Sando Line. . . Between 11 am and 2 pm every day, we promise someone will actually answer it and you can order sandwiches to be picked up at the register in a bag with your name on it."
Pochop used Ooma Office's Virtual Receptionist feature to instruct customers to "press 2" to reach The Sando Line. The calls were answered in Pochop's home by her three high school and college-age children, using the Ooma Office mobile app on their smart phones. Orders were then sent to iPads at the Mulberry Market deli counter.
The Sando Line kept humming for three months, feeding hungry customers and providing work for the market's 20 employees. Pochop's children even took orders one day on the Bay Bridge, which connects Oakland to San Francisco, when the family was heading out for a trip to the beach.
Now replaced by an online ordering system, Pochop says The Sando Line "was a very important bridge for us."
Another benefit, Pochop adds, is that she and her team learned more about the robust features in Ooma Office, "which will help us problem solve in the future."
There may never be a sandwich called "The Ooma" on the menu at Mulberry's Market, but we're glad to have helped in a small way to keep a lunch-time tradition alive in Piedmont.