Can you make free calls using VoIP?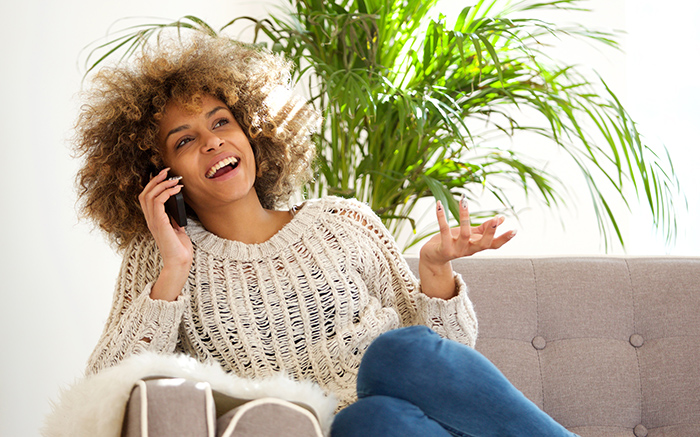 We get it. Phone service is expensive. However, with today's internet-based calling technology, you can slash your phone bill while still making calls. Here's how it works.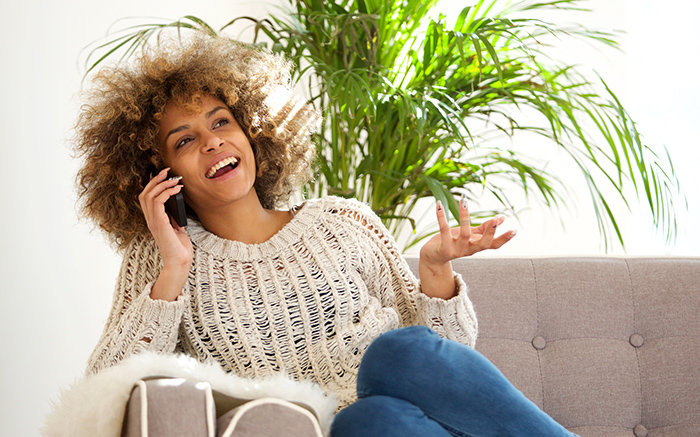 mimagephotos – stock.adobe.com
How to Avoid High-cost Phone Plans
Whether you're using a traditional landline phone or a mobile phone, you're probably paying a lot for phone service.
The smart alternative is the internet calling technology called VoIP. Short for Voice over Internet Protocol, these calls are transmitted over your internet connection. The result is low-cost phone calls.
Who Can You Call with a VoIP Phone?
There are differences between VoIP service providers. Some services limit you to making calls only using your web browser and only allowing you to connect with other users on the same platform.
Others, such as Ooma Telo, give you the freedom to use a regular phone handset and dial any phone number. Thus, even though you're using VoIP, you're making and receiving calls as you ordinarily would.
Ooma makes this possible by using powerful, behind-the-scenes technology that instantly converts your digital VoIP transmission into analog audio. Even though you're using VoIP, you'll have the same type of access as with traditional phone technology.
How Much Does VoIP Cost?
The costs for VoIP service will vary by provider.
With Ooma Basic service, calls are free – you pay applicable monthly taxes and fees – and users get unlimited minutes to any U.S. phone number. The applicable taxes and fees determined by what's required in your ZIP/postal code.
We calculated that Ooma phone service could save users between 73 and 88 percent on phone costs. That's a lot of money that you get to keep! Try our savings calculator to see how much you could save.
Where Can You Use Your VoIP Phone?
To get started with your Ooma phone service, connect your Ooma Telo device to your home internet connection. This allows you to plug in your home phone handset, resulting in a centralized phone line that can keep your family organized, connect your home office, and more.
Ooma offers more. With the Ooma mobile app installed on your cell phone, you can access your Ooma service anywhere you go. The app doesn't replace your phone's native phone line; it instead acts as a second phone line on your device. Calls made with the app are transmitted over your device's internet connection, either Wi-Fi or cellular.
How Does Ooma Go Beyond Other Free VoIP Providers?
Notably, Ooma home phone service has some key features that distinguish it from the competition. These features are available to all Ooma phone users.
First, Ooma's call quality relies upon a proprietary algorithm called PureVoice Technology. This provides crisper audio and lower bandwidth usage. For even better call quality, users with HD-compatible devices can experience HD Voice for an unprecedented level of realism.
Additionally, Ooma has your back in an emergency. Advanced 911 services can help you get in touch with emergency services. For added protection, Ooma's 911 alerts can notify another phone number instantly that Ooma was used to make an emergency call.
Can You Keep Your Phone Number with VoIP?
Even though VoIP is different from traditional phone service, all Ooma users have a phone number so they can be reached just as easily as if they were paying the steep monthly rates.
With Ooma, users have the option to choose a new phone number in their desired area code. They can also transfer an existing phone number to their Ooma line.
This process, called porting your number, makes it easy to switch without your contacts needing to change how they reach you. For some, keeping the same phone number is a type of numerical nostalgia.
Can You Use a VoIP Phone to Access Better Features?
Ooma's Basic Service is the ultimate low-cost option. However, upgrading to Ooma Premier provides access to advanced calling technology that can improve how you communicate. Even though Premier service may offer many more features than a traditional phone, the cost is only $9.99 per month plus applicable taxes and fees.
baranq – stock.adobe.com
Included with Ooma Premier are unlimited calls to the United States, Canada, Puerto Rico, and Mexico. Additionally calling features include Instant Second Line, voicemail monitoring, three-way calling, additional smart home integrations, and much more. The upgrade also unlocks additional mobile app functionality, allowing customers the ability to make and receive calls.
One feature that Ooma Premier customers rave about is the robust call blocking service (read How to block caller ID) that helps fight back against telemarketers, robocallers, and spammers.
"I originally bought an Ooma Telo to save money on my monthly home phone, but the blacklisting feature is fantastic," said one customer who used to get several telemarketing calls per day. "Now that we have our Telo, we rarely ever get a telemarketer call. When we do, we just add them to our blacklist. It's now been more than a month since the last telemarketer called our house even though we have the exact same phone number as we did with our old service."
Can VoIP Help You Make Cheap International Calls?
Whether you're calling internationally or traveling internationally, many people turn to VoIP for an affordable way to stay connected.
Ooma Premier users already have some international access as a part of their service, and all Ooma customers can access low-cost international calling.
International calling plans start at just $17.99 per month for unlimited minutes to more than 60 countries. For even broader global access, the World Plus Plan includes unlimited calling to more than 70 countries.
Ooma also gives you the option to pay-as-you-go for international calls, with rates starting at just pennies per minute.
Ooma's VoIP phone service is helping customers save money. Plus, with its advanced calling features, Ooma proves that it's possible to get more when you pay less.
Learn more about how Ooma Telo can help you stay connected.