VoIP is a term that you may have heard before but are unsure what it means. Let's look at VoIP technology to understand what it is, how it's used, and how it compares to other types of phone service.
What Does VoIP Mean?
VoIP is an acronym that stands for "voice over internet protocol." To put that in less technical terms, VoIP is a type of digital technology that transmits voice-based phone calls over an internet connection rather than over a hard-wired line or cellular voice connection.
VoIP is typically said as a one-syllable word ( v-OY-p), and the technology is available through a wide range of service providers and interfaces. Users of internet phone services may be able to access phone calls through a home or office phone handset, through a mobile VoIP app on a smartphone, or via a web interface on a computer.

Sergey Nivens – stock.adobe.com
Who Uses VoIP Phones?
VoIP phone lines are used in all areas of communication including homes, small businesses, and large enterprises. For each situation, there are different services with different sets of calling features.
For example, Ooma is a major VoIP provider that has been an industry leader for 15 years. Ooma Telo a residential VoIP service provides unlimited calling, smart home integration, advanced 911 tools, anywhere access with Ooma's free calling app, and low-cost international calls.
Businesses prioritize different features in their phone systems. That's why Ooma Office's small business phone service offers features such as a multi-level virtual receptionist to automate incoming calls, call blocking to reduce spam calls, a conference bridge for each user, extension dialing, a toll-free number, remote access via the Ooma Office app, and more.
Voice over IP phone systems can be scaled to accommodate businesses with thousands of users. Ooma Enterprise VoIP offers a customized suite of features that can include a call center platform, UCaaS, business software integration, and more.
How Does VoIP Compare to Landline and Cellular Phone Calls?
After weighing the pros and cons of VoIP, you may find that VoIP is a good choice for phone service at your home or business.
When compared to traditional telephone service, VoIP typically costs less. For example, Ooma's top-tier home phone service, Ooma Premier, costs only $9.99 per month (taxes and fees vary by location and average about $5 per month.) That means that the Ooma Premier plan costs about 75 percent less than the average landline plan. In addition to being priced lower, VoIP plans typically include more features than landlines or cellular voice service. When it comes to VoIP, it's possible to pay less and get more.
One advantage that Ooma has over many other services is its advanced 911 technology. Emergency calls placed from a cell phone may be directed to a national call center. Additionally, dispatchers may be unable to automatically locate callers depending upon the type of phone service they're using to make the call.
In contrast, Ooma's 911 service on your mobile phone provides your self-provisioned physical address to emergency responders (where available) so they can come right to your door in the event of an emergency. There's no time to waste in an emergency, and this technology can help emergency services know your address before you say "hello."
Additionally, Ooma's 911 Alerts can automatically notify another phone if 911 is called from your Ooma line. This can give you the peace of mind to know that, if something goes wrong with a new babysitter, you'll be alerted instantly.
How Does a VoIP Phone System Work?
When making voice calls on a VoIP telephone system, audio is transmitted as packets of data over your internet connection.
VoIP packetization allows your calls to act similar to your other internet activity, being transmitted alongside traffic such as checking emails, website browsing, or video streaming.
This behind-the-scenes packetization of the voice signal is the main driver of an effective VoIP system. When IP telephony software is poorly built, your VoIP calls could have lower quality audio, parts of a conversation can drop out, or there's a noticeable lag when talking.
In contrast to some of these lower-quality VoIP experiences, Ooma uses a strong set of call optimization protocols to enhance call quality, collectively known as PureVoice Technology. Ooma responds dynamically to changing internet conditions and uses a compression algorithm to reduce bandwidth usage by 60 percent as compared to standard VoIP technology (learn more about VoIP essentials here).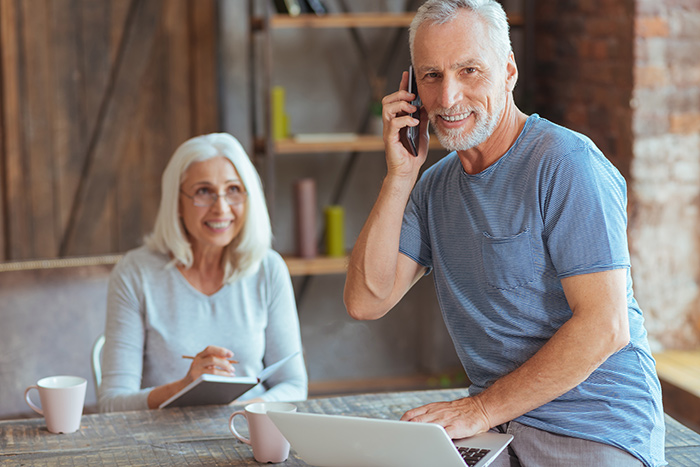 Viacheslav Iakobchuk – stock.adobe.com
Some VoIP providers only allow calls within an internet-based platform. For example, a Skype to Skype call is completely digital. However, other VoIP providers make it possible for you to use internet-based phone service to make and receive calls with a landline or mobile phone number.
Ooma is able to provide this wider connectivity by providing bridging packet transmissions with the conventional Public Switched Telephone Network (PSTN). With this digital conversion technology happening behind the scenes, users can simply have conversations on their VoIP phone as they would with any other telephone technology.
What Equipment Is Needed for VoIP Phone Service?
The equipment that you need for VoIP phone service will vary based upon the provider you use.
Most VoIP services will work with an IP phone that looks like a traditional handset, but captures audio digitally. Ooma phone service works with both IP phones as well as traditional analog phones, allowing you to choose whether to upgrade your handset.
The Ooma Telo hub at $99.99 is needed to get started with Ooma's home phone service. Despite the upfront hardware purchase, Ooma's low-cost rates mean that users spend less over time. A typical user can save more than $1,000 over three years. See how much you can reduce spending by using the Ooma savings calculator.
Ooma also plans to offer backup hardware that can help keep your phone working even when you have a utility outage. In the future, consumers can use the Ooma Telo Backup Battery to keep your phone system powered up even if the electricity goes out. If your internet service goes down, the Ooma Telo LTE Safety Phone can keep you connected by automatically switching your transmission from your high-speed internet line to a cellular data connection.
Users of Ooma phone service rave about how it's both low in cost and high in quality. For business phone service, Ooma Office has been named the #1 VoIP Phone System PC Magazine's Business Choice Awards for the past nine years.
Learn more about how Ooma can help keep you connected.