In the age of smart gadgets, connected devices can be helpful tools, and device integration can streamline your use of technology.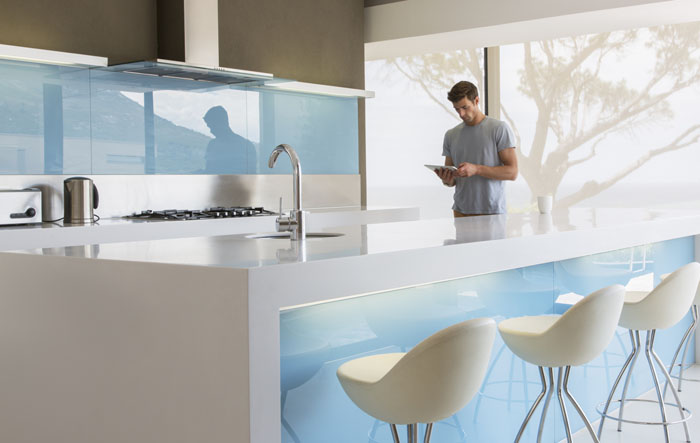 Integrating your devices unifies your total user experience so that the individual pieces of technology you use are not limited to their own silos of information and functionality.
Interconnectivity of Ooma Telo
Telephone service is a central part of any user's tech tools, and Ooma Telo home phone has the advantage of being a smart home phone service that can integrate digitally with other smart home devices and services.
So, instead of having your phone service be a straight landline or mobile phone, Ooma's home VoIP service expands your options, providing you with a rich tool that integrates with other devices while still providing the benefits of landline service.
Sound good so far? Let's look at the specific integrations that are possible with the Ooma Telo.
Ooma's Free Mobile Phone App
To start, a key functionality of Ooma Telo is that your phone service is accessible anywhere via Ooma's free calling app.
So, while the Ooma Telo device is the central hub of your telephone service at home, the mobile app means you'll have remote access whenever you want it.
Use the app to answer phone calls when you're not at home, check voicemail, reduce how much you spend on phone service, or access international calling rates that are up to 90 percent less than those of traditional phone providers.
Ooma Home Security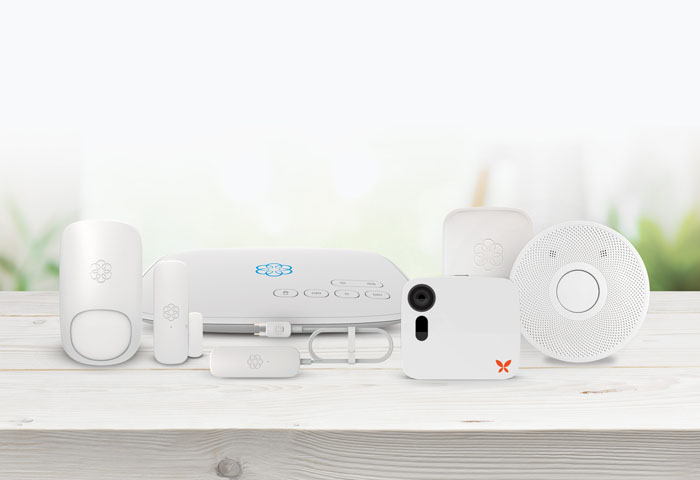 On top of that, Ooma Telo can be your gateway to smart wireless home security, as it provides digital interconnectivity to streamline your services.
With instant alerts, automatic arming and disarming, easy-to-install sensors, and no contracts, Ooma Home security provides features to keep you and your family safe. Start with the Ooma Home security starter kit, and then add an unlimited number of home security sensors.
Outfit your home with your choice of motion sensors, door and window sensors, water sensors, a garage door left open alarm, a 105-decibel siren, and the Ooma Butterfleye video camera, which features powerful AI and facial recognition software.
Ooma + Amazon Echo
Do you have an Amazon Echo? If so, you can use the accessory device of the Echo Connect to initiate hands-free calls using your Ooma phone service. Simply say "Alexa, Use Ooma to Call Mom" or "Alexa, Call 650-555-1234." Your mobile phone's contacts will sync, so it's easy to place Ooma calls via the Amazon Echo.
Plus, Ooma is the only phone service on the Echo that lets customers check voicemail. To use this Alexa skill, simply say, "Alexa, use Ooma to check voicemail."
Smart Home Gadgets
The limits of Ooma's smart home connectivity don't end with the Amazon Echo.
Ooma also connects to smart lights, including the Phillips Hue and the LIFX. So, instead of having your phone ring audibly, why not let your lights notify you of calls and preserve your quiet space?
Connect your Ooma to a Belkin WeMo to add integration to countless electrical devices, or create an Ooma recipe through IFTTT for a completely customized integration protocol.
Who knew it could be so easy to have an integrated house?
Dropbox/Google and Ooma
However, the integrations of Ooma's VoIP home phone service go beyond connected gadgets. Ooma can also help you manage your telephone's information through its connections to file services, such as Dropbox and Google Sheets.
With Dropbox, you can preserve your Ooma voicemail message files through automatic backups to the cloud. Plus, it's easy to archive any old messages that you no longer need.
With Google integrations, Ooma Telo can automatically log your calls for you in a Google Sheet so you can get an easy snapshot of your telephone traffic.
Ooma and Email Integration
Plus, Ooma Telo also works with your email. Our voicemail forwarding feature streamlines your phone messages with your email messages. You can receive voicemails and listen to messages right from your email inbox.
Additionally, if you subscribe to Ooma's Voice-to-Text feature, new voicemail messages will include both the text and the audio from the voicemail message.
Learn more about how the high-tech telephone functions of Ooma Telo can help you have a more integrated home.