Ooma customers can use calling apps to add a second phone line to their mobile phones.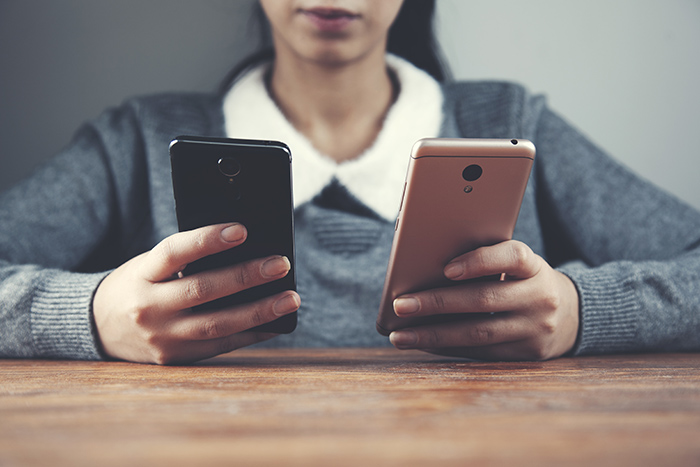 Plenty of reasons exist why you'd want to have two phone numbers on one mobile phone, and with the right technology, it's easy to have multiple lines on a single device.Ooma home and business phone customers have a unique solution through free apps to add a second phone line.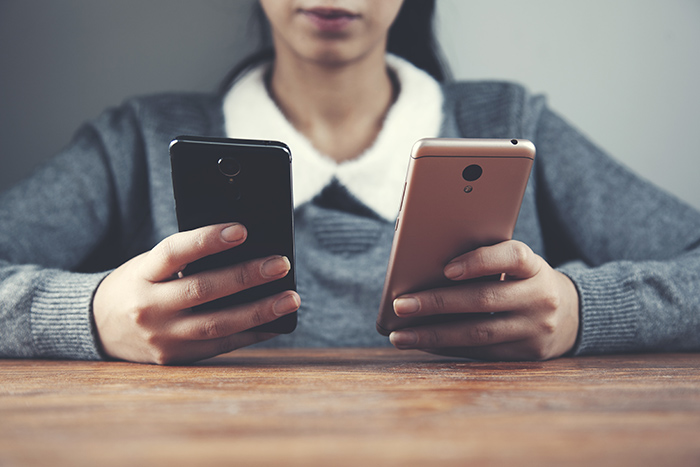 Tiko –
stock.adobe.com
How a Calling App Adds a Phone Line to Your Smartphone
Your smartphone's native calling tool is connected to your cellular provider phone plan. However, that isn't your only option for telephone service.Using an app such as
Ooma's mobile calling app
for home phone customers, your smartphone can have phone service that's separate from your native calling number.The app will use a different phone number, all the calls will remain separate, and there'll be another voicemail box for those messages. Keep in mind that calls made with Ooma's app are transmitted via your internet connection, either Wi-Fi or cellular data.
Why Is it Useful to Have Multiple Phone Lines?
A second phone line could be useful in a number of ways, from keeping your side gig communication separate to avoiding high international calling rates.
Separate Your Side Gig
Whether you're doing some freelance accounting during tax season or you're selling things on Craigslist, having a second phone line means that you won't have to give out your mobile phone number and can keep your home business separate from your personal contacts. Because Ooma's app works on your mobile device, you're still accessible while you're on the go. Additionally, if multiple family members are fielding communications for your side gig, Ooma's
Instant Second Line
means that you can still use the phone line on the app, even when the
home phone
is being used by someone else.
artiemedvedev –
stock.adobe.com
Filter Your Voicemails
Your voicemail greeting doesn't necessarily have to be one-size-fits-all. With two phone lines, you can keep your professional greeting separate from your personal greeting.
Family Phone Line
Your second phone line with Ooma provides all the
advantages of VoIP
, even when you're not at home. Because the Ooma app is part of your Ooma Telo home phone, you can use that phone number as a way to
keep your family organized
, including coordinating kids' schedules and managing household contacts.
Privacy and Identity Protection
It's common to have multiple email addresses for different functions, such as online shopping or junk mail. However, your phone number is one of your most important identifiers for security and access. Having a second phone line can help improve your personal security by separating your contacts' levels of access. For example, providing a secondary
phone number
to the supermarket cashier reduces the risk that it could be used to compromise your banking information.
Small Business Availability
Many people who carry two cell phones are using one that was issued by their workplace in addition to their personal device. Companies using Ooma's small business phone service can take advantage of the Ooma Office
phone app for business
, which allows staff to access their work phone from their personal cell phone. When you use the app, customers won't know whether you're sitting at your desk or working remotely. Calls will consistently show your work line, keeping your personal phone number private, even though you're using your personal device.
Avoid High International Rates
When calling abroad with your native cellular phone line, you could face steep international rates that add up quickly. However, when using Ooma's app, international calling rates are only pennies per minute, and
unlimited international calling plans
start at only $9.99 per month. This gives you the freedom to make international calls from anywhere at rates that won't break the bank.
Phone Access When Travelling Abroad
When you travel internationally, the Ooma calling app continues to provide the same
great phone service at home
.. By using the app, you can avoid juggling SIM cards or paying the steep connection rates of phone calls made in other countries. Keep in mind that Ooma's calls are transmitted over your internet connection, so connecting to Wi-Fi can help you avoid international cellular data fees.
Using the Ooma Telo Calling App (iOS, Android)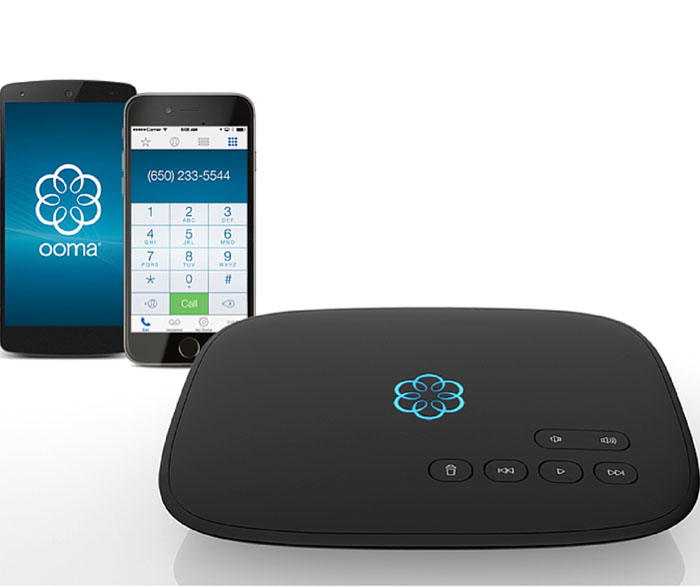 Using Ooma's mobile calling app for home phone customers adds a second phone number to your mobile device. It starts with the
Ooma Telo
, a VoIP hub that's the base of your Ooma communications system.Ooma Telo users can decide between two levels of contract-free phone service.
Basic Service
includes free U.S. calling and essential features such as Caller ID. You pay for the applicable monthly taxes and fees, which depend on the taxes associated with your zip or postal code.
Premier Service
expands service to include calls to Canada and Mexico, as well as including many advanced features and powerful
call blocking
tools for only $9.99 per month plus tax.Both levels of service have access to Ooma's affordable
international calling
rates.All Ooma phone customers can use the app to access their service. Incoming calls will ring on your Telo-connected home phone and the Ooma app. Users can answer calls and check voicemails from whichever device is most convenient.Ooma Premier subscribers have expanded app functionality with the ability to use the app to both make and receive calls. Premier subscribers can use additional mobility tools, including call forwarding, backup number, and multi-ring.
Using the Ooma Office Calling App iOS, Android
With the
Ooma Office calling app
, users have the same functionality as with their desk phone, even when they're not in the office. When using the app, users can make calls on their work line, answer incoming work calls, and listen to voicemails. Advanced calling tools are also available, including Ooma's virtual receptionist and the ability to transfer callers to another extension within the business' multi-line phone system.Ooma Office costs only $19.95 per month with no contracts. For small businesses that prioritize mobility and accessibility, the Ooma Office calling app helps employees to not miss a beat.
Find out how Ooma is providing smarter telephone service for homes and businesses.