Successful business calls are both an art and a strategy. While there's an art to building rapport, understanding motivations, and using negotiation tactics, the strategy component means leveraging customer data and smart business tactics.
Research on the intersection between business operations and behavioral psychology has revealed that by strategizing when you place your business calls, you can see significantly higher contact points and qualifying leads from your efforts. In fact, choosing the right time to place your calls can nearly double your chances of getting through to the caller.
Below is the data that'll teach you the best time to make your business calls.
When Are Calls Most Likely to Be Successful?
Dr. James Oldroyd has been called the "world's greatest expert on the measurement of cold calling" by CBS News. Holding a PhD from the Kellogg School of Management at Northwestern University, his in-depth research on calling effectiveness has been widely cited by business leaders and marketing experts. According to his analysis of all calling data, there are clear advantages to calling during certain times of the day.
The best times to make business calls are late in the workday, between 4pm and 6pm, and early in the morning, between 8am and 10am. The worst times to make business calls are mid-day, between 11am and 3pm.
The 4-5pm window is the clear winner, more than doubling the contact rate of calls placed mid-day. The 5-6pm block had about a 70 percent greater success rate than mid-day calls. Early morning calls between 8am and 10am are about 50 percent more successful than mid-day calls.
Additionally, the 4-5 pm block was dramatically more successful for making calls that convert into qualified leads. Calls made during this period have significantly better results than other time blocks, and they outperformed the 11am to noon period by 109 percent.
What Times Are Out of Bounds?
According to the SEC, cold calls are only permitted between the hours of 8am and 9pm. What's more, best practices for most circumstances dictate that business calls remain within business hours.
Additionally, remember that when making business calls, base the time you're calling on the recipient's time zone. For example, a call made at 9am EST to the west coast would be received at 6am, meaning it would fall outside of what's permitted by the SEC.
What Days of the Week Are the Best for Business Calls?
Oldroyd's research also looks at the success rates of business calls over the different days of the week.
The best days to place business calls are Wednesday and Thursday. The worst days are Monday and Tuesday, and Friday fell in the middle of the pack.
For making an initial business call to a lead, Thursday had the highest rate of callers making contact. In fact, callers were 48 percent more likely to make contact on Thursday than they were on Tuesday, which was the worst day for making contact with new leads.
As to converting leads into qualified leads, Wednesday was the best day for making initial dials to leads that become qualified. The worst day for this category was Friday. This shows that even though calls placed on Friday had a mediocre rate of making contact, those call recipients were qualifying at far lower rates.
How Does Your Business or Your Industry Differ?
These optimal call times are based on averaged data across a wide set of industries, and you may see some variation based on your industry. For example, industries such as restaurants and hospitality face unique daily patterns that may influence the success rate of business calls.
"While understanding general patterns is useful, every organization has a specific type of customer that behaves in a slightly different manner," Oldroyd told CBS. "If you want to optimize, you need to measure what's actually working, which means tracking your leads throughout the pipeline and then drawing conclusions based upon the patterns that emerge."
Are There Monthly Patterns to Successful Business Calls?
Oldroyd's colleague, Ken Krogue, performed an additional set of research exploring end-of-month B2B sales strategies. The data revealed that sales reps are pushing hard to close deals, and that the rate at which deals were closed at the end of the month increased by 2.9x.
That's a major bump. However, the data also indicates that sales reps may be pushing too hard to close deals that aren't ready, and that there's a negative impact from heavy-handed tactics.
The rate of deals that are lost forever skyrockets at the end of the month, showing an elevenfold increase.
Krogue explains: "B2B companies are taking a 27.2% hit to the top line annually by employing misguided end-of-month sales strategies. That translates to $98 million for each of the 151 companies we studied."
Therefore, even if you're able to reach your lead by using a successful calling strategy, some of the prospects may result in better business deals if you avoid the end-of-month fast track.
What's the Best Way to Make Business Calls
Instead of limiting yourself to a desk phone for work or using your personal cell phone to make business calls, VoIP technology (Voice over Internet Protocol) provides an innovative way to combine the professionalism of a work line with the portability of your cell phone.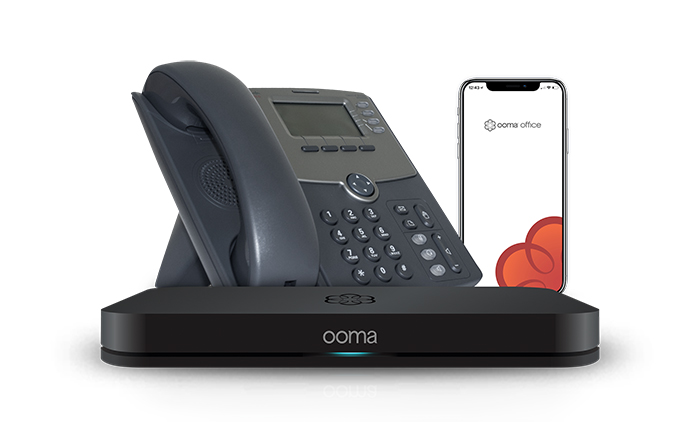 Ooma Office provides enterprise-grade business phone features including extension dialing, multi-level virtual receptionist, ring groups, music on hold, and more. These features, along with unlimited calling in the United States, Canada, Mexico, and Puerto Rico are available for the low monthly price of $19.95 per user, following the initial hardware purchase. Estimates show that businesses with three users would save $6,185.44 over three years after switching to Ooma Office.
Also included with your phone service is the Ooma phone app for business that lets you use your cell phone to make and receive calls on your work phone line. This means that you'll never have to leave voicemail messages with multiple callback numbers and an explanation of when to use each number, nor will you have to forfeit your privacy by giving out your personal cell number when making calls to business prospects. With Ooma's free mobile app, you'll be able to balance the need to be accessible with the need to stay professional.
Learn more about how Ooma Office products can help you make better business calls.