Ooma vs. Frontier: seven reasons to choose Ooma for your business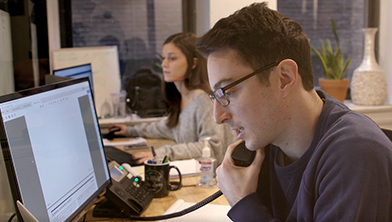 Are you debating Ooma vs. Frontier Communications? Choosing between these digital phone services doesn't have to be time-consuming. Use these questions to think through the options and make a better choice for your organization's needs. 
1. Are you paying for phone plan features that you don't use?
The bill you pay for your phone service comes due every month. It's worth asking if you are getting everything you need from your phone service. For example, are you paying high rates for long-distance calls to other countries? Ooma offers special plans that give you unlimited calls to dozens of countries. By contrast, Frontier Communications offers per-minute pricing for international calling—there is no unlimited international calling plan.
Does your phone provider charge you for features you rely on, like voicemail? For example, if you have to pay additional fees for each call you make, your employees might feel discouraged from staying in touch with customers by phone frequently.
If the price and features you receive are getting higher and higher every month, it may be time to look for a more competitive option in the market like Ooma.
2. How easy is it to switch phone providers?
Years ago, making changes to your phone service involved significant inconvenience. We have good news for you: You can usually transfer your phone number when you switch to Ooma. That means you can keep using the same phone number. So if you already have your phone number printed on storefronts, vehicles, business cards and websites, you do not have to change them.
We've worked hard to make sure the process of moving your business phone number to Ooma is easy, no matter what phone provider you have. Ooma customer Prashanth Narayanan had this to say about moving from Frontier Communications: "Switched from Frontier, and I was able to keep my phone number. Ooma made the transfer really easy!"
It can take a few weeks to complete the process of moving your phone number to Ooma. It depends on the carrier you're using and how many phone numbers you move. To get information specific to your company, please contact us at Ooma's Small Business Phone Systems. 
3. What are the advantages of a virtual receptionist?
When a customer calls your business, they expect an answer. That's the foundation for effective customer service. When you open an Ooma account, you get powerful features that improve your customer service quality overnight. Virtual Receptionist automatically takes a call and forwards it as appropriate. Frontier Communication also offers a virtual receptionist capability.
With a virtual receptionist in place, your customers can get the help they need faster. For example, you can automatically direct Spanish-speaking customers to the right person who can help them. You can also make sure service and repair request calls are handled by employees with the proper knowledge to solve those problems. Efficiently passing customer calls to the right person means a better customer experience with each call. 
If your current phone service lacks a virtual receptionist capability, your customers may wait longer for their call to be answered. Such a manual approach to handling customer calls may not reflect well on your company.
4. Do you need a local number for each of your business locations?
When you run a business with multiple locations, you shouldn't make your customer place long-distance calls to your head office. That's not very good customer service. Instead, use Ooma to open a local number for each of your locations. There are several ways you can choose a local number.
Find out the available phone numbers by visiting Ooma's small business phone numbers website. You can browse available phone numbers in multiple states. That's not all. If you want a phone number that is easy to memorize, you can check to see if you can get a repeating number or a vanity number, if your business has a branded phone number for customer service and marketing purposes.
By contrast, the Frontier Communications website states it offers local phone numbers but they don't include website tools for users to determine whether or not their desired phone numbers and area codes are available.
5. Does the provider offer an after-hours customer service message feature?
What happens when a customer calls your business phone number when the office is closed? At a minimum, the caller may be directed to leave a voicemail. Your business can do much better than that. With Ooma, you can use the after-hours mode on the virtual receptionist to provide more detailed information. For example, you might offer a different phone number for emergency customer service needs on evenings and weekends. Frontier Communications also offers an auto-attendant feature.   
6. What is the provider's mobile app user experience?
Whether you are attending to a customer at their business, meeting with a supplier, or working from home, you need the ability to stay connected. When you use Ooma phone service, you can download the Ooma app to your smartphone. That means you keep receiving your business calls through the app when you are out of the office. You and your employees never have to worry about giving out your personal cell phone number again.
The ability to take your business calls through your smartphone is a great reason to switch to Ooma.   Frontier Communications also has a mobile app.
7. Does the service include video conferencing?
Ooma offers video conferencing through Ooma Meetings. This capability lets you hold video meetings with up to 25 people. You can also share your screen to discuss documents with colleagues. Frontier Communications offers video conferencing through Zoom.
Is Ooma right for your business?
There are a few reasons Ooma may be a good choice for your business call needs. You get more flexibility—you can make calls from your laptop or with an Ooma phone. A virtual receptionist makes sure customer calls are always routed to the correct person and improves after-hours customer service. You might also be able to save money by switching to Ooma. To find out how much you can save, check out our small business phone savings calculator.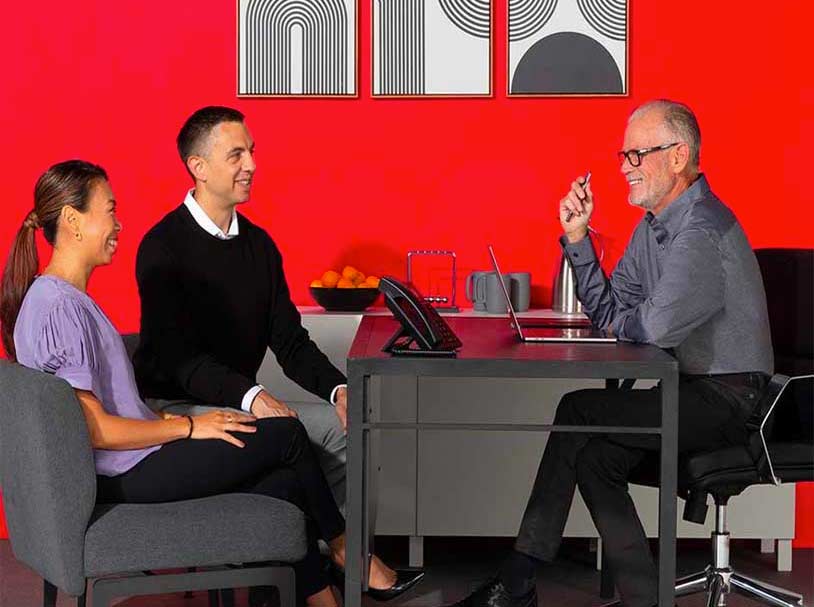 Learn more about how Ooma Office can help your business.
Thank you!
An Ooma Office Sales Representative will be in touch shortly.
866-573-0707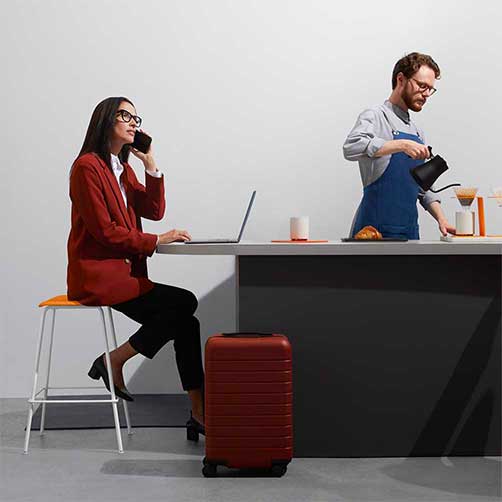 Learn more about how Ooma Office can help your business.
Just call 877-621-0515 or click this to CHAT. Or, fill out this form and someone will reach out to you shortly.