Just about every employee has a business phone on his or her desk and a smartphone in a pocket or purse. Imagine the business productivity gains that could be achieved by automating and streamlining phone systems to be more efficient.
With UCaaS (Unified Communications as a Service), it's possible to automate business processes and data workflows with other SaaS (Software as a service) solutions like CRM, office productivity and back-office solutions.
Rather than wasting time on repetitive tasks, your team could have more time to spend on high-value projects. This can be a net improvement to your business operations and your bottom line. For example, when customer service reps spend less time juggling callers, orders and tickets, they can have more time to provide individualized support to more customers.
Even though communication automation sounds complicated, it's a growing trend that's transforming and improving the way business processes and transactions are done. Integrating your UCaaS right into other SaaS solutions provides one easy interface so you don't have to switch back and forth between apps — you can call, text or meet all within one app.
For larger enterprise systems, some providers offer professional services to customize your communications, including integration. This helps your data flow easily from your communications system into your order fulfillment, CRM, billing and other systems. Not only does this help you process transactions faster and more accurately, but this also offers more business intelligence through real-time reporting and dashboards.
Let's break down the key role cloud communications can play in business process automation.
What is UCaaS software integration?
Your business communications platform can be tremendously powerful.
Internet-based phone and communications systems such as UCaaS and a subset technology called VoIP (Voice over Internet Protocol) are becoming the gold standard for businesses that want efficient, flexible and integrative communication technology.
With a cloud-based phone system, you'll have more control, power and adaptability so your business communications system can easily evolve with your company over the long haul. You can customize call routing and call logs into specific workflows that are integrated into your other SaaS solutions and apps.
UCaaS provides different types of communication methods within one unified system. Rather than phone calls being separate from conferencing, texting or call center software applications, everything can function within one application.
Your UCaaS system can be integrated into your SaaS apps such as a CRM like Salesforce or a customer support app like Zendesk. It could also integrate with productivity tools such as GSuite, Office365 or Slack.
The digital freedom of UCaaS technology is that it can quickly and easily be custom-tailored to support your specific business needs.
What is business communication workflow automation?
With workflow automation, technology can take care of repetitive tasks such as logging contact points or routing incoming calls. Communication automation can be easily implemented within your cloud phone service.
Implementing workflow processes into your communication system has a wide range of advantages. In fact, communication automation can drive transformative benefits similar to when automation changed manufacturing lines during the industrial revolution. Consider the potential cost savings as communication technology improves the productivity of your workforce.
There are two primary categories of communication automation. One is within your phone system, for example, call routing. The second occurs between your communication system and other software apps. For example, you can sync your phone calls and call log data with Salesforce.
Below, we'll dig into each of these two categories.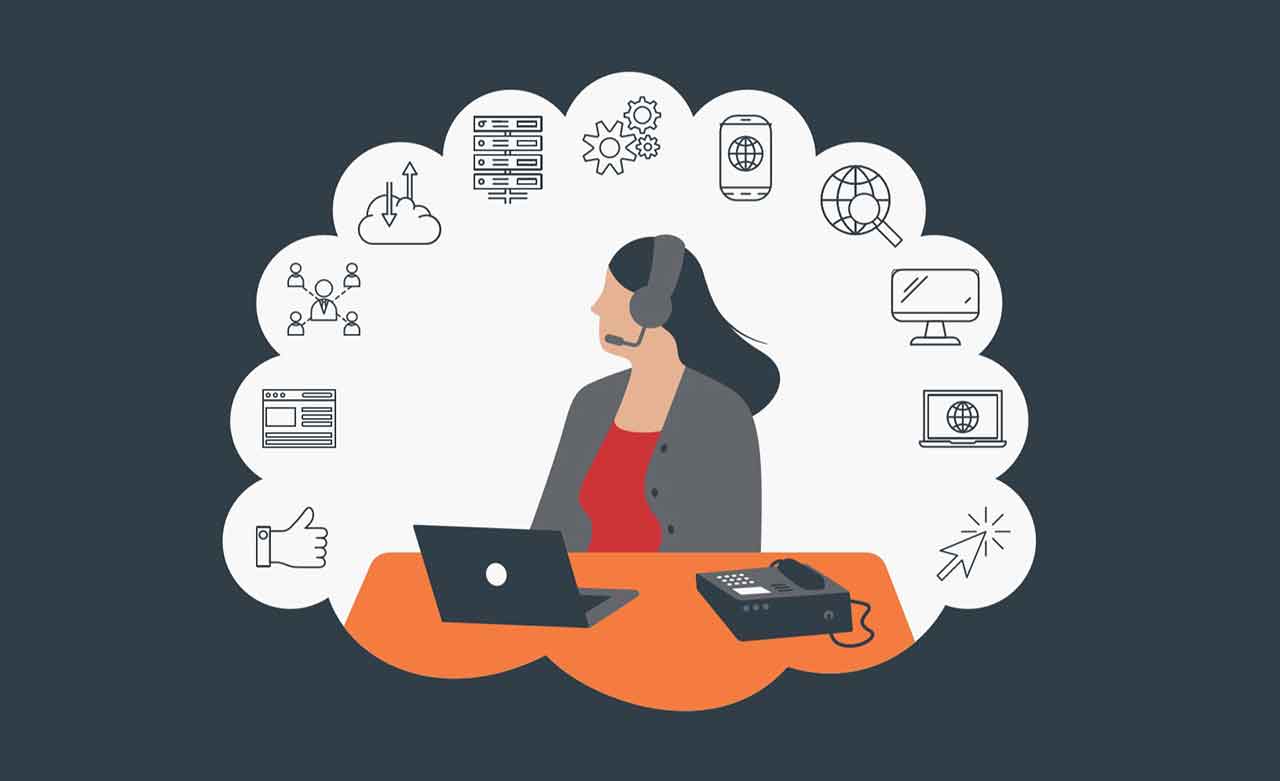 Workflow automation within UCaaS.
Your UCaaS or VoIP provider may offer some types of integration and automation. Different providers have various options, but some popular automations include:
Automatically routing callers to the right extension with a Virtual Receptionist. This routing can occur based on the menu choices the caller selects. This improves the customer experience as callers can be quickly connected without runaround, holds or transfers.

Creating multi-tiered routing systems helps you avoid the missed opportunity of an unanswered call. If one person doesn't answer, the call will be routed in a sequence through different business users.

Find Me technology can also be used to sequence through a single user's contact phone numbers.

Business rules can be used to develop call routing options. For example, top-tiered clients can get preferential treatment, or disconnected callers can be reconnected to the rep they were just speaking with.

Mobile app automation gives each employee access to their incoming calls even if they're away from their desk. Incoming calls can ring on both a IP phones and a smartphone's mobile app simultaneously or in a prioritized sequence. This provides automatic connectivity, whether the employee is down the hall or working from home.

Automatic call forwarding can help you redirect calls from a single extension to another phone line. For example, a restaurant can choose to toggle this on or off during early reservations, depending on their daily staffing.

Call blocking automation can algorithmically detect spammers so businesses can avoid wasting time and frustration.
Notably, it isn't only large businesses that have access to these communication efficiencies. Many of these tools are available with small business phone service.
With communication automation, you'll be able to work smarter, never miss a call or voicemail, make a good impression, and support growth. Your team can avoid wasting time on mundane tasks and can focus on the core of their jobs. You can also see improved job satisfaction among your workforce because eliminating dull or repetitive tasks can help improve staff morale.
Workflow automation that integrates UCaaS with other software.
The second category of workflow automation is where your VoIP or UCaaS system integrates with another piece of software.
This could be a CRM, but there is nearly limitless potential to connect your communication tools to your SaaS. You can use it with productivity software like Microsoft Office or GSuite and project management apps like Basecamp or Asana. It can also integrate with customer service platforms like Zendesk and ServiceNow as well as resource planning tools like NetSuite.
With this omni-channel approach, you can build and customize the best solutions for your business. Your data and solutions stay in sync, with real-time information and dashboards that help your staff work more efficiently and effectively.
Integrating your communications infrastructure into your other SaaS solutions can improve your business operations. For example, here are a few common CRM integrations that demonstrate how companies can work more efficiently:
Automatically making and logging calls from within your CRM system provides business insights that help optimize performance and also help you keep accurate records for billing purposes. Your team will have full transparency over knowing who spoke with which customer for what time frame. This automation will result in better data that helps you improve your company-wide business intelligence.

Automatic caller display can provide an information pop-up that displays details about an incoming caller from a CRM record. This can help your team effectively assist clients while also providing a level of personalization. Through automation, you can get an instant reminder that the caller has a daughter named Sally and they're a Chicago Cubs fan, for example.

Call recording automation can save audio files directly to each customer's CRM record or each employee's service rep log. Use the recordings to manage clients and improve your customer support programs and agent training. It may help you achieve industry compliance. Recordings can also be a way to limit your business liability because you'll have audio records of requests and discussions.

Status updates can be dispatched to a project management app or Slack chat. For example, you can notify your upper management group if a big investor calls, or you can log activity updates in specific project files. This promotes office operations that are clear and transparent. As a result, your workforce will be in sync, and managers can get a bird's eye view of communication flows to identify bottlenecks or staffing discrepancies.

Click-to-dial functionality lets your team go from their CRM screen to a call without having to punch in the nine digits to make a call. This can help improve their call volume, increase dialing accuracy, and decrease frustration.
Some providers offer canned solutions to the integration between your phone system and CRM. For example, they may only be able to update specific Salesforce fields. Other providers offer pre-built bridges that link a phone system to popular CRM in powerful but limited ways.
The most robust integration can be achieved if the provider offers an open API that lets you map any type of activity to any software or any field. When your UCaaS workflows are doing the heavy lifting for you, you'll be able to scale with ease.