What if Santa went virtual?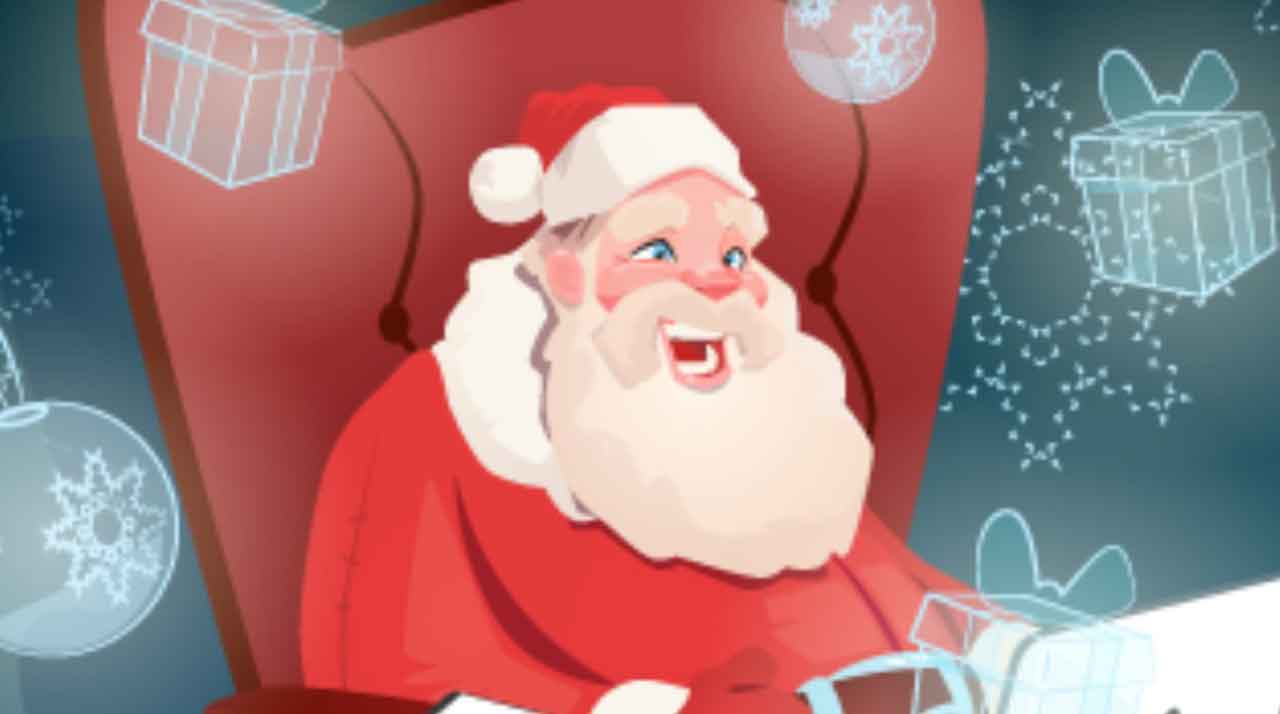 Whether he's called Santa Claus, Father Christmas or Kris Kringle, he has his work cut out for him on Christmas Eve. Of course, the rest of the year is filled with reading letters, assessing naughty and nice, handcrafting a few million toys, feeding the reindeer, maintaining the sleigh and managing quite a few elves. Then all that work culminates with a lightning-quick round of deliveries. 
Considering that massive and complex workload, we started thinking about the possibilities of bringing today's technology to bear on this wide range of challenges. Perhaps there are some streamlining opportunities, process optimization or other benefits that could be achieved. Of course, we're not sure we'd want to downsize the elves in this effort or that Santa would be interested in lean methodology.
Let's have some fun looking at the math and considering what could happen if Santa Claus went virtual.
Paste this Image on Your Site!
Simply copy and paste the code below and you can share this infographic on your site:
Letters to Santa and a help desk staffed by elves.
To understand the impacts of Santa modernizing his operations, let's start by estimating his "customers." How many children hope for a gift from Santa each year?
 A clever calculation from The Atlantic estimates that throughout the world, there are 526 million Christian children under the age of 14 who would be expected to celebrate Christmas. While Santa has become a celebrated figure across many beliefs and secular households, this population figure is our best estimate about the number of Santa believers.
Next, let's consider the number of letters sent to Santa each year. The Universal Postal Union calculated that across their 192 member countries around the world, about seven million letters to Santa are sent through the post office. Presumably, Mom and Dad are grabbing some letters before they're picked up by the postal worker, so the total number of letters sent to Santa is likely even higher.  
Even so, the numbers show an opportunity gap of over 500 million children who aren't sending letters. Santa could reach far more kids through a communication system with a broader reach. For example, if Santa were to improve his customer service by giving each child a chance to have an annual phone call with the North Pole, he would need a customer service staff of nearly 30,000 elves. 
That's based on a customer service agent's average rate of 50 calls per day. This team of elves would be about five-and-a-half times larger than the biggest call center in the United States. 
Santa's North Pole call center: 28,822 elves
American Express call center: 5,200 employees
Fidelity Investments call center: 4,400 employees.
Santa's customer service elves would also have the challenge of needing to be able to speak many different languages. After all, Santa Claus also goes by Sinter Klaas, Babbo Natale, Hoteiosho, De Kerstman and many other names across different languages and cultures.
 We'd like to think that the North Pole would be outfitted with Ooma Office phone service. Thanks to Ooma's award-winning service, Santa could pay less for phone service while accessing enterprise-grade phone features and low-cost international rates.
North Pole manufacturing and operations.
With today's modernized manufacturing, elves don't need to toil away endlessly at the North Pole workshop crafting all those toys. Thanks to automation, elves could instead manage a digital workstation for a mostly hands-free manufacturing process. On average, automation saves companies 16 to 22 percent on labor costs. In some factories, 90 percent of humans have been replaced by robots. We're not entirely sure of the human-to-elf productivity ratio, but there should be some savings there.
In an automated North Pole toy factory, a manufacturing line with 12 robotic stations could make 7,200 toys per day. This is based on the build rate of the ToyMaker 3000 at the Museum of Science+Industry in Chicago, which can produce 300 toys per hour. 
Running 24/7, Santa would need 200 manufacturing lines to build one toy per child for his yearly Christmas delivery.
Manufacturing estimates assume that nine robots are equivalent to about 140 full-time workers. Therefore, Santa's automated toy factory would be the equivalent of 112,085 elves working eight-hour shifts.
Cloud computing is another way to update North Pole operations. As of 2020, 94% of enterprises are using some form of cloud service, and by 2025, it's expected that the data stored in the cloud will exceed 100 zettabytes. A zettabyte is 1,000,000,000,000,000,000,000 bytes. As a comparison, a zettabyte is roughly half a million times the size of all the academic libraries in the U.S. The elves should be able to put that to good use supporting Santa's operations. 
With all the info in the cloud, Mr. and Mrs. Claus can get a break from the cold and snow by telecommuting from somewhere more tropical. Working virtually is not only more convenient, but it can also be an operational advantage. Companies at which workers telecommute see a productivity boost that's equivalent to a full day's work. The downside in this study was that workers almost always wanted to go back to the office due to the isolation. We're not entirely sure that applies to an office at the North Pole.
Christmas Eve deliveries.
On Christmas Eve, Santa has a busy delivery schedule:
22 million presents per hour
365,000 presents per minute
6,100 presents per second
Reindeer drones would be a smart way to update how gifts are delivered across the sky to children's homes. 
To calculate the number of reindeer drones needed, we start with the assumption that 55 percent of the population lives in urban areas within an effective drone delivery range. This is based on delivery drones having a range of 10 miles due to the flight capacity to travel at 40 mph for 30 minutes. Therefore, delivering presents to 289 million kids during the night would take 12 million drones.
Drone delivery services are already on the market, and tech giants see them as the future of e-commerce fulfillment. UPS has been growing its drone airline since 2019 and is delivering prescriptions by drone in select locations. In 2020, Amazon received FAA approval for its drone delivery fleet. 
For Santa, drone delivery would be especially useful based on the sheer scale of his Christmas Eve operation. In just one night, he's responsible for delivering 35 times as many boxes as Amazon ships in the U.S. each day and 24 times as many packages as UPS delivers in a day. Not only that, but a recent survey found that 89% of shoppers support drone deliveries. 
Just as NORAD's Santa Tracker provides real-time location updates, releasing a Santa app could provide real-time updates about reindeer drone locations and gift delivery status. About 82 percent of consumers want proactive status updates about package deliveries, and a Santa app could offer a comprehensive information portal.
What if the children weren't very good this year?
We don't have access to Santa's data analytics dashboard, often referred to as the naughty or nice display. However, we know it has a tally of how many good children will be getting a toy and how many bad children will be receiving a lump of coal.
This year's ratio of good and bad children may be unknown, but we could calculate the production value if every child received a lump of coal. To get that number, we can multiply one lump of coal by 526 million children, and then multiply that by the density of coal (1g/cm3). 
This tells us that Santa needs 19,000 short tons of coal, which is 0.002375 percent of the country's one billion-ton daily operations. To break that down into time, that would be 13 minutes of coal production.
We can only hope that, like Sally in "A Charlie Brown Christmas," most children "have been extra good this year."
Santa's Workshop goes virtual.
Santa isn't alone in the daunting task of modernizing operations. In fact, 73 percent of Fortune 500 CEOs say that rapidly changing technology is their biggest challenge. However, implementing new technology offers the rewards of optimized workflows and reduced costs, and it also opens up new customer experiences. After all, think of how far we've come from phone calls placed by an operator to today's low-cost internet phone service with HD audio.
All that would be fantastic. And imagine how cool it would be if Santa or any of the elves moved to a virtual workplace in your neighborhood.
Learn more about how Ooma is changing digital communications.