Bob Iger was the storied sixth CEO of The Walt Disney Company. Leading the company between 2005 and 2020, Disney's stock gained more than 480 percent and the company reached $69.6 billion in annual revenue during the past fiscal year.
He has significant management experience under his belt, and his 2019 book The Ride of a Lifetime: Lessons Learned from 15 Years as CEO of the Walt Disney Company revealed the business skills that helped him succeed. These lessons are especially insightful as Iger shifts to the role of executive chairman and hands over the reigns of CEO to Bob Chapek.
Through Iger's personal story, he reveals how his tenents of management have manifested in his career. He explains how he climbed the ladder from a local weatherman through his 45-year tenure with Disney to his role as CEO of a $130 billion global company. He also reveals the formative events and people who helped him forge his leadership style.
Between the lines of Iger's story, there are clear takeaways for business managers. He shares his strategies and principles that have helped him succeed and have helped Disney thrive while under his leadership.
Below are the five most important leadership lessons from Bob Iger's book on management.
1. Know what you don't know
In his book, Iger explained that one of the tenets of good leadership is to acknowledge you don't know everything. Furthermore, it's important to clearly distinguish between what you know and what you don't.
Iger explains that this distinguishing line is not only helpful for the manager, but it also has a positive impact on the team. "There's nothing less confidence-inspiring than a person faking a knowledge they don't possess. True authority and true leadership come from knowing who you are and not pretending to be anything else."
Rather than faking it, Iger asked questions. This contributed to his industry success and helped him earn the respect of his team. "You have to ask the questions you need to ask, admit without apology when you don't understand, and do the work to learn what you need to learn as quickly as you can," Iger writes.
There will be times as a manager when you don't have all of the answers or have the context to make informed decisions. This is inevitable. Yet a paradox can emerge when managers ask their teams for clarification or explanation.
"At work, we often reward those who answer questions, not those who ask them," explains the Harvard Business Review. The author explains this mindset can be problematic. "Because expectations for decision-making have gone from 'get it done soon' to 'get it done now' to 'it should have been done yesterday,' we tend to jump to conclusions instead of asking more questions. And the unfortunate side effect of not asking enough questions is poor decision-making."
Through the process of asking questions, managers have an opportunity to grow their understanding as well as help elevate and clarify the real issues the company or department is facing.
2. Cultivate ambition in yourself and others
Iger's ambition has defined his career, shaped the growth of Disney, and helped develop the success of his team. As his own ambition fueled him forward, he also supported the ambitions of those in his wake.
"At its essence, good leadership isn't about being indispensable," said Iger. "It's about helping others be prepared to possibly step into your shoes — giving them access to your own decision making, identifying the skills you need to develop and helping them improve."
When building a pipeline of talent, it's also important to distinguish between the types of ambition within the workforce.
For Iger, truly ambitious people weren't noisily "clamoring for promotions and complaining about not being utilized." Instead, Iger identified ambition by looking for workers who showed it in their behaviors. They were "proving themselves to be indispensable day in and day out," he said.
Leveraging ambition can create a helpful momentum that lifts your business, and internal motivation is a powerful force.
As the Wall Street Journal explains: "The goal of management became not simply to direct and control employees seeking to shun work, but rather to create conditions that make people want to offer maximum effort."
Cultivating a pipeline of ambitious leaders can have a big impact on your organization. According to Deloitte, organizations that maintain a strong leader pipeline are eight times more likely to maximize efficiency and six times more likely to be able to anticipate and respond to change.
3. Empathy is just as important to business as data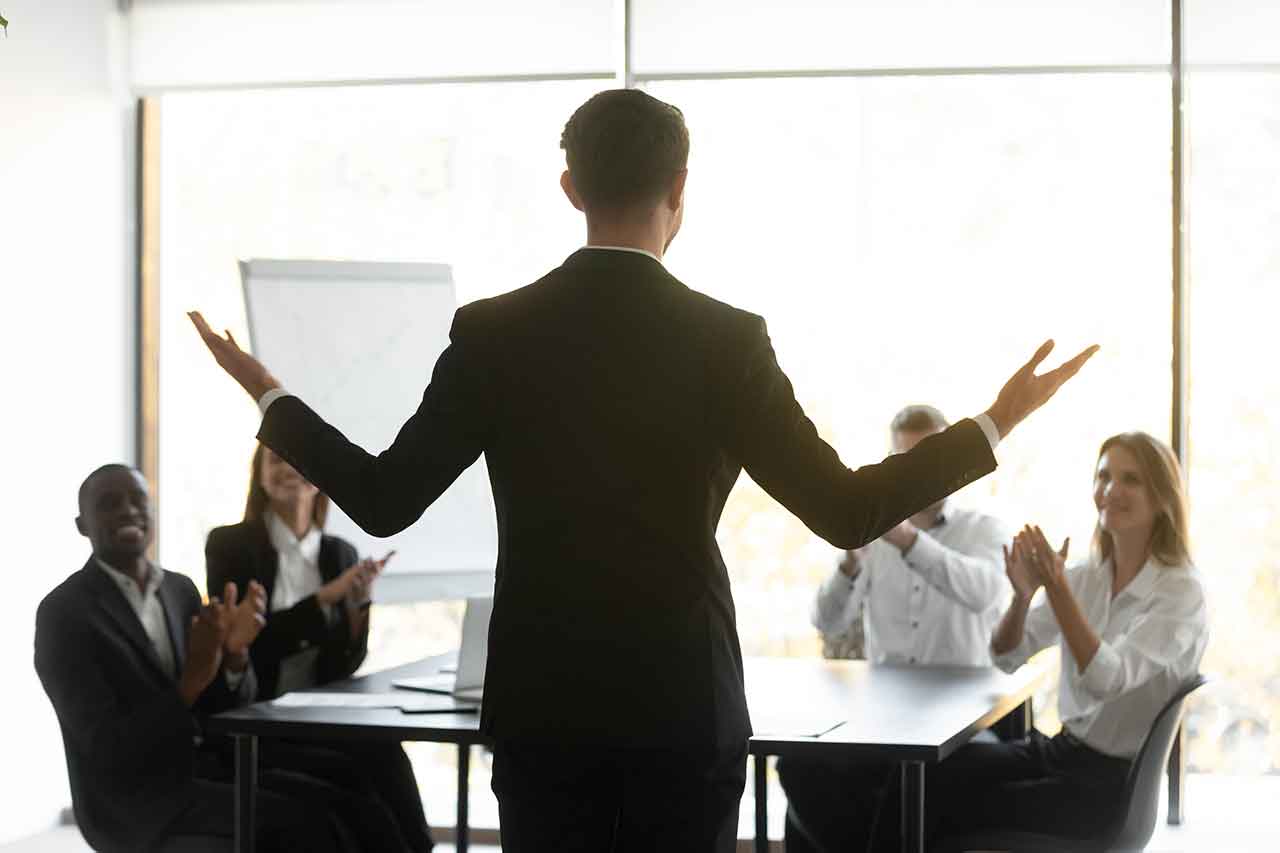 Iger's business success has not been without interpersonal challenges in the workplace.
For example, during his tenure, he had to convince both Roy Disney and Stanley Gold that he would make a good CEO, salvage the company's relationship with Steve Jobs and Pixar, and handle many other important negotiations and acquisitions.
When facing these tough situations, Iger leads using a human-centered approach. "A little respect goes a long way, and the absence of it is often very costly," said Iger.
He explained: "This simple, seemingly trite idea was as important as all of the data crunching in the world: If you approach and engage people with respect and empathy, the seemingly impossible can become real."
A study on leadership skills by DDI revealed that the most important driver of overall job performance is empathy. This interaction skill is also consistently linked to better decision making, engagement and planning.
However, even though there is a clear benefit to soft skills within the workplace, it's not very common. The study revealed that only 40 percent of frontline leaders demonstrate strong empathy skills. This reveals a significant skills gap between existing leadership traits and the factors that are known to have a measurable impact on success.
4. Communicate a clear roadmap
A business needs a destination, just like a car, ship or plane. Without knowing where you're going, it's easy to get lost going around in circles.
Having a clear set of business priorities offers the type of vision that helps an entire workforce achieve their goals. Iger took this approach early in his tenure.
While Iger was still interviewing for the CEO role, he developed a set of clear priorities for where he saw the future of Disney going. This vision then defined how he pitched himself for the position, and it defined how he led his team after getting hired. This 10,000-foot view then informed the decision-making of the rest of the staff.
"A company's culture is shaped by a lot of things, but this is one of the most important — you have to convey your priorities clearly and repeatedly," said Iger. "In my experience, it's what separates great managers from the rest."
Iger explained: "This kind of messaging is fairly simple: This is where we want to be. This is how we're going to get there. Once those things are laid out simply, so many decisions become easier to make, and the overall anxiety of an entire organization is lowered."
This sentiment has been echoed by MIT Sloan Management Review which said that strategies that are simple or straightforward have the most ability to impact day-to-day activities at every level of an organization.
When developing your company's strategy, MIT's Donald Sull says: "Strategic priorities should be forward-looking and action-oriented and should focus attention on the handful of choices that matter most to the organization's success over the next few years."
It's also important to use big-picture planning to align your leadership team. Of the 400 organizations that the author surveyed, just 27 percent had at least two-thirds of the senior executives in agreement about strategic priorities. How far can a company go if its leaders are rowing in different directions?
5. Swing big
During Iger's tenure, he made big plays that dramatically expanded the company.
He demonstrated his skills as a great leader when he brokered the acquisition of Pixar in 2006, followed by Marvel in 2009, Lucasfilm and Star Wars in 2012, and 21st Century Fox in 2019. He also pushed for the production of Black Panther despite strong internal opposition.
In the book, Iger shared the importance of taking risks. "Long shots aren't usually as long as they seem," says Iger. He explains: "People sometimes shy away from taking big swings because they assess the odds and build a case against trying something before they even take the first step."
The courage to go after big deals can often have a significant impact on your company. A McKinsey analysis of megadeals found that one percent of deals in the pipeline can account for 40 percent of projected revenues.
When faced with big deals and big risks, remember that relationships are still one of the most important assets. McKinsey's research discovered that even when deals fall through, investing in relationships can lead to future opportunities. "About 20 percent of lost deals produce significant dividends over the next two to three years," said the report.
You don't need Bob Iger to tell you that you miss 100 percent of the swings you don't take. So even if you swing big now and miss, you could still be laying the groundwork for future deals.
Conclusion
The way you manage a team determines more than your personal career trajectory. Leaders have a significant impact on a company and its future with McKinsey noting that the CEO accounts for 45 percent of the company's performance.
Can Bob Iger's management insights help you navigate today's complex business world?
Bill Gates thinks so and has included the business book in his 2020 summer reading list. Gates said: "Whether you're looking for business insights or just an entertaining read, I think anyone would enjoy his stories about overseeing Disney during one of the most transformative times in its history."