Siri could save your life. With a simple voice command, you can make a hands-free 911 call, even if you can't reach the phone.
The stories of Siri's life-saving abilities have already made headlines:
When a single Dad flipped his Jeep in the Nevada desert, he didn't know where his phone was, so he started screaming for Siri to get help.
While in his apartment, a pro-biker became paralyzed from the neck down due to a burst blood vessel. His iPhone was just 10 inches away, but he was unable to press the home button. His only way to get help was with a Siri voice command.
When a paddle boarder was being blown out to sea, she used Siri on her Apple Watch to call for help. Without a lifeguard on duty, the Harbormaster responded to the local emergency and reached her in less than 15 minutes.
A New Hampshire man escaped a burning house, but when he reached for his phone, he couldn't dial because of the burns. Siri helped him make the 911 call.
Are you prepared for an emergency? Here's what you need to know about using Siri to dial 911.

Kaspars Grinvalds – stock.adobe.com
How to Call 911 Using Siri
The following voice commands can be used with Siri to dial 911:
"Hey Siri, call 911"
"Hey Siri, call an ambulance"
"Hey Siri, call emergency services"
"Hey Siri, dial 911"
Following your command, Siri will respond that it's "Calling Emergency Services in five seconds." This gives you a chance to cancel the call if it was unintentional.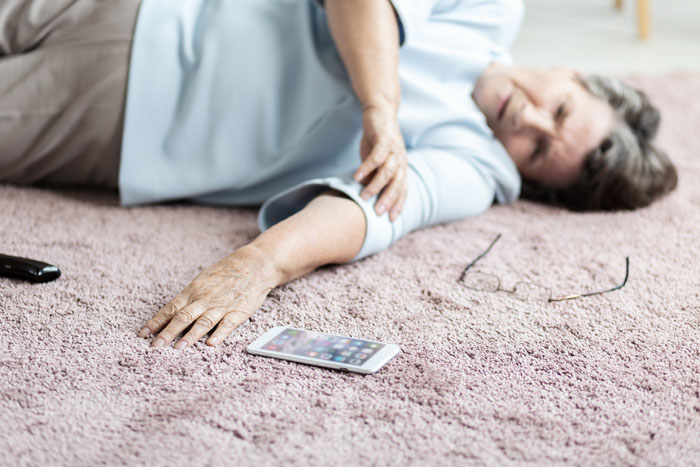 Photographee.eu – stock.adobe.com
Five Things to Know about Making High-tech 911 Calls
Now that you know how to call 911 using Siri, let's review five things you should know about these high-tech emergency phone calls.
1. Some Voice Commands Are Easier to Say
Consider a situation where you've had a stroke. It's going to be far more difficult to say the word "ambulance" than to say "911."
Not only could your emergency result in unexpected physical limitations, but it's also helpful to keep commands simple since you're relying upon Siri to understand you accurately. Even in the best of circumstances, Siri can go awry. Thus, while the voice command "call an ambulance" will work, it may be more helpful to remember the phrase, "call 911."
2. The Ability to Automatically Locate Emergencies Matters a Lot
The location of your emergency is a crucial part of a 911 call. After all, first responders will have a difficult time helping you if they can't find you.
Typically, when you dial emergency services, location information is automatically transmitted behind the scenes, as well as verbally confirmed with the dispatcher. In the era of landlines, the automatic location transmission was highly reliable, but cell phone technology has made it increasingly difficult to locate emergencies.
As John Oliver once quipped about the technological disparity, the Domino's app may be better able to know your location than a 911 dispatcher receiving a call from a cell phone.
3. Your Technology May Determine Whether Your Call Can Be Located
A wide set of contributing factors influences whether an emergency call made from a mobile phone can be located accurately. This includes the emergency services infrastructure within your city.
Notably, a 911 call made with Siri could have an advantage over one made with an Android. As of iOS12, the iPhone is able to approximate a "mobile 911 caller's location using cell towers and on-device data sources like GPS and WiFi Access Points" and subsequently share that information with 911 centers.
In a similar high-tech initiative, advanced 911 service from internet-based phone provider Ooma Telo has landline-level accuracy by sharing your self-provisioned physical address with emergency responders (where available) so that they can come right to your door. When 911 is dialed from an Ooma-connected home phone, automatic location services could support babysitters who don't know the address, elderly relatives who have failing memories, or young children who may not be able to relay information accurately.
 
Ooma also provides a Remote 911 tool for those using Ooma's free calling app. If you know there's an emergency at home while you're not there, calling 911 from the Ooma app would be treated as though your emergency call was coming from your home's location rather than the physical location of your mobile phone. See Dialing 911 for Emergency Services for a full explanation about how Ooma's 911 service compares to traditional 911.
4. Advanced Emergency Tools Can Automatically Alert Your Family
Ooma Telo's advanced 911 has another advantage. With 911 alerts, family members can have real-time notification if 911 is dialed from an Ooma-connected device. Every second matters, and Ooma's 911 alerts can help you act quickly.
Whether you decide to receive notifications via text message or email, you'll also have the opportunity to set up a custom message on your account. For example, you can automatically include the details about a child's medication or a doctor's phone number.

5. Siri Isn't Your Only Option for Calling 911 via Voice Command
Smart assistants such as Alexa or Google can also give you hands-free access to dial an emergency number. While they may not be able to call 911 on their own, pairing your Ooma Telo with your Amazon Echo or Google Home could expand your hands-free 911 access.
Thus, in addition to Siri, you could also get help by saying, "Alexa, ask Ooma to call 911," or "Hey Google, ask Ooma to call 911."
Learn more about how to respond to emergencies with Ooma and how Ooma Telo can keep you connected to what matters the most.