Your Amazon Echo Can Help You Call 911 in an Emergency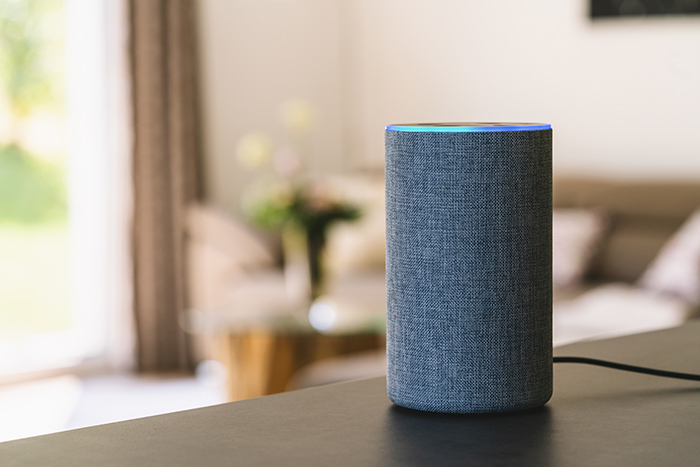 What do you do if you can't get to the phone during an emergency? After a fall or stroke, a phone on the other side of the room could be useless.
With the prevalence of voice-activated smart assistants, such as Amazon Alexa, you could use a simple voice command to get help.
The ability to use Alexa to call 911 has countless untold applications. In one reported incident in New Mexico, a domestic violence event was thwarted because the victim was able to scream for Alexa to get help.
However, Amazon's Alexa isn't able to automatically access 911, the nationwide emergency number. One way to make 911 calls using Alexa is to pair your Amazon Echo with Ooma Telo. Learn about how you can use Ooma-Alexa integration to make voice-activated emergency calls.
rcfotostock – stock.adobe.com
Why Can't Alexa Call 911 By Itself?
The Amazon Echo smart speaker can provide a tremendous amount of information and access through straightforward voice commands. Alexa can look up the weather forecast, start your Spotify playlist, change the temperature on your smart thermostat, and so much more.
Yet, when it comes to making an emergency phone call, the Wall Street Journal reports that Amazon Echo and other smart assistants don't have the native ability to call 911.
This limitation is due to several emergency-access communication regulations including the need for a registered home location, a callback number, and the required monthly 911 surcharge.
However, using your Amazon Echo device with Ooma's smart home phone service can help you access advanced 911 service through Alexa.
How Can You Use Ooma to Make 911 Calls with Alexa?
After setting up your Ooma-Alexa integration, you'll be able to say:
"Alexa, ask Ooma to call 911."
Ooma's communications platform has been providing 911 access to customers for years. Using Alexa-Ooma integration can give you the voice control of Alexa with the emergency access of Ooma.
As one Ooma customer shared, "The day happened that I needed emergency services and Ooma was right there. It may have saved a life. Thank you for having a great E911 system and great service."
What Happens When You Make a 911 Calls Using Ooma?
Whether you're using Ooma to call 911 on a home phone, on Ooma's free mobile app, or via Alexa, Ooma provides the same advanced emergency access technology.
Emergency 911 calls made with Ooma are connected to local dispatchers rather than a national call center. This helps you to speak with someone who could be familiar with your neighborhood or the nearby first responders.
Ooma also automatically transmits your registered home address so dispatchers can know your location even if you're unable to speak after initially asking Alexa for help.
Additionally, Ooma's 911 Alerts can automatically notify a secondary phone number if a 911 call is placed from an Ooma account. For example, a family member can be alerted if an elderly relative calls 911 or if the new babysitter has an emergency.
What's Required to Dial 911 Using Alexa?
Three pieces of hardware are needed to make a 911 call using Alexa:
The Amazon Echo is the smart speaker that you're probably already using with your Alexa virtual assistant.
The Amazon Echo Connect is an accessory device to the Amazon Echo. Plugging the Echo Connect into your Amazon Echo allows you to create a bridge from your Ooma Telo to your Alexa-enabled phone system.
The Ooma Telo is the communications hardware that powers Ooma's low-cost home phone service and the smart security system.
With your devices in hand, you're ready to start making voice-activated phone calls on your Ooma account. There's no lengthy setup process, and all you have to do is download Ooma's Alexa skill.
All three pieces of equipment can be purchased as an Echo Connect package. Alternatively, each device can be purchased individually based on what you need to get started with making hands-free voice calls.
How Does Ooma-Alexa Integration Work?
When your Ooma phone service is integrated with Alexa using the Echo Connect, you'll have the voice-activated functionality to make hands-free calls 911 calls. Additionally, you can use it to dial a phone number, call someone on your contact list, and perform other Alexa commands to use Ooma hands-free.
What Ooma Phone Service Packages Are Needed?
After purchasing the Ooma Telo, there are two tiers of residential service available. Both options offer full 911 access, and both allow you to integrate Ooma and Alexa.
Ooma Basic Service is the ultimate low-cost phone plan. It includes unlimited U.S. calls and many features, such as call waiting, caller ID, remote voicemail access, call logs, call hold, and more. There's a low monthly cost of about $4 to $7 to cover the taxes and fees required for your ZIP code, and you can use Ooma's savings calculator to see exactly how much you could save.
Ooma Premier Service provides the latest calling technology. On top of what's included in Ooma Basic Service, Premier includes the ability to block unwanted robocalls, full mobile access via Ooma's app, and more smart home integrations. Plus, unlimited calling is expanded to include numbers in Canada, Mexico, and Puerto Rico.
Calling 911 with Alexa May Be Better Than Using Your Cell Phone
There are long-standing problems with calling 911 from a cell phone. However, only about 11 percent of the population has a full understanding of why emergency calls made from a cell phone are different.
Because cell phone calls typically have no other functional differences, it's easy to assume that calling 911 would also be the same. However, the infrastructure of 911 emergency services isn't necessarily built to accommodate cellular technology. The infrastructure varies by location, and in places such as Washington D.C., the ability for 911 dispatchers to accurately know the location of a cell phone caller is as low as 10 percent.
Ooma is a VoIP service that transmits all calls over the internet, including emergency 911 calls. However, Ooma's 911 tools automatically provide the home location info that's crucial for emergency calls. Even when a 911 call is initiated through Alexa, Ooma's 911 services will be working in the background so you can deal with the situation at hand.
Learn more about residential phone service, as well as how you can use Alexa to make calls.