Protect your home from online threats.
Traditional network security solutions provide basic support for blocking websites, but lack the real-time updates of Ooma Internet Security, or the ease and flexibility of blocking objectionable content.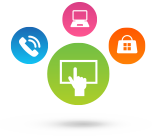 Stay Connected
Get the latest updates & product offers from Ooma.
Ooma Telo is the Best Choice
For your Home
Learn why Ooma Telo is the best suited phone service for your home.
View Now