Home phone? Or, smart phone?
It's both, actually.
New Customers
Telo + Handset
Purchase an Ooma Telo and compatible handset together to get the complete PureVoice™ HD experience.
Risk-free 30-day return
Total Price: $149.98
Buy Now
Returning Customers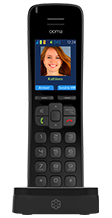 Ooma HD3 Handset
Double the fidelity of your phone calls with HD Voice. Get caller-ID and sync online contacts and pictures with Facebook. Get an Instant Second Line and make or take a second call, even when the Telo is in use (Premier customers only).
Risk-free 30-day return
$49.99
Buy Now
Features included with Basic service:

Cordless handset
Use your phone wherever you are in your house – you can add up to four handsets for added convenience.

Color display
A 2-inch color display provides the ability to display pictures of contacts.

DECT 6.0 support
Get superb sound quality, security and range with the Ooma HD3 Handset without interfering with your wifi network or other home electronics.

Picture caller-ID
Displays a picture of the caller as the phone starts to ring along with caller-ID information. The device also automatically syncs with Facebook profile pictures.

Caller-ID and call waiting
Enjoy the convenience of caller-ID and call waiting at no extra charge.

One-touch voicemail access
Check messages from anywhere in your house.

Online phonebook
Download Facebook profile pictures and your online contacts from Yahoo, Google, Facebook and LinkedIn.

Intercom
Use the intercom to talk between handsets and transfer calls – this feature can also double as a baby monitor.

Call log
View all incoming calls, outgoing calls, numbers and duration of calls.
HD Voice
Ooma HD Voice technology doubles the fidelity of your phone calls by capturing twice the speech information of a standard voice call (yes, that includes your landline). When you and another caller use an Ooma handset, or any HD-compatible phone, your voice will sound more natural.
Add Premier service and get a second number plus these advanced features:

Instant Second Line™
Two lines are better than one. Make or receive a second call even while another phone is in use.

Do not disturb
Get peace and quiet by simply pressing the envelope icon for two seconds. All of your calls will roll into voicemail without ringing.

Send to voicemail
Transfer a call to voicemail by pressing the "Send to Voicemail" button at any time.
Second number
Perfect for a home office, choose a second number from any area code in the U.S. You can ring your second number on all phones or just your Ooma HD3 handset, and you can add up to nine numbers (additional monthly fee applies).

Private voicemail
Make any Ooma HD3 handset a private extension with a password-protected voicemail account. You can also set up personal greetings, customize privacy settings, and control your voicemail notifications or forwarding.

Voicemail monitoring
If you don't recognize the caller-ID, listen as they leave a message and pick up the phone at any time to speak with the caller.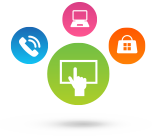 Stay Connected
Get the latest updates & product offers from Ooma.