Are you looking for the perfect gift for Father's Day?
Sometimes, it's a head scratcher to find just the right thing. In this collection of Father's Day gift ideas for 2019, we're looking at the forefront of today's technology trends and must-have gadgets to make Dad smile.
1. For the Cord-cutting Dad
Ooma Telo ($99)
With Ooma Telo, Dad can cut the cord on high-cost phone service. The device provides access to Ooma's internet-based phone service to make high-quality phone calls with unlimited U.S. minutes. In addition, he can use Ooma on a home phone or with a smartphone via Ooma's free calling app.
Rather than a steep monthly bill, Ooma's Basic Service only costs a few dollars per month in required taxes and fees. It's an effective landline replacement; it can help keep your family organized; and it can add a second phone line onto your mobile device.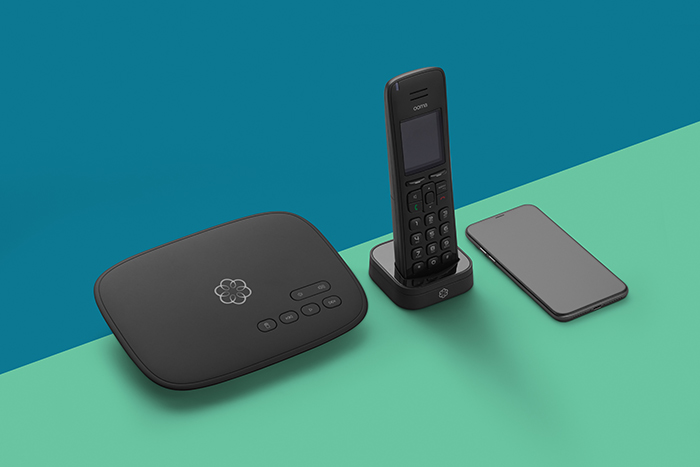 Tech-loving dads can upgrade their phone service to Ooma Premier, which provides advanced calling tools such as call blocking to fight back against spammers, Instant Second Line, expanded access across North America, and more.
2. For Dads Who Want to Stay Connected
Ooma Smart Security ($149 – $299)
With an internet-connected security system, Dad can be only a few taps away from his home security. Use it to protect the house against a potential burglar, avoid package theft at your front door, or monitor the backyard pool against the neighbor's kids.
Ooma Home smart security system combines the latest security technology with an easy-to-use interface. Choose the security sensors you want, or begin with a starter package that includes a collection of motion sensors, window/door sensors, water sensors, and Ooma Smart Cam security camera.
For many users, smart security is about more than protecting against potential threats; it's a way to stay connected to the people and places that matter. Use it to get alerts when your kids get home from school, when the dog walker drops off Fido, or when Grandma stops by with her special recipe.
3. For Dads Who Love Multi-purpose Tech
Amazon Echo ($99)
The Amazon Echo is the wildly popular smart speaker with the digital assistant Alexa. Using the Echo, Dad can control many other smart home devices, interact with cloud apps, and do so much more. Many families say that with Alexa, the voice commands give them access to an endless supply of tech resources without needing to look at their screens. Bonus: the Alexa integrates with your Ooma Telo!
You can also make your Amazon Echo gift more special by adding to Alexa's skills, such as World's Best Dad customizable compliments, the All About Dad personal story, or Burns for some lighthearted roasts.
4. For Absent-minded Dads
Tile GPS Tracker ($17+)
If your dad is frequently losing things, the GPS trackers from Tile are nifty gadgets that can help. Attach the Tile to a likely culprit, such as keys or a backpack. Then, download the accompanying app to see its location information. There's also an audio function where the app can cause your Tile to chime until you find the missing object. It can also work in reverse; by pressing the button on the Tile, your phone will chime until you find it.
5. For an Always-prepared Dad
Portable Cell Phone Battery Backup ($20+)
If your dad keeps a Swiss Army Knife in his pocket, you can help him apply that always-prepared attitude to his digital life. A backup battery is usable to power cell phones or tablets so he can make it through a busy day without needing to find an electrical outlet. Some battery packs are even strong enough to power a cell phone for a full week.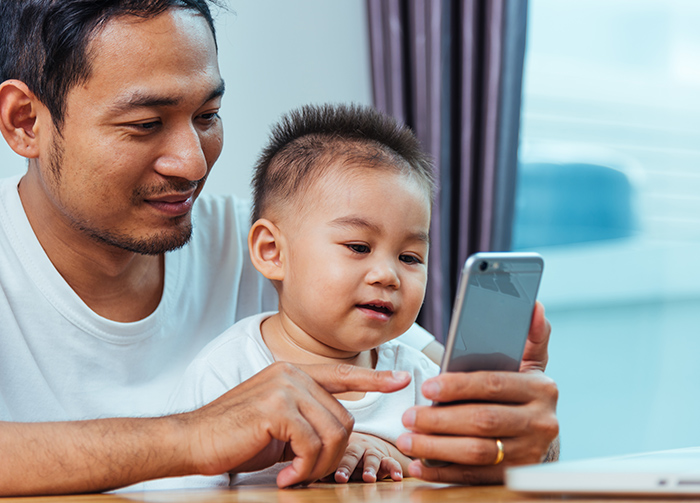 6. For Geeky Dads
Philips Hue Smart Light Starter Kit ($115+)
An otherwise boring household appliance can get a high-tech upgrade when Dad starts using internet-enabled smart light bulbs. The lights can be controlled via Alexa, Google Assistant, or a smartphone. They can be set to a schedule and integrate with other devices, such as Ooma, which can flash the lights to notify of an incoming call. Dads can even get creative with IFTTT applets so they can say "Ok Google, party time" to put the lights on a color loop.
7. For Foodie Dads
Digital Measuring Cup ($22)
Just about every recipe requires measuring, except for Dad's famous chili, of course. A digital measuring cup is a helpful way to add some precision to recipes. It measures both volume and weight, and it converts units so he can switch between milliliters, ounces, grams, pounds, cups, teaspoons, and more.
8. For Road Warrior Dads
Garmin Speak ($99+)
With the Garmin Speak, Dad can add Alexa to his car for hands-free navigation help. It can play Spotify and interact with apps, but unlike the Amazon Echo Auto that's hitting the market soon, the Garmin Speak also has a visual user interface. With a clear display saying to turn right in 200 feet, Dad won't miss the exit even if the music is turned up. The upper tier version also includes a built-in dash cam and driver assistance, such as merge warnings and forward collision sight.
9. For Photographer Dads
iPhone Lenses ($13 – $120)
If your dad loves snapping photos, he can up his game with a smartphone add-on lens. It won't pack as much punch as a digital camera, but it's easier than lugging around a DSLR. Options for iPhone lenses include wide-angle, telephoto, macro, and more.
10. For A/V-loving Dads
RIF6 Cube Mini Projector ($189)
This miniature projector has billed itself as the missing link in mobile media. The gadget is just 2 inches wide, but it can broadcast an image that's up to 10 feet wide. It connects to a smartphone so your dad can make a DIY home theater to stream movies, broadcast the big game, scroll through vacation photos, or project a PowerPoint.
11. For Retro Dads
Turntable ($50+)
Whether your dad has some old vinyl that he hasn't played in awhile or is a newcomer to record players, his albums will sound great on a modern turntable. Playing music is easy because today's version combines an old-school record player with Bluetooth connectivity, streaming ability, and a USB port.
12. For Cutting-edge Dad
Oculus Go VR Headset ($199)
The Oculus Go is an entry-level VR headset released in 2019, and it's been touted as the one that'll take VR mainstream. The most recent release is the Oculus Quest, which has a higher price tag of $399 and provides top-of-the-line immersion.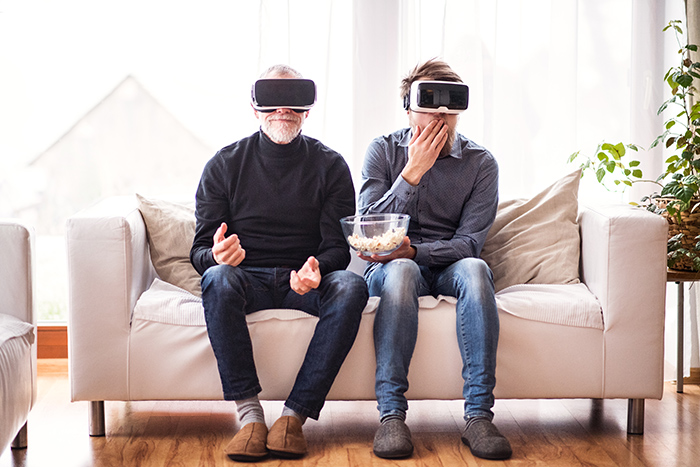 13. For Dads Who Program
Raspberry Pi ($35)
For tech-savvy Dads who love to tinker, a Raspberry Pi could be the start of a new hobby. Popular projects include a Wi-Fi enabled robotic buggy or a motion-detecting toaster. Don't assume that it's too advanced, because some projects are suited for 10-year-olds.
14. For DIY Dads
Wixey Digital Angle Gauge ($20)
Dad may not think of buying a digital angle gauge for himself, but the gadget certainly makes it easy to get the cuts right on his carpentry project. The Wixey has angle accuracy to 0.1 degree, and it can be used with a table saw, band saw blade, miter saw, jointer fence, and more.
15. For Dads Who Want to Automate Chores
Robomow Robotic Lawn Mower ($599)
Like a Roomba for your lawn, a robotic lawn mower can cut the grass with a single press of a button. The technology is still new, but these early models can help Dad spend more time grilling and less time mowing.
Ooma's Father's Day Giveaway
To celebrate dads everywhere, Ooma's Father's Day Giveaway will supply a lucky winner with a full suite of Ooma products. The sweepstakes goes through June 14, at which point the winner will be contacted with the great news.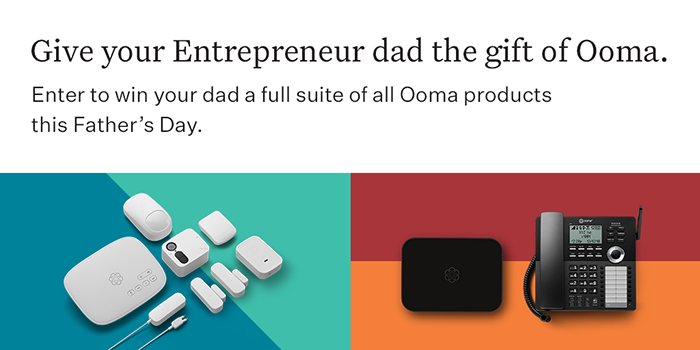 Click here to enter the sweepstakes!
One lucky dad will be outfitted with a home phone, business phone, and smart security. The grand prize of $636 worth of products includes an Ooma Telo, an Ooma DP1 Phone, an Ooma Office Starter Pack, a Motion Sensor, a Door/Window Sensor, a Water Sensor, Ooma Smart Cam, a Garage Door Sensor, and a siren.
This isn't a sweepstakes to miss!
Learn more about how Ooma can help you stay connected to what matters.