Making hands-free phone calls with your Google Home device is fun and convenient. However, when the rubber hits the road, and you have an emergency, you may not be able to count on Google Home to get help when you need it the most.
Like the smart speaker Amazon Echo, Google Home can't natively dial 911. However, that doesn't mean it's impossible to make hands-free emergency calls.
To help keep your household safe, find out how Ooma's residential phone system integrates with Google Home for hands-free emergency access.
Why Can't Google Home Call 911?
You can use your Google Home's phone function to call the nearest café or a Google contact. The ability to make a Google call sounds great, but Google Home isn't quite a fully functioning phone. It can't accept incoming calls, and you can't call 911 to get help when you need it the most.
There are a few reasons why you can't dial 911 with Google Home:
Having a callback number is a requirement for 911 access.
It's unable to transmit a home address to emergency dispatchers.
Google Home users aren't paying the monthly 911 services fee, which is added on to phone bills.
How Can You Use Ooma to Call 911 with Your Google Home?
Hands-free calling technology can be tremendously helpful during an emergency. It could give you a way to get help when you're unable to reach the phone to dial for help, say if you've fallen or suffered a stroke.
When Ooma is integrated with Google Home, you'll be able to say, "Hey Google, ask Ooma to call 911."
With Ooma-Google integration, you can also use voice commands to dial a phone number, call someone on your contact list by name, or check your voicemail.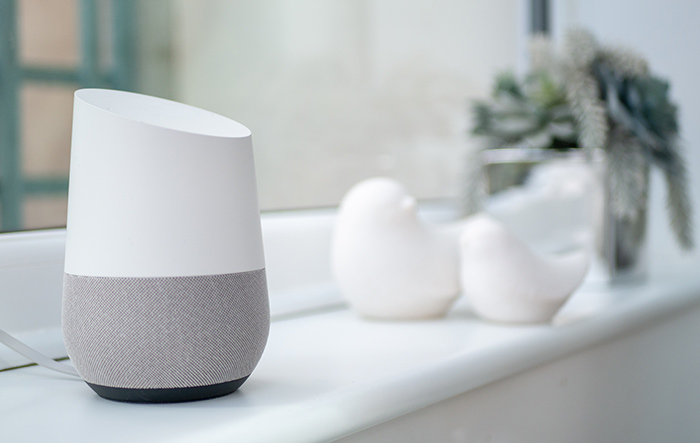 What Happens When You Dial 911 Using Ooma?
Ooma has your back in an emergency. Not only are you able to call 911 from any Ooma-connected phone or device, but Ooma also offers advanced emergency communication tools.
With Ooma, your self-provisioned physical address is automatically sent to emergency responders (where available) so they can come right to your door in the event of an emergency. Keep in mind that users are responsible for providing Ooma with accurate 911 location information and immediately updating it if they move the Ooma device.
Additionally, with the 911 Alerts feature, a secondary phone number can be immediately notified if an emergency call has been made from an Ooma-connected device. This automatic notification can help provide the peace of mind to family members who may be concerned about a new babysitter, an elderly relative, or an unexpected event.
Find out more about using Ooma to dial 911, which summarizes important differences between Ooma's 911 service and traditional 911 service.
What's the Deal with Ooma's Phone Service?
Ooma Telo is a full-service residential phone system. It can be used on its own as a landline replacement, used as a second line on your cell phone, and integrated with smart home devices, including smart speakers.
With Ooma, you're able to make both incoming and outgoing calls, and you have unlimited minutes when talking with domestic phone numbers. International calls are cheap, starting at just pennies per minute, and there's even an option for unlimited global calling with an international calling plan.
It all begins with the Ooma Telo device, which retails for $99.99.
Do You Need a Subscription to Use Ooma?
Ooma's phone service is contract-free, and there are two plans available. Your options are Basic Service for an ultra-low-cost phone system or Premier Service for access to the most advanced calling technology.
With Ooma Basic, you get free unlimited U.S. calling, full 911 access, and a wide set of essential calling features, such as caller-ID. You don't pay a dime for phone calls, but there's a small fee to cover taxes. The exact amount varies by what's required in your zip code, but it averages about $4 to $7 per month. Use Ooma's savings calculator to see how much you could save after switching from your current phone service.
With Ooma Premier, you supercharge your phone system with advanced calling tools. You have call blocking to fight back against spammers, voicemail-to-email audio forwarding to streamline your inboxes, unlimited minutes to Canada and Mexico, the ability to use the Ooma app to make calls as well as receive them, and much more.
That's probably more than what you're getting with your current phone service, and Ooma Premier only costs $9.99 per month (plus taxes and fees).
What Else Can You Do with Ooma-Google Integration?
Access to 911 isn't the only advantage of Ooma's integration with the Google Home speaker.
With Ooma's smart home security system users can also use their Google Home for hands-free home security controls. With a simple command to your voice assistant, you can disable the security alarm, arm your security system, or check your home security status.
Learn more about how Ooma can help keep you connected to the people and places you care about.

Dmitry Maslov is a Senior Product Manager driving development for mobile applications and security services at Ooma. Dmitry has a diverse background and a wide range of interests (prior to Ooma, he has been responsible for product development in travel, design, publishing and security industries). When not fighting for a good UX, he enjoys hiking, challenging stereotypes and generating winning solutions at hackathons.