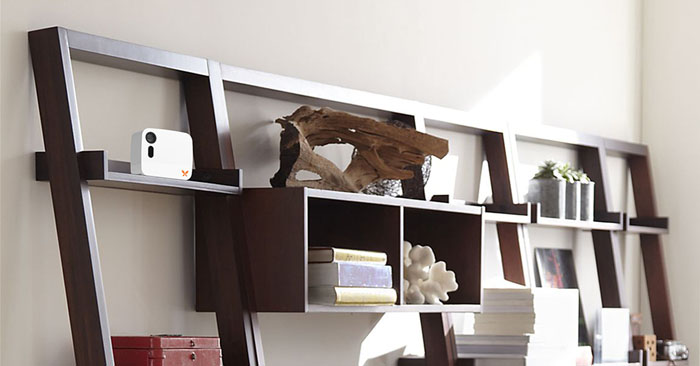 It's easy to hop on your favorite social media platform to see all sorts of info about your friends, such as vacation photos, lunch pics, and more. The endless stream of updates tells us so much about what's happening in the world and with the people we know, but it doesn't tell us what's happening at home.
This is an obvious void in our connectivity, and it may seem strange that you know more about your friends' lives than your own. That's where the right gear comes in. With the Ooma Butterfleye advanced video camera, you can monitor the places that you care most about and do a better job of staying informed on what matters.
Here's how the Ooma Butterfleye is like social media for your smart home.
Stay in the Loop
The mobile-accessible Ooma Butterfleye smart home security video camera has 24/7 livestream video that you can access from anywhere in the world. Simply position the 4-inch camera where its 120-degree field of view can capture the scene that you want. Then, use the Ooma Butterfleye app (iOS, Android) to securely access the livestream video feed or archived footage.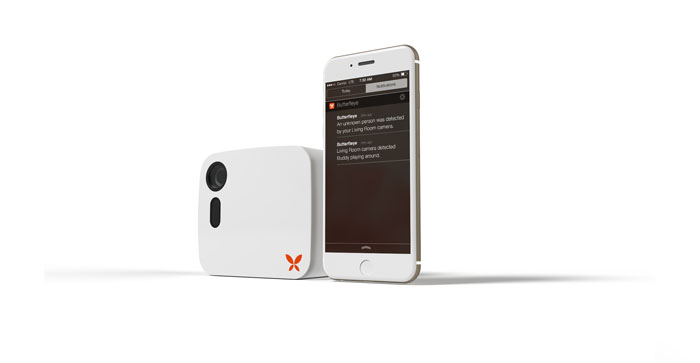 For those who are using the Ooma Butterfleye as a part of the Ooma home security system, you can also access live video and clips through the home security app, and use sensor integration to set up triggers so that a motion sensor could initiate your Ooma Butterfleye to start recording, for example.
Video with Facial Recognition
Similar to Facebook's ability to recognize the people in photos, the Ooma Butterfleye can recognize the people that visit your home. The facial recognition functionality of the Ooma Butterfleye is powered by artificial intelligence to learn the faces that are in your daily life and differentiate a friend from a foe.
The technology will prompt you to create profiles for frequently seen faces, and you can manually attach unidentified faces to profiles or create new profiles. The more facial information the device receives, the better it'll be at distinguishing the faces it sees.
Because of facial recognition technology, an activity alert on your mobile device will quickly tell you that a family member arrived home or if an unknown person is in your house.
No Internet, No Problem
Social media doesn't stop, even when you're offline. Similarly, internet outages or power outages won't stop the Ooma Butterfleye.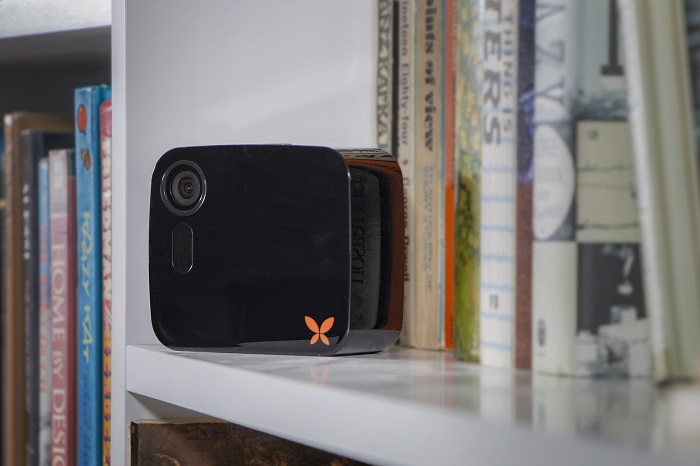 The device is built to provide you with the ultimate security. If your internet connection goes down, the Ooma Butterfleye has 16GB of built-in storage (32GB in black models) to store video footage locally until the internet is back up and the device can sync with your cloud storage.
If your power goes out, the Ooma Butterfleye has backup power with a 10400 mAh built-in rechargeable battery. Keeping your device functioning is key to being able to stay connected to what happens at home. While the device's battery life varies based on settings, usage, and temperature, we maximize its lifespan by using efficient energy systems to run the camera for two to four weeks under typical conditions.
Interactive Connections
In social media, when you have something to say about what you see online, you can post a comment to start up a conversation. The Ooma Butterfleye is also an interactive device.
Subscribers to the Ooma Butterfleye Home Secure plan or the Ooma Butterfleye Business Secure plan can use the device's two-way audio function. Not only can you hear what's going on at your house, you can also broadcast messages via the device's speakers.
So, if you do catch intruders in your home when using the Ooma Butterfleye, you can warn them that they're being recorded. Alternatively, if the Ooma Butterfleye lets you know that your kids got home from school, you can use the Ooma Butterfleye to broadcast a reminder for them to do their homework. You can even use it to scold your dog to get off the couch!
Privacy Settings
Just as you can adjust your social media privacy settings, the smart security of the Ooma Butterfleye can be customized for your privacy preferences.
All users can access the privacy arm/disarm feature to turn the device on or off. For example, you might prefer that the Ooma Butterfleye isn't active during family dinners or while you're binge watching your favorite shows. Using the Ooma Butterfleye app, manually turn on Privacy Mode to stop or start recording.
Plan subscribers have additional privacy functionality with the automatic arm/disarm feature. Using the location data from your smartphone, the Ooma Butterfleye automates your privacy by arming the device when you leave home and disarming it when you arrive back home. With this geofencing technology, the Ooma Butterfleye will do the work for you.
For a limited time, you can now access a free 30-day trial of the Ooma Butterfleye Home Secure plan to try advanced features such as automatic arm/disarm, facial recognition, two-way audio, and more.
Learn more about the Ooma Butterfleye, our super smart video security camera. Read more home security articles here.