Top 5 Alexa Commands for Using Ooma Hands-Free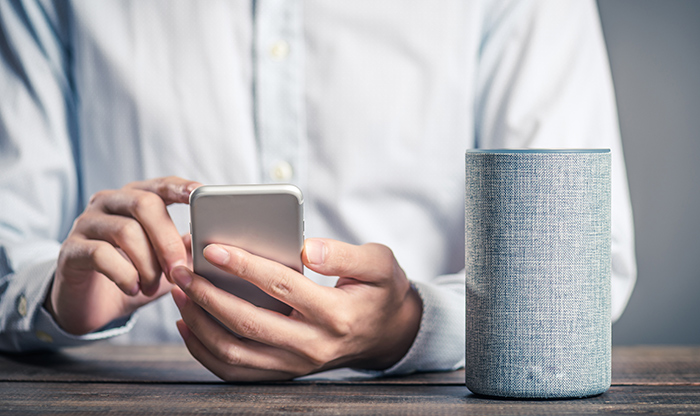 With Alexa's hands-free controls, voice commands can trigger actions such as playing music, getting the news, checking the traffic, purchasing items from Amazon, talking to Santa, and much more.
On top of the built-in functionality, Alexa's skills give you add-on tools that let you interact with third-party devices and services. For example, you can use Alexa to request an Uber ride or check your Fitbit stats. Alexa skills can also be a source of entertainment such as asking the NASA Mars skill for updates from the Curiosity Rover, or turning your device into an electronic pet by using the Meow! or Woof! Alexa skill.
There are more than 50,000 Alexa skills available; however, 53 percent of users only tap into one to three skills.
One of the most valuable ways you can use Alexa is to control the smart home devices that you use regularly. With Ooma and Alexa integration, you can use voice commands for your Ooma Telo residential VoIP phone service and to interact with your Ooma smart home security system.
Here are three ways you can use Alexa commands to control your Ooma products.
Check Voicemail
"Alexa, ask Ooma to check my messages"
With the Ooma Skill, you can check your voicemail with a simple voice command. This check voicemail command was one of the first integrations between Alexa and Ooma that we implemented.
Playing your messages via the Alexa command will automatically mark them as "heard." To listen to your messages again or manage the settings, visit the Voicemail tab within the My Ooma portal.
Check Home Security Sensors
"Alexa, ask Ooma to check status"
When using Ooma Home with Alexa, you have access to hands-free home security commands.
With the Ooma Alexa skill, requesting a security system status check will return the statement "All sensors are normal." Alternatively, it'll tell you which sensor has been triggered.
This voice command provides an easy way to ensure that all your home's windows and doors are closed before leaving the house. It'll also help you quickly identify which access points need to be secured.
Disarm/Arm Security Alarm
Disarm/Turnoff Security System
"Alexa, ask Ooma to disarm with PIN 1-2-3-4"
With hands-free security deactivation, voice commands can disarm the piercing 105-decibel Ooma siren and stop the system from sending activity notifications. Thus, if your hands are full as you're coming in the door, Ooma-Alexa integration gives you an easy way to manage your home security.
Subscribers to the Ooma Home Secure plan already have access to a type of hands-free functionality with location-based mode switching. The Alexa voice commands further extend hands-free access to other situations. For example, share the alarm's PIN code with family or close friends. You can also share the alarm code with repair crews, and then easily change it after their visit, preserving your home's security.
Arm/Activate Security System
"Alexa, ask Ooma to arm with PIN 1-2-3-4"
Activating your home security system is as easy as saying a few words. Just as you can disarm your security system with a voice command, Ooma-Alexa integration gives you a hands-free way to arm your system as you're on the way out the door.
By asking Alexa to arm Ooma your security system, your entire network of home security sensors will be activated. This could include door/window sensors, motion sensors, garage door sensors, a 105 decibel siren, and water sensor.
Hands-free alarm activation makes it easy to keep your home safe.