7 ways to make virtual thanksgiving successful.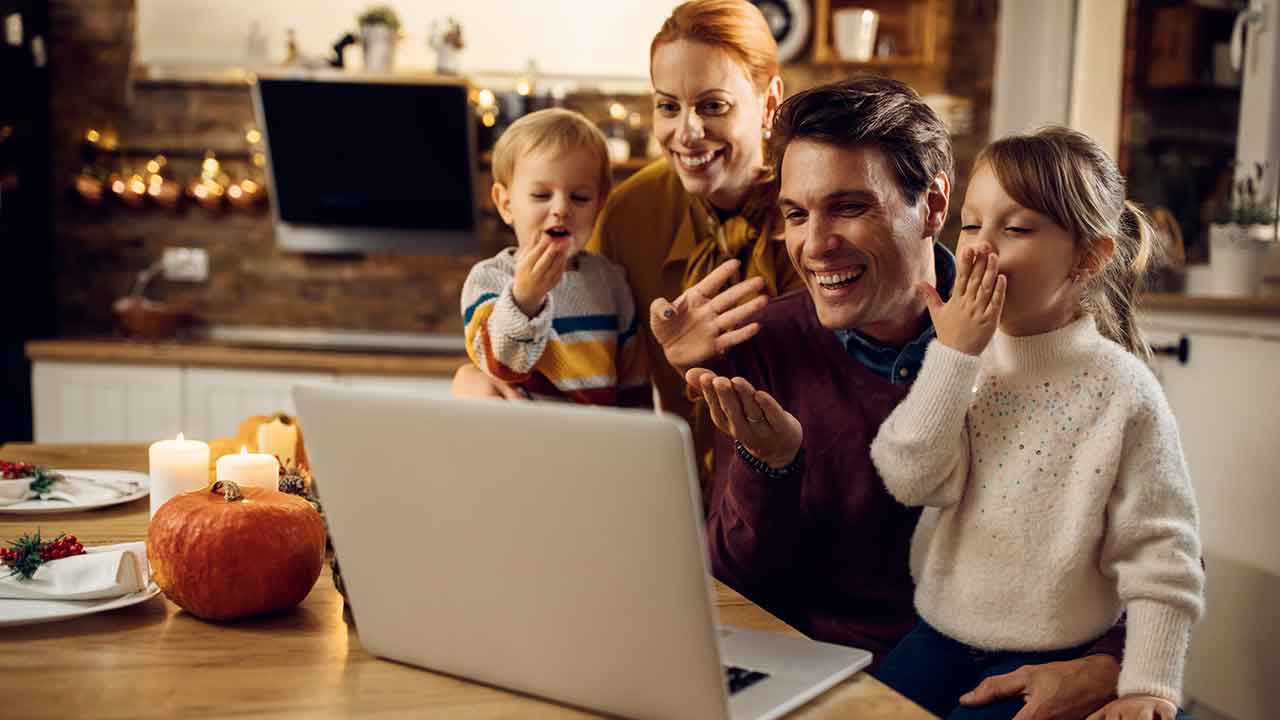 Virtual Thanksgiving is a reality in 2020 for many people. While this is a new experience for most, you can draw inspiration from other virtual events.
Virtual Thanksgiving: Practical ideas to celebrate safely.
You might have some experience with virtual birthday parties or summer events like the Fourth of July. With Thanksgiving a few short weeks away, you have some time to come up with a plan to make the most of the big day. Since the COVID-19 situation changes rapidly, please check with your city and state's public health guidance for advice specific to your area.
1. Acknowledge that virtual Thanksgiving is different from the past.
Due to the pandemic, the traditional Thanksgiving dinner is going to change for many people. If you have historically had a large family gathering on the big day, such a gathering may not be a wise idea this year. Recognizing that this year's Thanksgiving dinner is going to be different is an excellent first step.
While it will be different from the past, there are still ways you can stay connected with family and friends by planning. Keep reading for more inspiration to make this year's Thanksgiving memorable!
2. Consider different Thanksgiving dinner ideas.
With a virtual Thanksgiving dinner, you might have fewer people eating with you. For example, you might be celebrating the big day with your spouse and children only. If you are used to having a large group of people as guests, you may want to scale down your dinner plans. For example, consider reducing the number of side dishes you need to prepare.
If you plan to prepare a turkey, consider whether a half turkey might be a better fit for your celebration this year. After all, a few days of leftovers is lovely, but you might get tired of eating leftovers from a full turkey if you have a smaller group at Thanksgiving this year.
By the way, you can involve your friends and family in coming up with dinner ideas. Maybe this is the year you learn how to make a family member's apple pie! Likewise, offer to share your favorite recipe with friends and family. Trading dinner ideas back and forth is a fun way to stay connected even if you have to remain physically apart.
Tip: Not sure about your Thanksgiving dinner cooking skills? Call up the experienced cook in your family and ask them to guide you through the cooking process.
3. Discuss organizing virtual greetings with friends and family.
Despite the current situation, there are ways to stay connected with friends and family. You could have a series of one-on-one phone calls. If your family members have smartphones or webcams, consider organizing a virtual Thanksgiving call.
Make the most of the virtual gathering by using the following tips:
Create a virtual guest list in advance. Make a list of the people you saw during Thanksgiving last year.
Check your lighting situation. It tends to get dark early in the evening in November, so you will need some different lighting options. For example, move lamps and lights closer to your dinner table so people will be able to see you.
Make time for each person to comment. It is more challenging to pick up on visual cues in a virtual gathering, so some people may not feel comfortable speaking. Inviting each person to talk at the start of the virtual event is a good idea.
Experiment with different ways to use video and phone calls. It can be tricky to include multiple people in a virtual gathering, especially using video. Before the big day arrives, try out different places to place your laptop, like putting it on a side table.
4. Make a plan to call friends and family for Thanksgiving this year.
Video calls are a good option, but they are not suitable for everybody. Some of your family members may not be comfortable with the technology. Others may not like how they look on video. That's why you may want to set up a calling list as well.
Let's say you typically invite five people to your Thanksgiving dinner. Make a list of each person, make a plan to phone them, and catch up for a few minutes.
Tip: When you are having a virtual Thanksgiving phone call, you don't want to be interrupted. That's why Ooma's Premier Plan is a good option—it includes call blocking.
5. Communicate your virtual Thanksgiving plan in advance.
In advance of Thanksgiving, set aside some time to make a few phone calls. This is your opportunity to share your ideas for virtual Thanksgiving with the family members and friends you would typically invite to your home.
Taking the time to explain your approach to virtual Thanksgiving to children is especially important. They might be used to seeing grandparents, cousins and other family members.
As you tell friends and family about your plans, focus on telling them what you have in mind to make virtual Thanksgiving a big success.
6. Use Black Friday shopping as a way to connect with friends and family.
Does your family have a tradition of giving gifts or shopping together on Black Friday? You can take a virtual Thanksgiving approach to these activities. For example, arrange to set up a phone call on the morning of Black Friday, visit the same website, and discuss the different deals available.
By the way, you don't have to discover Black Friday deals on your own. Many companies are starting to post their deals on their websites ahead of the event, so you can take your time to review the deals. There are also websites that gather together multiple Black Friday deals like BlackFriday.com and BlackFriday Gottadeal.  This way, you and your family members can share new deals you find on your site up until the big day.
For friends and family uninterested in virtual shopping, consider buying them a gift and having it sent to them as a surprise. Sending a surprise gift during the holidays is a good way to show somebody you're thinking about them.
7. Reflect on what worked and what didn't work.
It is unlikely that COVID-19 is going to disappear quickly. Given that reality, take some time to reflect on what worked and what didn't. For instance, you might find that your family members strongly preferred direct phone calls instead of a group video call. In that case, you can make a plan to make more calls for other virtual gatherings like a virtual Christmas.