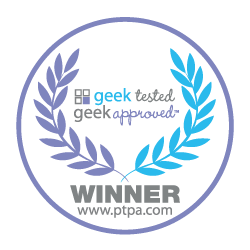 Today, Ooma was awarded the 'Geek Tested Geek Approved' Seal of Approval from Parent Tested Parent Approved Media (PTPA). The testing panel, including volunteer families in Canada and technology expert Marc Saltzman, was amazed by the Ooma Telo. They gave us an average score of 91 percent for easy set-up, call quality, advanced features and being budget friendly. The panel was also impressed with Ooma Premier service to help streamline communications, protect privacy, stay connected on the go and save money.
Here are some highlights of what parent testers had to say:
"I'm loving my new Ooma Telo Set-up was a breeze, and it worked right out of the box! I'm making free calls and nobody can tell the difference except my wife, who pays the bills. It looks great on my desk, and it's simple enough for my whole family to use. Call quality is the same as my old land line, and I was able to use all my existing handsets. I can't wait to call my phone company to say 'goodbye!'"

"This is a great solution for anyone requiring a second phone line, number portability or simply a cost savings on long distance. The Ooma Telo had crystal clear clarity and worked beautifully. I love that I can travel and take it with me and that I can even call forward the number and access all of the services I would with a regular phone line. I highly recommend this device!"

PTPA Media has North America's largest volunteer parent testing community with more than 40,000 parents. It was rated the Most Trusted Seal by more than 22,000 consumers. The award is a testament to our commitment to helping families and friends connect at an affordable price without sacrificing call quality or advanced features that only Ooma offers its customers.
You can check out other products in the 2012 Latest and Greatest Winner's Circle here.
Read more Ooma residential blog articles.
###
The following two tabs change content below.
Latest posts by Team Ooma (see all)