Types of Business Phone Systems Unpacked: KSU, PBX, Hosted VoIP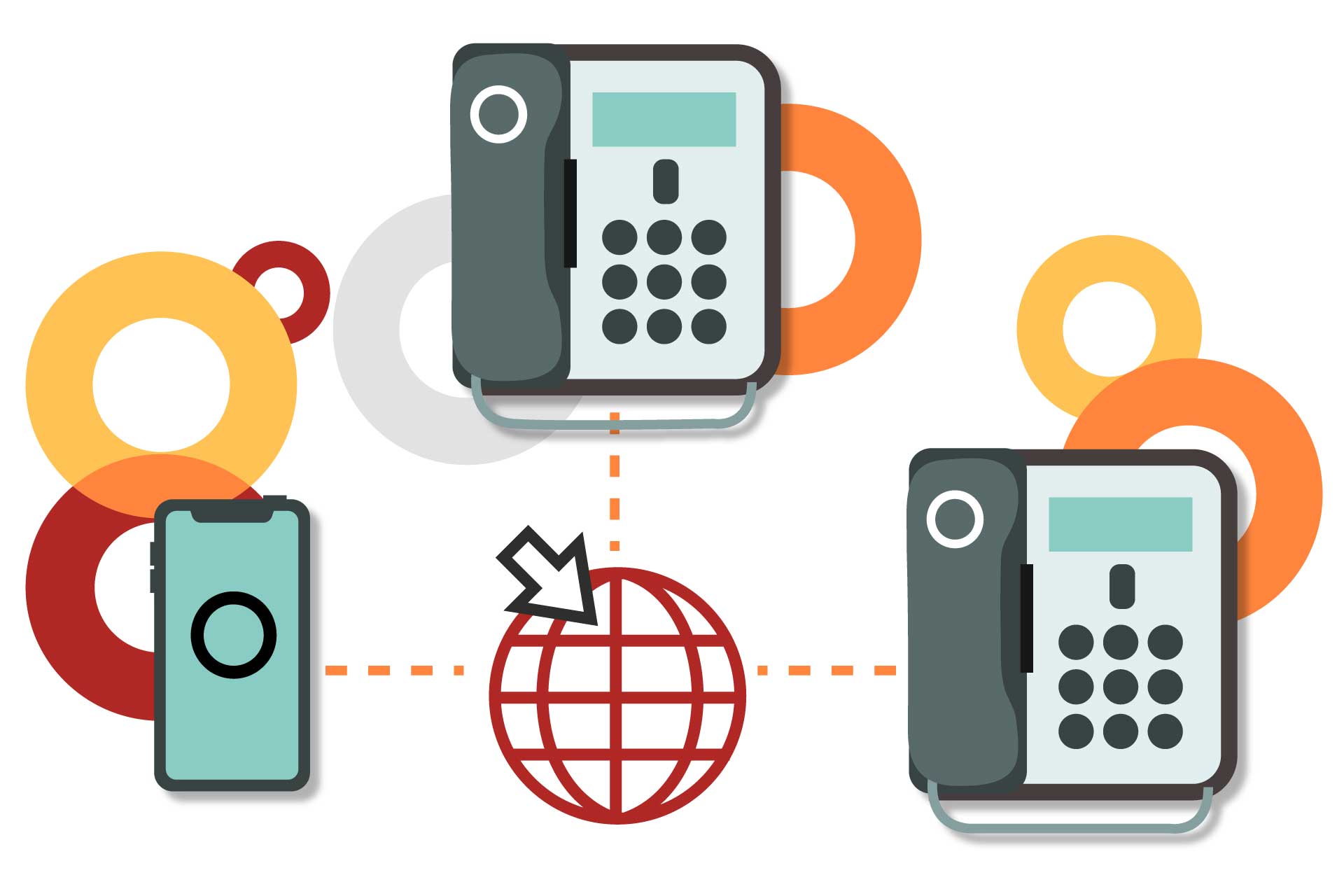 If you're trying to choose a business phone system for your small business, you might be researching the types of systems on the market. In simplest terms, the two main systems are landlines and voice over internet protocol (VoIP).
However, within these systems are sub-systems:
Key phone system and key system unit (KSU)
Private branch exchange (PBX)
Hosted VoIP
You may recognize (or have) a key phone system or PBX.
And your business phone research will certainly unearth information about hosted VoIP.
Each system will work for a small business, depending on the number of phone lines you need and how you want the phone system to support your business communications.
Let's take a look at the three phone systems—what they are, how they work, and what they might mean for your business.
Key Phone System
Out of the three telephone systems, the key phone system is the most basic. It requires having a service professional install a key system unit (KSU)—a hardware system mounted in a closet on your premises.
A key phone system telephone connects manually to each phone line. To make a call, the user presses a button—the button lights up, indicating which line is in use.
There's also a portable KSU system called KSU-less. The KSU-less unit sits on the desk. The box has jacks for connecting a set number of phone lines and jacks for extensions such as a fax machine and answering machine.
The key phone system includes basic analog features such as on-hold buttons, speakerphone, and intercom.
Because the system is landline-based, the key phone can only support a limited number of phone lines, which might work for a tiny office.
Additionally, setup and maintenance get expensive, as a phone-service professional has to work onsite. As far as supporting your business communications, the KSU is limited.
Moreover, phone companies are not innovating these systems. Therefore, as your business grows, you'll face a 'rip out and replace' situation.
Private Branch Exchange (PBX)
Like the KSU, an on-premises PBX consists of system hardware that's stored within the office space. A service person has to install and maintain the system.
A PBX allows employees to make internal calls via extensions. For making and receiving external calls, users access an outside line connected to the public switched telephone network (PSTN).
The PBX provides more automated features than a KSU. For instance, the PBX includes automatic routing for incoming calls. The automatic call distributor (ACD) allows inbound callers (like customers) to choose menu options (e.g., "Press 1 for Customer Service").
It's important to note that 'PBX' has become the go-to term for business telephone systems. However, other PBX versions include internet protocol (IP) architecture, also known as internet protocol PBX (IP-PBX).
(IP-PBX) allows a business to make internal calls using the internet. The IP-PBX is self-hosted, meaning that the company is responsible for maintaining the on-premises networks.
Both the PBX and IP-PBX require a hefty upfront investment. Therefore, businesses that invested in the on-prem phone systems face the dilemma of maintaining a system that, like the KSU, is a legacy system.
Hosted Voice over Internet Protocol (VoIP)
Hosted VoIP or hosted PBX is a cloud phone system that a service provider manages off-site. Users make incoming and outgoing calls using an internet connection.
You may choose to purchase VoIP desk phones that you plug into your router or use app-based softphones that you access on a computer or mobile device.
Unlike an on-premises phone system that the business owner maintains, there is no on-site architecture with a hosted PBX. Plus, system updates happen remotely without interrupting your phone service or paying maintenance charges.
What's the best phone system for your business?
It probably comes down to this: If you have a KSU or PBX-type system and you're looking to upgrade your phones, you can keep patching the system until you decide to replace it.
Alternatively, you can switch to a cloud phone system. Cost-wise, you'll pay a fixed per-user bill every month, and your provider will manage and update all the equipment off-site, eliminating maintenance fees.
Lastly, with a hosted VoIP phone system, you'll enjoy all the benefits of a modern phone system, including delighting customers with an efficient and professional calling experience.
Thank you!
By subscribing to Ooma's Business Blog, you can expect to receive insightful emails about latest updates, helpful tips, and useful tricks.
Call us at: 866-573-0707 for any other inquiries
Unlock the full potential of your Ooma experience: Tips and Insights from the Ooma Business Blog