The 4 best video conferencing services for small business.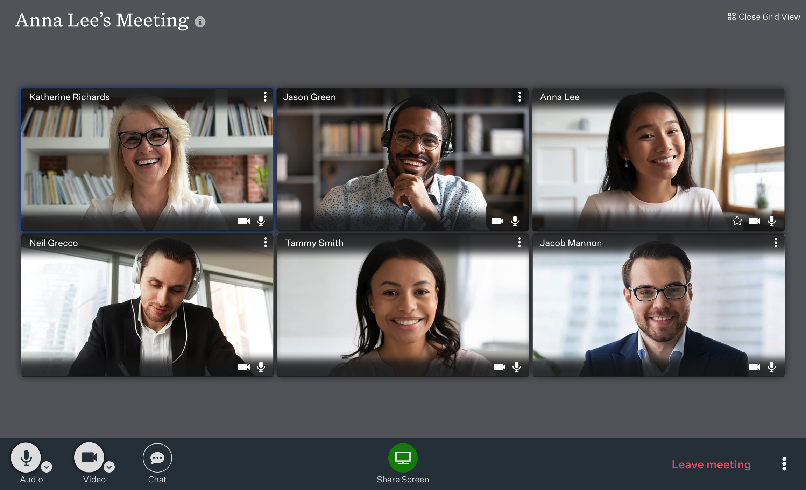 As small businesses start to make more video calls, you might be wondering if you have the best software for your needs. Use this guide to the best video conferencing for small businesses so you can develop a shortlist for your company. We developed this list by referring to Capterra's list of the best video conferencing software. Capterra is a business software review website with over 1.3 million user reviews, so it is a helpful resource to find well-reviewed software products.
How to use this video conferencing guide.
Finding the right solution for video calls for your small business takes some experimentation. Different video conferencing tools are right for different organizations because each platform has different features. Read through the advantages and disadvantages of each option. If a free plan is available, consider putting some time into testing the product to see if it is a good fit for your needs.
Google Meet
Capterra Review Rating: 4.5 stars out of 5 stars, based on more than 9,000 reviews.
Free Trial Available: A limited functionality version of Google Meet is available to anyone with a Google Account. As of October 2020, the free version lets users invite up to 100 participants and run meetings for up to 60 minutes.
Pricing: $8 per active user/month. Note that Google Meet is included in all GSuite pricing plans. Therefore, if you already have GSuite in place at your organization, there is no additional Google Meet fee.
First launched as Google Hangouts, Google Meet is a video conferencing tool offered by Google. It is available as a web application and via mobile apps (iOS and Android). There is no desktop client available at this time. The product includes several connectivity options, such as a phone call, a web browser, and a mobile app.
There are some features not currently offered by Google Meet, which may be a cause for concern. The platform does not currently offer screen sharing or presentation streaming. Therefore, it might not be the right choice if you need a platform to make presentations to large groups.
Zoom
Capterra Review Rating: 4.6 out of 5 stars, based on more than 6000 reviews
Free Trial Available: The free version of Zoom lets you test the platform with the following limitations: a maximum of 100 participants and 40-minute maximum group meetings.
Pricing: Paid plan pricing varies from $149 (Pro) up to $199 (Enterprise). Paid plans let you host more people on the call, store more data and transcribe calls.
Zoom is a popular video conferencing software that has exploded in popularity in 2020; the company has 300 million participants as of April 2020. The software is available via browser, as a desktop application, and on mobile devices.
As a business tool, Zoom offers some essential features. Screensharing lets you show other people your computer desktop, which can be a helpful way to increase collaboration. The chat function, including private chat messages between two people, gives participants another way to interact during video calls. Zoom is also equipped for live streaming so that you can share a customer presentation with multiple people at the same time.
The disadvantages to Zoom include a lack of HD audio, lack of audience analytics, and post-meeting tools. In addition, problems with Zoom security have been a problem for some companies and governments.
Microsoft Teams
Capterra Review Rating: 4.4 average rating out of 5 stars, based on more than 3000 reviews.
Free Trial Available: there is a free version of Microsoft Teams, which includes chat, video calling, and the capacity to store 10GB of team data.
Pricing: the product's pricing is charged on a per user per month basis. If you already have Microsoft Office 365, you might already have access to Microsoft Teams. Contact Microsoft to confirm whether you have the product already.
What used to be called Skype for Business is now built directly into Microsoft Teams. In contrast to Zoom or Google Meet, Microsoft Teams is not solely focused on video conferencing—it also includes a chat feature, tasks, calendars  and much more.
Using Microsoft Teams, you get access to features like meeting management, live chat, and task management. More importantly, Microsoft Teams is designed to integrate with other Microsoft products like Outlook. If your small business is already familiar with Microsoft products like Office and Outlook, Microsoft Teams may be a good fit.
The disadvantage to Microsoft Teams is that some users report difficulty in learning how to use the product. Other users have described problems with the platform's notifications.
Microsoft Teams is available on a wide range of platforms, including Mac, Windows, via a web browser, iPhone, iPad and Android.
Cisco Webex
Capterra Review Rating: 4.4 out of 5 stars, based on more than 4400 reviews.
Free Trial Available: there is a free version of Cisco Webex with the following features: 100 participants, HD video, screen sharing and a personal room.
Pricing: The product's pricing comes in several different options, such as Free, Starter, Plus, Business and Enterprise Plan. Higher plans include more user accounts, data storage and related features. The monthly price per user starts at $13.50.
Cisco Webex has been around for years. Webex gives you a wide variety of features for collaboration. You can record and play back video. You can stream presentations, use screen sharing, and use video conferencing. Users also have the option to join Webex meetings via phone call. Webex's new version of Cisco Webex brings additional features such as 5GB of storage of meetings, integration with Microsoft Office 365 and a personal meeting room.
One disadvantage of Webex is that some users have commented the lag during screensharing.
Ooma Meetings
Capterra Review Rating: To be determined
Free Trial: Not available at this time
Pricing: USD $24.95 per user/month
Ooma Meetings is a new collaborative tool to hold meetings. Unlike other platforms on the market, two users can screen share at the same time. That means you can discuss problems faster and get more done because both people can show information. You can run Ooma Meetings directly from your browser—there's no need to install any software.
For larger team meetings, Ooma Meetings is a good choice as well. You can invite up to 25 meeting participants. With that many people involved, there are a few simple ways to organize meetings. For example, you can add passwords to meetings to keep company data safe. In addition, you can use the administrative panel to schedule meetings, including recurring meetings. If you have weekly or monthly meetings with customers or your team members, you can run those meetings through Ooma Meetings. 
Note that Ooma Meetings is part of Ooma Office Pro, which gives you much more than video conferencing capabilities. You also get call recording, a desktop app and a mobile app to make phone calls and an audio-only conference line.
The ultimate conferencing tool: Digital phone calls
Video conferencing solutions are helpful for many types of work. However, they are not the right solutions for small businesses in all cases. For example, video calls sometimes result in problems like blurry video or poor video quality, depending on each user's connection and lighting. In other cases, some people may not be equipped with the right software and hardware to join a video call. Finally, video calls require more bandwidth than a digital phone call. Those are just some of the reasons a phone call is a good choice instead. If you simply need to have a conversation, a digital phone call is a good voice. In those cases, you still need a way to stay connected with maximum flexibility. That's where using a digital business phone system is a good option.
Thank you!
By subscribing to Ooma's Business Blog, you can expect to receive insightful emails about latest updates, helpful tips, and useful tricks.
Call us at: 866-573-0707 for any other inquiries
Unlock the full potential of your Ooma experience: Tips and Insights from the Ooma Business Blog