7 Video Call Tips All Remote Workers Should Know
Video calls are an essential part of remote working. However, you've probably experienced less-than-perfect video meetings due to connection problems, poor lighting, cluttered backgrounds, and questionable etiquette.
Along with office essentials and work-from-home tech, improving your video presence is critical for looking and working like a true professional (warming up with some virtual team-building activities can help make the calls better, too!).
So, before you join that next meeting, here are seven video call tips to make every minute great for you and the other participants.
1. Look good on every video call
When you work from home, it's easy to fall into a dressing-down spiral — pajamas, no grooming on quiet days, and "no pants" for virtual meetings.
As part of your healthy work-from-home routine, get into the habit of "getting ready for work" each morning. Try it for a week. You may find that you feel better about your workday — you'll also reduce last-minute video call grooming panic.
2. Brush up on your video etiquette
The rules of video call etiquette are pretty simple: participate as if you are across the table from the other people — in a conference room — in a meeting. Once the call starts, avoid eating, drinking, and walking around (especially with your device).
Arrive early to the call
As the saying goes, "Punctuality is the etiquette of kings." If the video platform allows you to test your sound and picture quality, arrive early and take a few minutes to make any necessary adjustments to your lighting and the sound.
Getting there in advance also allows for any technical quirks you might run into.
Ultimately, it's royal of you to not keep the other participants waiting.
3. Master your lighting
Doing a video call is like being on stage. For the audience to see you, the light needs to shine toward your face.
Avoid sitting with a window behind you. Light coming from behind you will turn your image into a dark outline. Play with your lighting to get it right and, with a flick of a switch, look your best at a moment's notice.
4. Simplify your background
Even if you love your in-the-Bahamas virtual background, it's a good idea to have your real background video-ready (like the solid wall we talked about earlier) with minimized clutter (like a messy bookshelf).
Also, to create a professional impression, depersonalize your background a little. You want people focusing on you and what you have to say (versus peeking past your shoulder to your photo wall).
5. Close unnecessary tabs
Before you join the call, close anything on your computer that's unrelated to the meeting — from sensitive documents to your Netflix tab (while you're at it, you might want to turn off any home- delivery pop-ups).
Should you need to share your screen, you'll come across as more professional if you can quickly navigate to the appropriate tab.
6. Adjust the angle of the camera
Getting the camera angle right will improve the call experience for the other participants (and you). Position yourself so that your face takes up about half the screen (think news anchor).
People need to see you as if you're sitting across from them. Make sure that the camera is not angled up (this happens often with laptops). Your colleagues generally don't look at you from below your chin. The same goes for video calls.
7. Beware of ambient sounds
You can't control some sounds (like the guy with the leaf blower or the garbage truck roaring by), but you can control others.
You can minimize everyday sounds that you may not notice, but other participants will — the coins clanking in the tumble dryer, the clicking pen, the shuffling paper, the tapping foot.
To reduce distracting background sounds for the other callers, mute your audio when you are not speaking. You may have to work a little harder to appear engaged. In other words, stay put, look at the screen, and acknowledge other speakers with occasional authentic nods.
A little prep makes a huge difference.
Video is how many businesses now communicate with their remote workers. But not everyone knows how to dress, act, or prepare for a call. With a few minor adjustments and some careful planning, you'll make virtual meetings more enjoyable for everyone.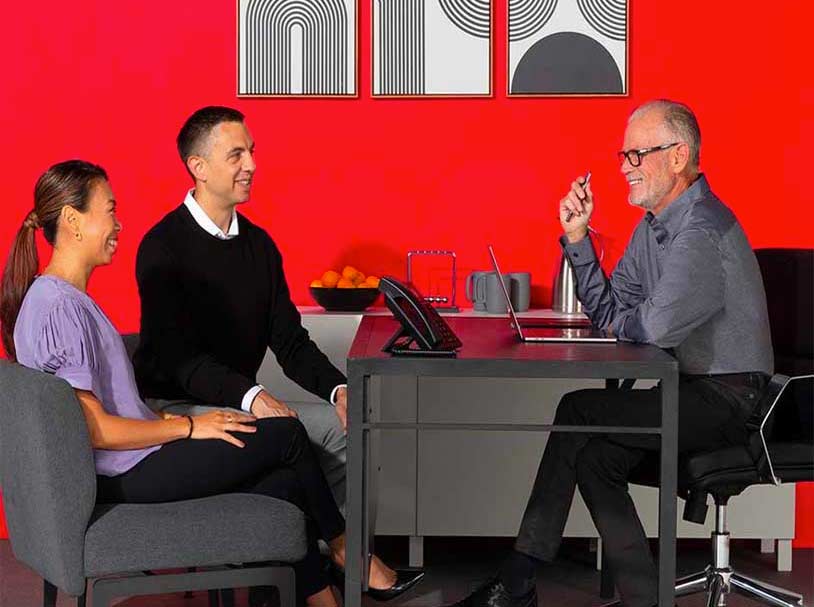 Learn more about how Ooma Office can help your business.
Thank you!
An Ooma Office Sales Representative will be in touch shortly.
866-573-0707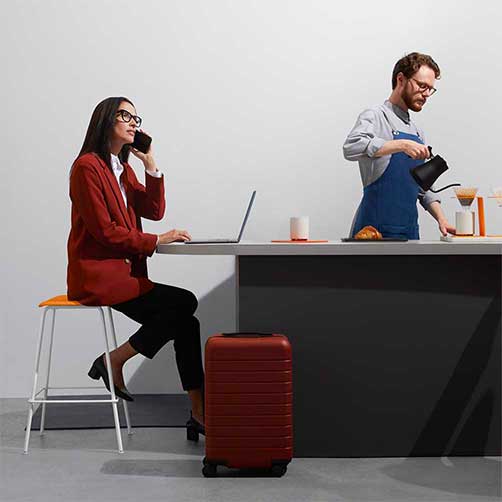 Learn more about how Ooma Office can help your business.
Just call 877-621-0515 or click this to CHAT. Or, fill out this form and someone will reach out to you shortly.