Are you trying to decide between Ooma and RingCentral phone service for your business?
There's a lot to consider when choosing your new business phone solution, but you're on the right track. Both Ooma and RingCentral are well-established companies that offer phone service for all business sizes.
If your business is small, we've previously compared Ooma Office and RingCentral small business phone plans.
For mid-sized and large businesses, let's compare Ooma Enterprise to RingCentral to see why Ooma is the best choice.
Ooma Enterprise vs. RingCentral: Features
Enterprise VoIP supercharges phone systems with advanced communications features that can help your start-up with 20 employees or your Fortune 500 with thousands of employees. These features can have a significant effect on your business, but only if the provider gets the basics of phone calls right.
Ooma Enterprise and RingCentral both provide a strong set of features that include unified communications, integrations with other business apps, advanced analytics, and more. In addition, both offer open API so your phone system can be customized to the needs of your business.
However, one RingCentral enterprise user on Gartner said, "As a platform, they are growing too fast and seem more interested in adding upsell features instead of making sure that their current offering is working as expected. There are a lot of bugs all over the place that seem to take forever to fix or even be acknowledged as a bug."
Rather than upsells that you don't need, Ooma Enterprise helps you maximize your ROI by providing a customizable suite of features that avoids the pitfalls of one-size-fits-all systems. Your business is different from the rest, and your phone system should reflect that.
Ooma's feature options include a call center platform, integration with Talk Desk (CCaaS), role-based controls, softphones, hot desking, queue management, CRM integrations, SSO, call flow, interactive voice response (IVR), video conferencing, mobile apps, and much more.
With Ooma's customizable phone system, your business has access to bespoke technology such as call routing and IVR flows. The many ways that Ooma can be tailored to your needs can help you reduce overhead while avoiding workarounds and patches. For example, the Ooma support team regularly builds custom integrations for enterprise clients, helping you make the most of your phone system.
Ooma Enterprise vs. RingCentral: Infrastructure and Quality
Ooma Enterprise has distinguished itself as a top-quality communications product. The company's commitment to high standards starts with the behind-the-scenes infrastructure and extends throughout the value chain to customer support.
Ooma's global infrastructure provides a strong tech framework. Access points are distributed around the world, so users have reliable service. Intelligent routing improves call quality by dynamically routing calls to the optimal POP. At each data center, dedicated voice circuits help users avoid the quality problems that occur when voice traffic competes with other internet traffic.
Through intelligent monitoring and rapid response, Ooma provides uptime confidence and reliability, so businesses are getting the best phone service possible.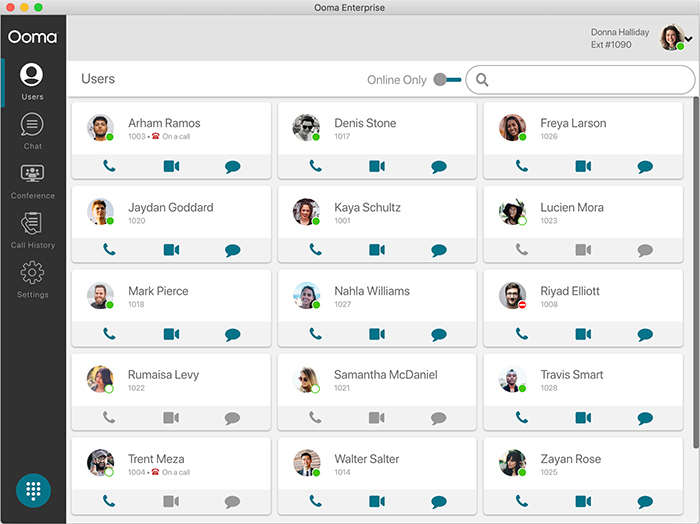 Moreover, Ooma's service quality isn't merely technological; it's also human. From the beginning, you'll be assigned a dedicated Ooma Success Hero to help you navigate the customization and integration process so that you get the exact service you need. Your "Success Hero" will continue to be your point person even after your service is established. While Ooma's 24/7 tech support can help you resolve questions and troubleshoot, Success Heroes take a big picture view to customer success, helping tailor your system to be a custom-fit solution.
Comparatively, RingCentral may hold a significant market share, but its Senior VP of cloud operations noted that RingCentral's ability to execute is perhaps its biggest risk.
For example, one RingCentral customer at a firm with more than $1 billion in revenue commented on Gartner that, "Their technology is good, but this vendor cannot install, service, or invoice it." The customer explained that after having an office with unusable phones for two weeks, "the ROI that justified the deal has not been realized." The customer also experienced RingCentral's high turnover of regional staff, noting that, "The vendor candidly admits that they cannot recruit, train, or deploy sufficient installation personnel – resulting in poor quality installs with severe quality issues."
To hear one former RingCentral employee explain, "While the product is good, service to its customers is terrible because of not investing in operations."
Ooma Enterprise vs. RingCentral: Phone Management
Ooma is committed to helping you eliminate IT headaches. With the cloud phone, your team can stop the constant management of updates, system changes, onboarding, backups, and security. What could your team accomplish with all that time they saved?
In an overall comparison on G2 Crowd, Ooma is ahead with 4.3 stars to RingCentral's 3.9 stars. However, these rankings group businesses of all sizes, so they don't reflect the enterprise experience.
In one instance where enterprise service is reviewed separately, RingCentral's Contact Center received just 3.2 stars. This is a white label product from Nice InContact that integrates many modes of customer communications, including SMS texting, email, phone calls, and chat. Users commented on how RingCentral's Contact Center is a "work in progress," and it "has a lot of bugs, but is on the right track."
Does your business have the time to spend using a phone product that's merely "on the right track"?
Ooma Enterprise vs. RingCentral: Conclusion
Ooma provides a customizable enterprise phone system that's paired with a strong tech framework and committed support staff. After implementing a customizable set of available features, businesses are empowered to leverage their communications to grow their business.
In the case of one major pizza chain that uses Ooma Enterprise, the analytics feature provided the metrics to understand call volume across 800 locations in the United States and Canada. Other businesses may turn to Ooma Enterprise for its customizable integrations and automation functions. For example, consider the productivity boost from automatically saving call recordings into customer records.
While RingCentral may have a strong market share, both customers and staff have commented that the service and deployment may be trailing behind the technology itself.
Learn more about Ooma Enterprise to discover how modern cloud communications can help your business.
* As of May 2019