Many businesses are opting out of traditional phone service and choosing VoIP phone services. VoIP, which stands for Voice over Internet Protocol, means that your phone audio is securely transmitted over the internet rather than through traditional landlines or cellular voice networks.
VoIP technology has revolutionized the telephone industry to provide telephone service that offers the mobility of a cell phone while providing the feature-rich service of landlines.
Ooma and Comcast have been offering VoIP phone service for more than a decade. Although the companies both use VoIP technology, there are differences in the service offered. To help you decide which is the right phone service for your company, let's compare the pricing, features, contract terms, service reliability, and customer service provided by Ooma Office phone systems and Comcast Business Phone.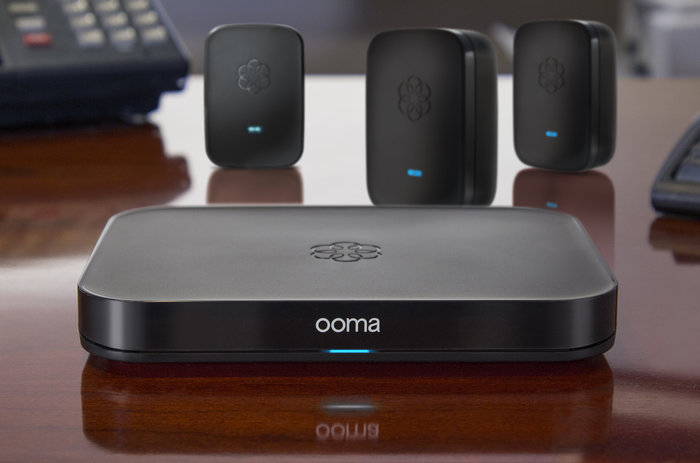 Ooma Office vs. Comcast Business Phone – Plans and Costs
Because Comcast's phone service can be bundled with internet and TV service, it's easy to assume that Comcast would be the more affordable phone solution. However, the monthly cost for Ooma Office is $10 cheaper than Comcast's advertised rate. This means that annual telephone service for an office of 10 people would be $1,000 cheaper with Ooma Office than with Comcast Business Phone, even after the one-time hardware purchase of $199.99 for the Ooma Office Base Station.
Notably, Ooma Office doesn't require 2-year contracts like Comcast does. Nor does Ooma charge an activation fee, which, with Comcast, can be $29.95 per line, up to four lines. So, with Ooma, you have the flexibility to grow or shrink your phone service as your business needs change.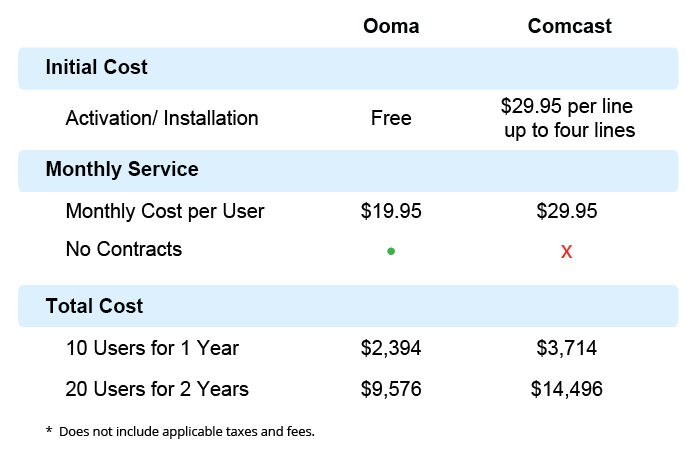 Ooma vs. Comcast – Quality and Service
In the 2019 PC Magazine Business Choice Awards, Ooma ranked as the #1 VoIP phone service for businesses. Comparatively, Comcast ranked #10, the third to last ranking among the VoIP providers that were analyzed.
Ooma's ranking revealed high scores for reliability, ease of use, setup, and platform management. A total of 69 percent of Ooma Office customers would recommend the service, much higher than Comcast's score of 20 percent. When reviewing Ooma Office, PC Magazine editors noted that "the sound quality was among the best of the VoIP services I'd tested, and everyone I've called to test my VoIP services agreed."
Comparatively, Comcast received a low score for reliability, a high percentage of users needed tech support, and the tech support provided was below average. Only 43% of customers are likely to recommend the service.
However, Comcast did take top place in another survey. In a 2017 survey of America's Most Hated Companies, Comcast took first prize. "Comcast received the worst scores in cost to consumer, performance, billing, and reliability," said the analysis, which noted that 55% of Comcast customers report a negative experience with the company.
Ooma vs. Comcast – Features
With Ooma Office, there are no service tiers, and businesses can change the number of users at any time. All users have access to 35+ advanced calling features including valuable communications tools such as multi-level virtual receptionist, conference calling, music on hold, the Ooma Office mobile app, and low international rates.
On the other hand, Comcast has different phone plans based on the size of your company. The Comcast subscription described above is limited to three lines for 20+ calling features. The features and pricing may change as you look at other plan tiers.
Other features that are included with Ooma are add-ons with Comcast, whose users would pay extra for features such as voicemail and a toll-free number.
So, while Ooma provides each user with robust service, Comcast customers get service limitations and may have to pay extra for add-ons that are included with Ooma.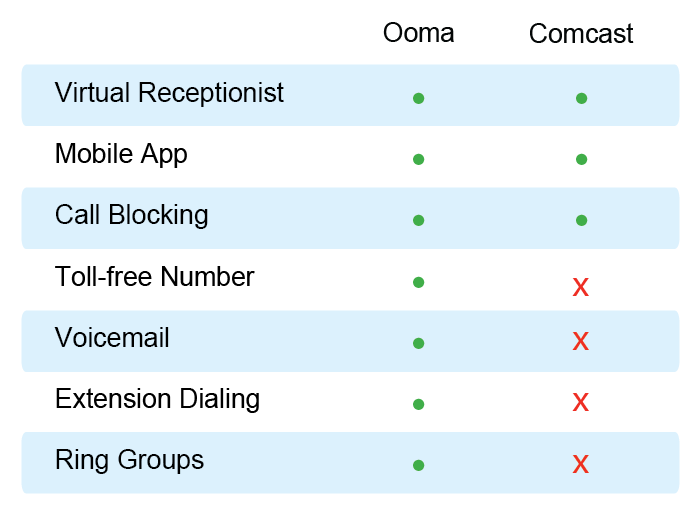 Conclusion
Ooma Office stands at the top of the pack of VoIP service providers, ranking as the #1 VoIP provider for the past six years according to PC Magazine's Business Choice Awards. Meanwhile, Comcast Business Phone trails the pack, ranking among the worst three providers during the same timeframe.
Additionally, Ooma's robust set of phone features and straightforward scalability are a refreshing alternative to Comcast's complex plan options. Plus, with savings of $1,000 per year for business phone service, Ooma Office provides higher quality service at a lower cost.
*Prices and plans as of August 2018
Ken Narita's marketing career spans two decades helping businesses large and small grow. Whether it's been advising emerging startups, guiding clients from the agency side, or currently, leading SMB marketing at Ooma, Ken has always taken an empathetic approach to addressing goals, gaps, and opportunities. Previously at TriNet, from 2011 to 2017, he grew and led the revenue marketing team through a period of rapid change and growth where net service revenue consistently grew in a range of 15-20% per year and reached $650 million at the end of his tenure. Ken has led demand generation, field marketing, customer marketing, and marketing operations teams and enjoys the ability to integrate campaigns across all functions to drive results.