Yealink CP920 IP conference phone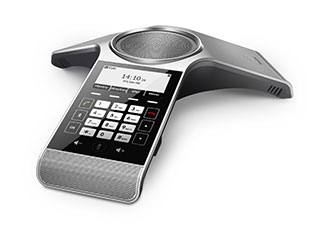 The Yealink CP920 IP conference phone is a perfect choice for small and medium-sized conference rooms. The full-duplex and acoustic echo-cancelling technology allows clear and life-like conference calls. With its intuitive user interface and plenty of advanced extras, including Bluetooth and Power-over-Ethernet support built in, the CP920 strikes a balance between ease-of-use and powerful features.
Features supported:
Full-duplex speakerphone for use in small & medium-sized conference rooms
20 foot (6 m), 360° voice pickup range
Three-microphone array
Acoustic echo cancellation (320 msec)
Background noise suppression
Backlit 248×120/ 3.1" graphical LCD display
Sensitive touch keypad
Built-in Bluetooth 4.0 support
Power over Ethernet support
Power supply and Ethernet cable included
Customize Your Phone System
How many employees will use a phone?
Do you have internet ports (hardwired) everywhere you want a phone?
---
Do you need Wi-Fi cordless phones?
---
Do you need a separate conference phone?
---
Do you want to connect a physical fax machine?