Yealink T27G phone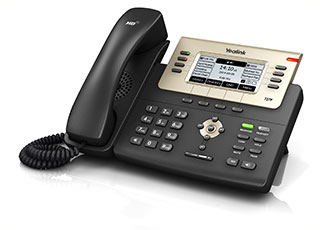 If you run a business with a high volume of business calls, this deluxe office IP phone has everything you'd ever want: superb sound quality, a rich visual experience, and easy-to-use features.
Features supported:
Exceptional voice quality from the handset and speaker
Six lines for up to 12 simultaneous calls
Dual-port Gigabit Ethernet with Power over Ethernet (PoE) support
8-line, 3.66" 240×120-pixel graphical LCD with backlight
Dual-color (red or green) illuminated LEDs for line status information
8 physical programmable buttons, and up to 21 programmable buttons through "pagination"
6 navigation buttons
4 context-sensitive "soft buttons"
Stand with 2 adjustable angles
RJ-9 connector for an optional headset
Power supply and Ethernet cable included
For handling a large volume of inbound and outbound calls in a growing business, there's no better option than this sleek, state-of-the-art business phone. To get even more out of your Yealink T27G, check out our Yealink EXP20 Expansion Module for an expanded set of features and call volume.
Learn more about Ooma IP phones by visiting our FAQ page. To get more information about with the Yealink T27G IP phone, review our support page and/or our user guide.
Risk-free 30-day return.
Existing customers: Login to Office Manager
New customers call: 866-759-8431
Add to Cart
Customize Your Phone System
How many employees will use a phone?
Do you have internet ports (hardwired) everywhere you want a phone?
---
Do you need Wi-Fi cordless phones?
---
Do you need a separate conference phone?
---
Do you want to connect a physical fax machine?