Yealink T27G + EXP20 Expansion Module Bundle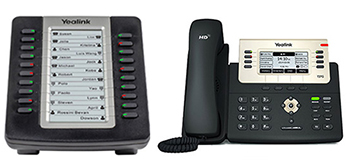 If you're managing a large amount of business calls on a regular basis, the Yealink T27G + EXP20 Expansion Module Bundle is the perfect choice for you. The T27G is a great high-volume IP phone well suite for receptionists, while the EXP20 Expansion Module includes 20 additional dual-color programmable buttons that make supporting essential calling functions like speed dialing and call parking a breeze.
Features supported (T27G):
Six lines for up to 12 simultaneous calls.
Dual-port Gigabit Ethernet with Power over Ethernet (PoE) support.
Exceptional voice quality from handset and speaker.
Features supported (EXP20):
20 dual color, LED programmable buttons.
Icons to visualize features like Call Park or Speed Dial.
Two-angle adjustable stand.
Additional info:
The Yealink EXP20 cannot operate on its own and must be connected to the T27G IP phone to function.
Up to two EXP20 Expansion Modules can be powered directly by the Yealink T27G.
A power supply (ordered separately) is required if using more than two EXP20 modules.
For businesses expecting a lot of inbound and outball calls, this bundle is the perfect addition to help boost communication and route calls faster and more efficiently.
Learn more about Ooma IP phones by visiting our FAQ.
Risk-free 30-day return.
Existing customers: Login to Office Manager
New customers call: 866-759-8431
Add to Cart
Customize Your Phone System
How many employees will use a phone?
Do you have internet ports (hardwired) everywhere you want a phone?
---
Do you need Wi-Fi cordless phones?
---
Do you need a separate conference phone?
---
Do you want to connect a physical fax machine?