Sound like a big business
at a small business price.
Ooma Office is an enterprise-grade phone service built for small businesses so you can be more professional.
We now support select IP phones, analog phones, and mobile phones.
Call
877-959-6662
Absolutely everything you'd ever need in a business phone system.
With Ooma business phones you'll be more professional to your customers. We offer reliable phone service and advanced enterprise-grade phone features like a virtual receptionist, extension dialing, conferencing, and music-on-hold. And when your business grows, Ooma can expand with your needs. All this, for only $19.95 per month.
Selected by the readers of PCMag as the #1 VoIP Provider for Small Business

Small Business Phone System
Business phone service that fits your needs and your budget.
Service for only $19.95/month. Service includes a local and toll-free phone number of your choice, a virtual fax extension, and a conference extension. Get your business phone VoIP Adaptor today!



$249.99 $199.99
Buy Now
30 day money back guarantee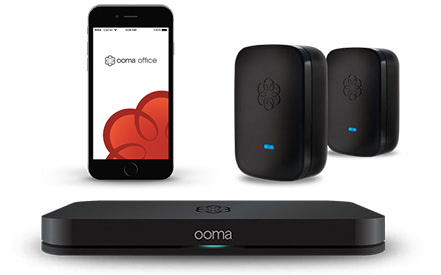 Big business features
Virtual receptionist, extension dialing, conferencing, music-on-hold and much more.
Affordable pricing
Unlimited calling in the U.S. and Canada for only $19.95 a month.
Keep your number
Port your current phone number for free or choose a new local or toll free number.
Use mobile phones
Make and receive calls as if you were in the office, using the Ooma Office mobile app for iOS and Android.
Enterprise-grade phone service built for small business.

All-inclusive price
Each Ooma Office account includes a local and toll-free phone number of your choice, a virtual fax extension, and a conference extension line.
Grows with your business
Each additional user is only $19.95/month and includes a phone number and virtual fax.

Flexible phone options
Users can access the phone system from a regular analog phone, an IP Phone, and a mobile smartphone via the Ooma Office app. Users can forward calls to ring multiple phones at once including mobile phones.

Easy setup
Do-it-yourself installation sets up in minutes. If you need help, we're here with 24/7 customer support.

Keep your number
You can port your existing number to Ooma Office for free.

Always be accessible
The system can handle simultaneous incoming and outgoing calls with incoming calls rolling over to voicemail. Your customers will never hear a busy signal.
See all Features
Calling features


Unlimited calling in U.S. and Canada
Low international rates
Caller-ID and name
911 service
FREE number transfer
Toll-free numbers available
Setup


Easy installation
Wireless phone extensions
24/7 customer support
Option to use select IP Phones
Watch Features Video
Office features


Virtual receptionist
Extension dialing
Voicemail
Call transfer
Call log
Modes for business and after hours
Ring groups
Music on hold
Conference bridge
Virtual FAX
Mobility features


Call forwarding
Voicemail forwarding
Multi-ring
Virtual extensions
One-touch IP Phone features


Three way conference
Do Not Disturb
Transfer Calls
Extension dialing
Call on hold
Sophisticated technology meets elegant design.
The Ooma Office is no dumb adapter. It's actually a small, networked-managed, secure Linux computer packed with processing power to keep your calls clear and reliable.
1.
Ooma is a full router capable of prioritizing voice data and directing traffic to ensure the most reliable phone service.
2.
A USB port provides future expansion opportunities.
3.
DECT radio supports up to 4 Linx remote phone jacks.
4.
Built-in 1.2GHz dual-core processor provides the power for Ooma PureVoice™ for more clear and reliable phone calls.
5.
1 GB NAND Flash with dual system image for the ultimate in reliability and upgradability to new services.