The 10 best places to put your security cameras.
Security cameras are an important part of protecting your home, but successfully using a security camera requires putting it in the right spot. That can be more difficult than it sounds.
There are a number of things you can keep in mind when you place your camera, and there are a number of ways you can strategically place your camera so that you not only capture any evidence of a burglary that could occur, but actively reduce the risk of a burglary happening.
But knowing where and how to place your camera can be difficult, so we've rounded up the 10 best places to help get you started.
Common security camera mistakes to avoid.
Before you go placing your camera, there are a number of things you should keep in mind. These are common mistakes people make when installing or placing their camera, and they can hurt your camera's ability to do the job you need it to do.
Put the camera up high, but not too high.
When you're looking for places to put your camera outdoors, you want it to put your camera up high. Aim for around 9 to 10 feet up. This way it'll be high enough up that a tall person roughly 6 feet tall wouldn't be able to damage or steal your camera.
This height is also short enough that your camera remains visible, which is important for an outdoor camera.
83% of burglars look for signs of a security system before deciding on robbing a place, with 60% opting to not rob a place if there is a security system in place, according to UNC Charlotte's Department of Criminal Justice and Criminology.
Think about your camera's goal.
You shouldn't just place your camera somewhere without thinking about what you want that camera to keep an eye on. For instance, if you put a camera near the front of your house, you need to consider what you want it to record.
Do you want it to keep an eye on your car in the driveway, or would you rather have it look out for people approaching your front door?
The more you consider what you want your camera to look at, the more effective it can be. You can then decide whether you want a camera that has a narrower field of view or a more advanced camera with a high resolution that can capture everything.
Don't place it too far from potential subjects.
One of the reasons it's important to think about what you want your camera to capture is because you want to avoid the instinct to place your camera far enough away that it captures everything.
It seems like a good idea, as you're trying to capture as much visual information as possible, right?
Unfortunately, placing your camera far away can lead to bad footage, with subjects so small that it's difficult to identify what's happening. This is bad for potential evidence, as turning over such footage to the authorities could yield no results.
It's best to put your camera close enough where it can clearly see its subjects.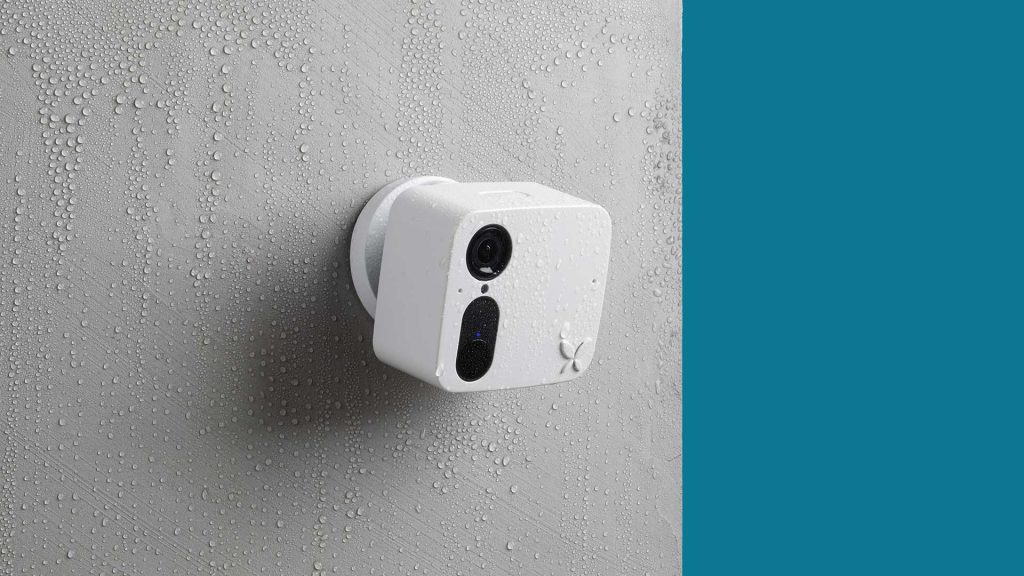 Get a good quality camera.
Similarly, you're going to want to get a camera with good video quality. At the very least, you're going to want an HD camera with crystal-clear video. Be sure to take a look at a camera's spec sheet before you buy it. At the very least, you're going to want a 1080p camera with HDR.
You're also going to want to look out for a camera that is good in low light and doesn't give you noisy video that looks blurry if it's an extra cloudy day.
Make sure it has night vision.
You're also going to want to make sure your camera has night vision. This will ensure that your camera will work at night, especially if the power goes out and any ambient lighting is gone. This way, you'll still be able to keep track of what's going on.
This is important if you plan on using your night vision security camera for surveillance, whether it's outside or inside your home. It's easy to get a camera that can take good footage in ideal conditions, like sunny days, it's much more difficult to do the same at night, making night vision essential.
Check your local security camera laws.
Before you install your camera, it's very important that you consult your local laws about what to do with security cameras. Often, security cameras are perfectly legal to install if they're aimed at your property, but you'll have to make sure they don't inadvertently look at your neighbors property or another person's domain, as this could violate privacy laws.
The 10 best places to put your security camera.
Now that you know what to avoid doing when placing your security camera, it's time to learn the best places to actually put that camera. These places will maximize your security potential, help you reduce your chance of getting broken into, or increase your chance of helping the police find the burglar.
Front Door
This is the most essential entrance to protect, as 34% of break-ins occur via the front door. Placing a camera either above or next to the front door can go a long way to help protect your home. A camera placed here is easily visible, scaring off burglars, and it'll also give you a good look at whoever tries to break into your home.
Back Door
Similarly, a back or side door is a major target for burglars. 22% of burglaries happen via a side door, and if you've got a backyard with an entrance, it's likely that could be a major target as well. Placing a camera in a place that can not only watch your back yard, but keep an eye on whoever makes it through your back door is a must.
Off-street Windows
Burglars use first-floor windows to enter your home 23% of the time, and many of these windows aren't the windows on the front of your house. Instead, they're off-street windows on the side or back of your home.
These are windows that aren't visible on the street, so passing cars and people likely wouldn't see someone enter them. Placing a camera near these windows will help you eliminate the second-most used entrance for burglars.
Garage
The garage is a potential entrance for burglars, with 9% of burglars choosing this way. However, it also doubles as a place that stores something valuable: Your car. Your garage also has other valuable things that can be pawned off for cash, like oil, parts and more.
Placing a camera either inside or outside your garage to keep an eye on who makes it through is a good idea.
Basement
Some basements have outdoor entrances on the sides of houses; these entrances are rarely used and rarely seen, but they can sometimes be used by burglars to enter your home – with 4% of burglars opting for this way.
Your basement likely also has valuable things you keep in storage, like antiques. Either place a camera at the entrance of your basement or inside at valuable items.
Driveway
Your driveway is the road to your home. Whether it's by car or by foot, most people make their way to your home via your driveway. Pointing a camera at your driveway can give you a good idea of who is even thinking of making their way to your home.
This also allows you to kill two birds with one stone – capturing who makes your way to both your front door and garage. Keep in mind that you don't want to aim too far down your driveway though, or your camera won't be able to pick up important details.
Cabinets
Inside your home, you might have a couple cabinets that are filled with valuable things you might not want people to touch. It can be essential medicines, liquor or even an extensive wine collection. Putting a security camera inside the cabinet can be a good way of keeping track of who opens your cabinet, especially if your camera has motion detection and Face Tag.
Living Room
The area in your home that's used the most is your living room. It's where you gather with friends and family, and probably play with your kids. They often cover a large space, which means that if someone has to get across your first floor, they have to pass through. This means that placing a camera here can be a good idea.
Not only can you use it for a potential evidence gathering, you can use it to check in with your kids or sitter. It's also a better choice than putting cameras in bedrooms or bathrooms, which is a big no-no.
Second-floor Hallway
Many second-floors are largely just hallways that connect various rooms and bathrooms, often leading to a stairway to the first floor. Placing a camera in a corner of the hallway that lets it see access to most rooms can be a good way to collect potential evidence.
Nursery
This location isn't so much for evidence, but for keeping an eye on your baby. You can train your camera on your baby's crib, letting you monitor your child while you're away – or if you just wake up in the middle of the night and want to quickly check in without wandering into the nursery and accidentally waking them up.
Get a versatile camera.
One of the most difficult parts of buying a camera is that you need to consider where you need to put it. The more difficult part is that a lot of cameras are built for one use, either outside or inside, which makes buying more affordable bundles a non-starter.
A versatile smart camera is both weather resistant and wireless, so it can be placed outside and inside. You'll also need night vision and 1080p with HDR for crystal-clear video day and night. Also look for built-in storage with cloud backup, so you can share clips with the police easily when needed.