Intercom calling with Ooma Office
With the intercom calling feature, users can dial an Ooma Office extension and have the receiving device pick up the call with its speakerphone automatically.
GET STARTED
Address a room with ease
There are a couple reasons intercom calling can help your business:
It's helpful if an announcement needs to be made over the phone (for example, if someone is waiting in a reception area).
It's also helpful in instances when two people who are working on the same task need to be in constant communication with one another.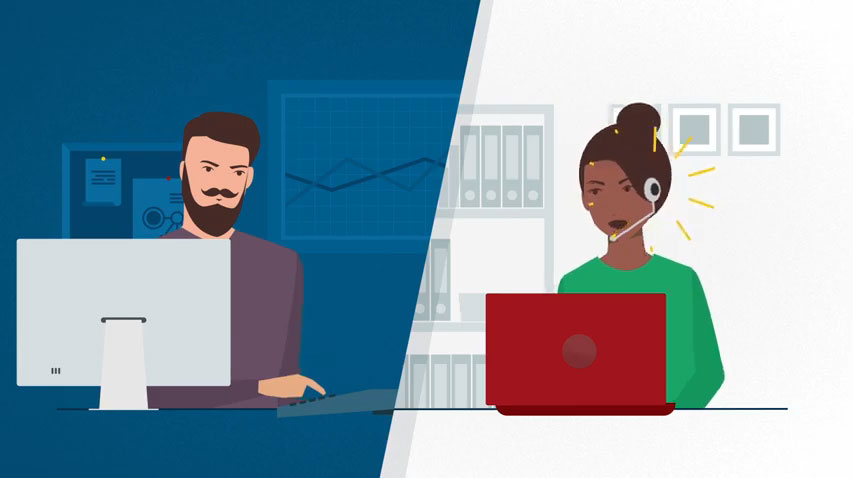 Watch the video to get a more in-depth look into how the Intercom feature works with Ooma Office phones.
There are several devices you can use to enable the Intercom feature with Ooma Office.
Yealink IP phones
Making an intercom call with any Cisco or Yealink IP phone:
Pick the phone and dial *40, followed by the extension number.
Making an intercom call using programmable buttons
Programmable buttons are available on select Yealink IP phones. If your IP phone supports programmable buttons, simply press the intercom button that corresponds to the extension you wish to dial.
How to receive an intercom call
There are two types of IP desktop phones that can receive intercom calls:
Yealink T21P, T23G, T27G
Yealink W56H wireless handset
Before you receive intercom calls, you will first need to have your administrator enable this feature on your phone.
If your IP phone is already configured to receive intercom calls, it will automatically pick up incoming intercom calls with the speakerphone.


Note:

Incoming intercom calls are always enabled and cannot be disabled on the Yealink IP phone.
The extension will be muted by default once the intercom call comes in. This prevents any current conversation you may be having from being overheard. Your administrator can change this setting for you if you would prefer that your phone not be muted when intercom calls come in.
Your administrator can also create settings to determine whether an incoming intercom call will interrupt an active call if the party is receiving the intercom call on the phone. This is commonly referred to as "

Intercom Barge.

" If the party is on another call, the default setting is that the intercom call will arrive as the regular extension-to-extension call, regardless of the phone type.
Intercom calls will arrive as regular extension-to-extension calls if you don't have an IP desktop phone capable of receiving intercom calls, or if your IP desktop phone is not configured to receive intercom calls.
If you want to learn more about Ooma Office features for small business, check out our business phone systems for more information about our products and services.
Customize Your Phone System
How many employees will use a phone?
Do you have internet ports (hardwired) everywhere you want a phone?
---
Do you need Wi-Fi cordless phones?
---
Do you need a separate conference phone?
---
Do you want to connect a physical fax machine?