We'd love to hear from you about your experience with
Ooma Office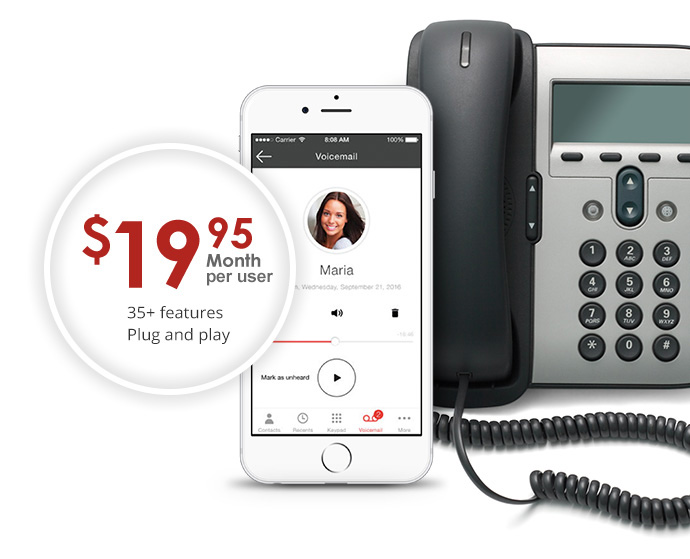 Reviews from other customers:
Great business phone system
1363
Love my Ooma phone system. Saved about $30 a month over Cox. -- William from Evopro
---
Allan Walker Ministries
1362
Allan Walker on Jul 31, 2018
Ooma empowered my ministry to conduct business across the nation from my home-based office.
---
I love my Ooma Office. Saved over $130 every month. Great voice quality, easy to set up and love the mobile app! Two thumbs up!
---
Completely Computers
1360
Completely Computers on Jul 31, 2018
Three words to describe my Ooma Office- cost efficient, manageable, and flexible features
---
I've been with North American Rentals for 11 years. Basically, we own aerial equipment that we wholesale re-rent to rental houses (not the direct user whether is a contractor or home owner). Having reliable phone service for our office is essential. Not only are we drastically saving money over our previous service provider, but the phones we purchased (on sale!) work great - so easy to use. Even my boss can use them without a problem. Call clarity is also great
---
Happy to have switched
1358
I was using another phone service that shall remain nameless (Starts with A, ends in T, and there's an ampersand in the middle.). The service I received from them was terrible and expensive. I heard about Ooma through NPR and looked them up. Everything seemed legit so I decided to give it a try. The entire process was relatively painless. I received my equipment quickly and the setup was super easy. I ported my existing number over to Ooma and never missed a beat! I like the fact that Ooma will ring on my mobile phone and it's transparent to my clients so that I don't expose my personal mobile number. I'm a fan.
---
Time and money saver
1357
Ooma saves me time & $$$ Ooma was so easy to set up. It only took me 15 min and I have a system that sounds professional and cost less than other Voip systems.
---
My office is a recently established insurance agency and since i needed a service to be inexpensive to assist me in building my agency and I'm glad i went with Ooma because i have not had any issues with there service. definitely will recommend any other business owners I know. - AJ from The Source
---
Harlan County Chamber on Jul 31, 2018
I work for a nonprofit, so price of anything is very important. This system is saving us about $90 per month compared to what we had before, so that is HUGE. Pair this with the fact that we can send and receive calls from a mobile device as well as in the office space... it's a no brainer!
---
Switching to Ooma Office has worked very well for our office. The setup was easy. Customer service has been wonderful to work with. There was an error setting up the account when we placed the order so I have several issues that only Ooma could resolve but the support team was wonderful getting those issues corrected. The flexibility to direct calls to different extensions has worked very well for our two offices. It is really nice to be able to communicate from multiple locations with just an extension number, including transferring calls. I like the method of retrieval for voicemails and faxes. The calls are very clear. We love saving lots of money from the previous landlines that we were using. CONS: I would like to see the fax system be HIPPA compliant. We do miss being able to see who is currently on a call if we need to transfer a call.
---