We'd love to hear from you about your experience with
Ooma Office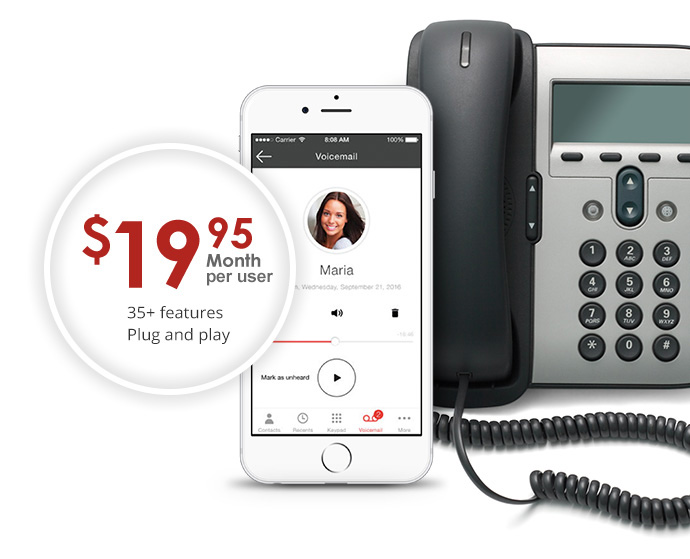 Reviews from other customers:
Business Development Manager
653
I love OOMA Office and great Sales team and Customer service is superb. Features are truly amazing like VR and Mobile App,
---
GEORGE KING on Jun 20, 2018
---
MARIA LOZANO on Jun 20, 2018
I AM VERY HAPPY WITH OOMA I HAVE VERY BEAUTIFUL EXPERIENCE WITH THIS TELEPHONE COMPANY THEY ANSWER RIGHT AWAY IN A VERY SHORT TIME. A REP NAME BRIAN HELPED ME VERY MUCH IN MY NUMBERS AND DID ALL THE WORK AND CHANGES AT HIS END EVEN SAVING ME MORE MONEY. WHEN I JOYED A GIRL NAME BRITNEY SIGNED ME UP. VERY NICE AND PREPARED PERSON. VERY HAPPY WITH THE COMPANY. THANK YOU GUYS FOR YOUR HELP.
---
Telo features needed in Ooma Office
453
Felton Frantz on Apr 26, 2018
As a small business, we badly need several premier features from Ooma Telo to be available in Ooma office, and would certainly be willing to pay for these features. Our most missed feature is Telo's excellent voice to text transcription service. Other key Telo features currently unavailable from Ooma Office include the full set of Telo expanded call blocking features as well as the home security and smart home products integration. Addition of these features would put Ooma Office head and shoulders above any current competitors
---
Rose Johnson on Apr 24, 2018
There is no reason why you shouldn't use Ooma for your business.
---
I love that Ooma has an affordable business phone option. It's works well for our company however I have one major complaint. I know that there are other Ooma phone systems that offer call blocking. I'm a small business with two employees and don't need a large phone system. I have called customer service many times asking if this service is available on my business system or possibly when it will be available on my system. They just say sorry. It's not available and there is nothing that they can do. As a business I get approx. 20 or so spam or solicitation calls a week. These calls are a nuisance and take up my time. I realize that these spammers are smart and call from multiple numbers but as a business owner I would love the option to block some of the numbers/calls I get on a regular basis. It seems like an option that should be made available. Impatiently waiting for Ooma to take care of the small business user and add it as a feature.
---
Lacking and Inconsistent Features
381
front desk on Apr 13, 2018
Ooma is a VOIP provider. Areas where it needs work: 1. Email notifications in my inbox is inconsistent. Sometimes it does, sometimes it doesn't. I may have 4 calls on my phone and only one notification of a call in my inbox. 2. I wish it had a way to slow down the voicemail message. There are many times that I and others in the office have not been able to ascertain what the caller said due to their fast speech. Overall, it's an okay system.
---
Phone works great, fax not so much.
345
Roxanne Coffelt on Apr 07, 2018
I love the app that rings on my cell and lets me call using my business number. I could never get the virtual fax to work in spite of numerous calls and them telling me that it did work. I have two clients who want to fax me stuff and neither one ever was successful. Also the fact that they actually email your fax as a pdf attachment makes it not acceptable to use with the IRS (which is the only reason I need a fax to begin with.) I think it would be ok if they would let me log in and retrieve the fax rather than emailing it, but they don't have that option. So I got an all-in-one printer but, of course, I can't get that fax to work to save my soul. (I can send, but not receive.) So because of this fax issue, I am probably going to have to put in a separate land line for my fax, which probably somewhat defeats the purpose of having Ooma Office in the first place.
---
Pete Lazdins on Apr 06, 2018
The attendants voice from scrip needs some work. Had to modify the scrip in order for her to say our company name and some other words correctly. Maybe some other accents would be good options, like my iPhone and automobile nav system must have 10 or more! We have had some calls dropped. Seems that the caller did not make extension choice quick enough, so a bit more time would be good for them to make a choice.
---
Not the kitchen sink, but not priced like it was, either...
337
Monte Pescador on Apr 05, 2018
Most of these companies try to string you along as "better quality plus so much more" for the price. Ooma gives us everything we had with the other, much higher priced company with the same and possibly better quality. The learning curve of switching companies was minimal, though there is a learning curve for things like transferring calls. There are also very few options for adding things that I now wish we could get like call blocking for spammers that tie up the line, becoming an increasing problem (and has been long before we switched, so this is not the fault of Ooma). Great price for what we get. That's the bottom line.
---